Associated pages
210Ri (Nitori) was a Thai-Japanese VTuber and a member of HAJITABI as part of its 1st gen. She debuted on her birthday, 1 November, 2019. She would later join HAJITABI on 1 July, 2020. She retired on 1 August, 2021.
Introduction Video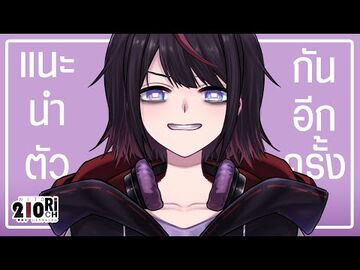 Personality
Nitori is naughty and adorable, when she said too necessary, she was easily scared and has a little mistakes.
Appearance
Nitori has pastel-violet eyes and short dark-purple hairs with a little highlights.
Casual Outfits
She wears violet v-shirt, dark grey/red jacket with her symbols and white strips, shorts, stockings and boots.
Another Outfits
She has diamond tattoos under her eyes and symbols tattoos on left shoulder.
She wears black tank top, half-armless kimono jacket with hooded ,dark-pink skirts, belts, glove at lefthanded, collar with diamond, two-tone stockings and two-tone kimono boots. She is carrying katanas.
Summer Outfits
On July 6 2020, she received a new summer outfit.[1]
Her hairstyle changed to pigtails.
She wears a swimsuit with ruffles at her chest, soft-swimming vest, dreamcatcher necklace, wrist band, rubber ring, and scandals with bowties.
Devilish Outfits
On November 1,2020[2] was 210Ri's Birthday and 1st Anniversary; Her hairs was grown to long hairs, She wears hairchips, left-eye patch, neon-cat ears and halo.
She wears black halter shirts, pastel-violet huge jacket with giant zippers and dinosaur logo at left chest, shorts, a little bandages, socks and white shoes. At behind she has wings and tails
History
Debut
Nitori has debuted on November 1st, 2019. Her debut date is the same as her birthday.
New 2D Model
On April 16th, 2020, Nitori has revealed her new design and new Live2D model on her 1,000 subscribers celebratory stream.
Joining Hajitabi
On July 1st, 2020, Nitori has joined HAJITABI Vtuber Group as a 1st Generation member.
Original Song
On July 10th, 2021, Nitori premiered her original music video Holler on her channel.
Retirement
On July 13th, 2021, Nitori successfully reaching 10,000 subscribers on her karaoke stream.
She announced afterward that she's going to graduate from Vtubing activity on August 1st, 2021.
On 1st August, Nitori held her retirement stream. Shortly after, her social media was removed.
Discography
Holler
10 July 2021    

【オリジナル楽曲MV】Holler / 210Ri

External links
 • Music Video
Trivia
Likes and Dislikes
She likes JRPG, cat, and sleeping. She also loves Tales video game series passionately.
She dislikes jumpscare, horror games and stranger talking.
Others
Nitori's Another outfit has rarely been shown to live streams.
2 & 10 could be read as "Ni" and "To" in Japanese, which means her name could be read as "Nitori" from "210Ri".
Her well-known but unofficial nickname is "Nitoi", which is the name she's been called by her fans and many Vtuber friends.
Nitori often calls her fans as disciples instead, which is often regarded as a sleepless disciple because of the eyebags under her character design.
When Nitori's disciple teases her about something too many times, such as her small chests size or poor video gaming skills, Nitori occasionally does a temporary 300 seconds chat ban on some of them as a joke reply.
When her fans asked Nitori who is her favorite Vtubers on a chat stream with Peach, Nitori answered that her favorite Vtuber is Hoshimachi Suisei because of her singing skills while Peach answered that her favorite Vtuber is Shirogane Noel.
External Links
Media
References