Associated pages
Yuujin A (友人A, Friend A), better known as A-chan (えーちゃん), is the Japanese head content director, equipment technician and periodic female Virtual Youtuber associated with hololive.
Introduction Video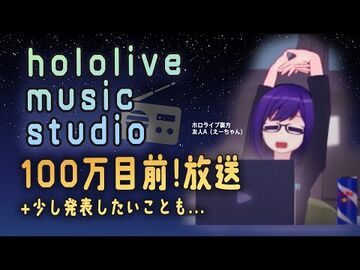 Profile
VTuber事務所、ホロライブの裏方担当(時々DJ)。
TL: "VTuber Office Worker, hololive behind-the-scenes show runner (sometimes a DJ)."
Personality
Better thought as a private talent within hololive, A-chan is the talent director of the group who occasionally appears in interviews and events.
A-Chan seems rather deadpan and patient, only putting her energy into what she needs to. But when testing the tech that makes hololive events as stable as they should be, she can show herself to be quite dorky and easy to self-amuse, evident when she tries playing with motion capture or casually cosplaying as the other idols, as well as extremely friendly and relaxed for a Japanese salaryworker. She also shows herself to be a "Hiso Oshi", or someone who cheers and supports everyone in a group to an individual level. But in spite of this, she always keeps her eye out specifically for Tokino Sora due to their long friendship dating long before hololive and has even written heartfelt letters in the name of their friendship on the idol's anniversary streams to congratulate her for progressing so far into her career.
A-chan started as Sora's technician during high school due to how oblivious the virtual idol was with machines and software setup after doing extensive research on how to help her achieve her dream, eventually landing her on Cover Corp's doorstep. This eventually lead to her indirectly creating and being hired as a core part of hololive, not as an idol but as the company's technician, and eventually head content director. She is extremely dedicated to her role to the point she admitted reading business books in her spare time on topics such as speaking skills and negotiation. She's also extremely orthodox compared to the holoIdols, having nothing immediately fantastical or glamorous about her and works a salary worker's 9-5 job then goes home to watch some dramas (preferably comedies) before bed. She is satisfied enough with this lifestyle, preferring something quiet and simple. Though it is running joke that she is forced to abide by black company philosophies, such as overworking, underpayment, or even payment in anything but money.
Although she is not a conventional VTuber due to her behind the scenes talents, non-existent Vtuber schedule or even the lack of a proper debut, many fans have been wanting her to have her own channel for a long time. Some joke that the hololive's main channel is her channel, but others take this statement seriously as it's the channel she manages and appears on the most. But in spite this, she is perfectly content working in the shadows of the other idols and regularly promotes their activities, antics and collab schedules on Twitter and is observant of an idol's talents, personality and strengths enough to know when she should offer private feedback or stay out of the way to let them grow.
History
Background
A-chan was first introduced during a stream on 21 September 2017 during one of Sora's stream, however A-chan didn't talk during her introduction often being mentioned by Sora while remaining off camera.[3] Additionally, most of A-chan's personal and professional activities and growth are presented on Twitter rather than Youtube or NicoNico.
2018
On 5 April, Sora drew A-chan as a little head with glasses and a hand, hololive's "Sora Records" refer to this form as "A-bean" from this moment on this drawing was shown frequently every time Sora talked about A-chan, as she didn't have a model yet.[4]
In July, she debuted her 3D model, during an online event that Sora also attended, one characteristic of this early 3D design is that she had a hair clip in the form of an "A" on the right and that this model was in lower quality compared to Sora's. She would get a second model afterwards.[5]
She created her Twitter account in November.
2020
On 7 September, she got her third 3D model, the same date as Sora's third anniversary debut.[6]
2021
As of 15 March, she is sitting at 390k follows.
On 10 May, A-chan became the host of "radio-style" news and music program called "Holo no Koshikake" (ホロのこしかけ), aired on the hololive official YouTube channel at the end of every month.
During its first broadcast, A-chan also debuted her second 2D costume, in this costume she wears a striped blouse with a dark blue jacket on top, along with wearing a corporate ID held by a blue lanyard. The new outfit also features improved facial expressions and animation.[7]
Events
On 2 July 2021, the official hololive Twitter account announced that A-chan would appear in a collaborative promotion campaign for the movie Evangelion: 3.0+1.0 Thrice Upon a Time, along with Houshou Marine, Uruha Rushia, Shirogane Noel, Minato Aqua, Sakura Miko and a secret person as guests.[8] Initially, the project was scheduled to released on 3 July, however, it has since been postponed indefinitely.[9]
Trivia
A-chan is the only hololive staff member to have a 3D model.
A-chan is a DJ, and is confident enough to instruct other talents on how to DJ as well.
She is into sports, specifically association football.
She has a lymphatic-massage fetish (erotic massaging).
Unlike Sora, she is terrible with horror games.
Her nerves are often at the foil of Houshou Marine's desire to be annoying. This sometimes causes minor, often comical feuds between the two, such as A-chan bringing in a hyperactive holoEN manager (presumably Jenma) to annoy Marine in reverse by pressuring her to shout her infamous "I'm Horny."
It is rumored that when A-chan gets punched, she doesn't flinch or acknowledge she got punched due to her being very resilient.
A-chan can speak English at a conversational level. As explained on HOLOTALK episode 10, she recently purchased a book on how to speak English in thirty nine days. Unfortunately, due to how busy A-chan is, she does not think she'll be able to finish the book in the recommended thirty nine days.
A-chan is often responsible for replacing everything the idols destroy on hologra, ranging from the mere window to the entire office building.
Favorites
Tv program/Film: Wednesday Downtown, Jounetsu Tairiku Backstage, Goddotan, Summer Resort
Game/Apk: God Field
Manga/Anime: Naruto, Monogatari Series
Food: Spicy food and Curry
Animal: Dogs
Music: Japanese Rock, Western EDM, R&B dance, Vocaloid.[2]
External Links
Media
Further readings
References