Associated pages
Aiba Uiha (相羽ういは) is a female Japanese Virtual YouTuber and a member of Nijisanji. She debuted alongside Ars Almal and Mayuzumi Kai, known as the trio "Blues" (ぶるーず).
Introduction Video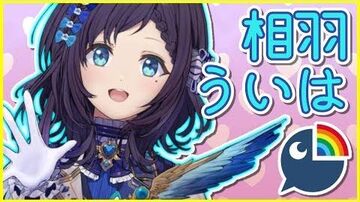 Personality
A new idol in the virtual world.
History
Background
Uiha made her debut on 28 July 2019.
2019
On 30 December she revealed her new outfit and hairstyle.
2020
On 11 April she participated in Nijisanji's Singing Stream Relay.
On 4 June she revealer her 2.0 modeling.
On 25 June she revealed her new outfit and hairstyle.
2021
On 9 April, it was announced that Uiha would receive her 3D model. It will be revealed on 17 April. She debuted her 3D model on the 17 April.
Fans
Uiha calls her fans ういふぁん (Ui-fan)
Trivia
Units within Nijisanji:
She shares the same character designer with Chae Ara.
Color:

#324CAC

[1]
Aiba has poor eyesight, she cannot see anything with the naked eye. She wears daily contact lenses or glasses sometimes. ( Aiba's contact lenses frequency is 3.25 left and right )
She is extremely good at Mario Kart, to the point where she holds multiple records for fast times on the game.
External Links
Media
References