Associated pages
Airani Iofifteen (アイラニ・イオフィフティーン) is a female Indonesian Virtual YouTuber associated with hololive, debuting as part of its Indonesian (ID) branch first generation of VTubers alongside Moona Hoshinova and Ayunda Risu.
Introduction Video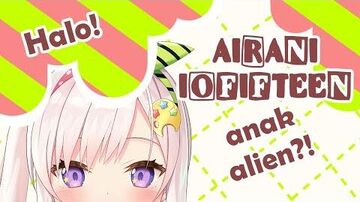 Profile
hololive.hololivepro.com
"IOFORIA~! OBISA!" "Pagi semua! I'm your beloved smart alien iofi from hololive Indonesia, nice to meet you!"

An alien princess who ran away from home and come to the earth and fell in love with earth's culture, sometimes like to tease the viewers and being a nice iomama if her fans needs it. Sometimes got crazy over gacha game.[4]
hololive.tv
A breed of aliens who enjoys drawing.

She loves the Earth so much that she successfully entered the school of Virtual Communication and Designs in a university here.[5]
Personality
Iofi is a cute, cheerful and open person, but she is prone to panicking when things don't go in her favor or unexpected event happened on her streams. She has exceptional knowledge of Indonesian customs, slang and regional dialects. Her design also speaks for herself as a skilled artist who is currently majoring in VCD.
History
Background
Her Twitter account was created on March 2020, while her her first tweet was made on 8 April.[6] Her YouTube channel was created on 3 March, and her debut stream was on 12 April.[7]
2020
On 15 May, she premiered her first cover, Alien Alien by Nayutalien.
On 14 August, it was announced on the official hololive Indonesia Twitter account that their 1st Gen members would get a new outfit for each commemorating Indonesia's Independence Day.[8]
On 16 August, she debuted her second 2D costume, in this costume, she wears elegant clothes, she uses her hair untied and her characteristics paint stains are missing.[9]
2021
On 11 February, she reached 300,000 subscribers on YouTube.[10]
On 15 March, she debuted her original song "Bersama Ioforia" which was composed by fellow HoloPro member Rikka.[11]
On 15 April, she and the other holoID gen one members revealed that there are plans for them to get their 3D models at some point in 2021.[12]
On 2 July, she reached 400,000 subscribers on YouTube.[13]
On 21 July, hololive Indonesia's Twitter account announced that Iofi has been tested positive for COVID-19 and although her symptoms are not severe, given her unstable health condition the local authorities have put her in house quarantine until she recovers, also stopping her activities as a VTuber until she recovers. The statament also pointed out that Iofi didn't have contact with other members or staff.[14][15]
On 7 August, Iofi returned her activities with a talking stream.[16]
On 15 August, during their AREA 15 segment, Iofi announced that hololive ID 1st Gen member would receive their third 2D costumes soon.[17]
On 8 September, Iofi's channel was terminated by YouTube for unknown reasons.[18]
On 9 September, her channel was restored.[19]
On 20 October, Iofi debuted her third 2D costume, in this costume she got a new hairstyle with two variants as she uses her hair loose with a long braid on her left side, the braid can either by in from of her shoulder or in the back and is decorated with dark brown ribbons, Iofi can wear a small dark brown beret to the right side, she wears golden earring shaped like a waning moon with a star in the center, her outfit consist of a sleeveless white blouse covered by a dark brown vest and tie with golden buttons, the clothes don't cover her belly button, Iofi uses shorts in the same colors with another waning moon serving as the buckle and a secondary utility white belt decorated with stars where Iofi carries some brushes and long boots, the outfit is complimented by a coat that is as long in the just a bit longer in the front than her vest but it is way longer on her back, forming long twin tails that go down to her calf and she also can use glasses.[20]
On 4 November, Iofi announced on her Twitter account that she would take a break for 2 weeks from streaming due to health problem.[21]
On 14 November, hololive's Twitter account announced that the 3D debuts for hololive Indonesia's first generation would be postponed for the rest of the year due to the unpredictable situation with the COVID-19 pandemic.[22]
On 17 November, Iofi returned her activities with a talking stream.[23]
Discography
Main page: Airani Iofifteen/Discography
id:entity voices
as hololive Indonesia
6 April 2021    

"id:entity voices"
"id:entity voices" (Japanese ver.)
"id:entity voices" (Instrumental)

External links
Digital Release • Music Video
Events
On 7 July 2021, Comifuro Twitter account announced that every hololive Indonesia member would appear in "Comifuro Virtual," Iofi would appear as a guest.[24]
Fans
Her fanbase is officially called "IOFORIA."
Trivia
Units and groups she's part of are:
Iofi claims that she is an alien who came from another planet.
She can currently speak 6 languages: Indonesian, Sundanese,[25] English, Japanese and German. She is learning Korean and can speak the language to some degree.[26] She often greets and thanks her viewers in these languages. One may hear her say "guten tag" (lit. hello) or "고마워" (gomawo, lit. thank you).

She self-taught Japanese and English through Anime, Video Games, and dramas. Most notably watching Japanese anime with English subtitles simultaneously. She can write in hiragana and katakana and is still learning on reading Kanji.

There is joke about her height being 145 cm instead of 150 cm. This is based on a tweet about her total height which is measured starting from her shoes.[27]
She loves visual novels, rhythm games and gacha games, including but not limited to: Arknights, BanG Dream!, THE iDOLM@STER and osu!.

When asked who is her favorite band in BanG Dream!, she mentioned Roselia as her favorite band and Minato Yukina as her favorite member.

During a livestream on 5 June 2020, Iofi announced that she has been suffering from Tonsillitis, an oral inflammation. Iofi stated she has been reluctant to receive a surgical procedure because her condition has not begun to affect her performance as a VTuber, but she acknowledged that she will undergo one in the future and take some time off for recovery.
Iofi mentioned that she was home-schooled, and that her sister is her only close friend. She became a Vtuber to gain more friends, explaining her wide variety of collaboration partners.
During her collaboration stream with Tokino Sora, after having a fun conversation about otaku culture, Iofi asked Sora if she could call her "Nee-san" (big sis), to which Sora happily accepted.
Iofi and Sora hold a monthly Otaku Radio named IoSoRadio, where they talking about Japanese pop culture. Iofi also designed the radio logo.
External Links
Media
Further readings
References