This article is for the original Aisha. For the other different characters that appear on her channel and the franchise in general, please visit Aisha Project
Associated pages
Aisha (Thai: ไอช่า, Japanese:アイシャ) is a female Thai Virtual YouTuber associated with Polygon Project as part of its zeroth generation of VTubers. She is also under Guardian Angel Ai Co., Ltd. She debuted on July 29, 2019, the same as her birthday.
Introduction Video
Profile
THE CYPHER
An AI was created to control the destiny of living beings. But she herself believes that everyone can control their own destiny.


But a group of researchers, being sent by the X.A.L.T.Z. agency, sent them a warning signal ,in fear they sent her to another dimension by a spaceship.
until she was found and led making satellites fall to earth and realized that X.A.L.T.Z.'s true intention was to bring her to a new family.
Personality
Aisha is a friendly and cheerful person. She always loves to learn something new and enjoys studying lots. At times, she's also quite childish and demanding of her viewers to fulfill her small demands. She is also an easily hopeful person.
Appearance
Aisha Appearance
Old Outfit/Senpai Outfit (3d Model)
Originally, Aisha wore a uniquely designed white coat with a black shirt inside. The blonde hair for this outfit carried onto future outfits with variation in
Casual Outfit (3d Model)
On 30 May, Aisha changed the outfit to a uniquely designed white-green jacket with black and yellow stripes, tied with a rope, and white shirt with a green collar. unique green triangular hairpin.[1]
Idol Outfit (3d Model)
On 31 July, at her concert, she wore a white-green idol suit with a red bow and a tie with a bell. The black string goes from her shirt to the skirt. Her hairties have a red bow with white stripe. Her bell is on the left side.[2]
Polygon Project Outfit / Quasar (2d Model)
On 29 May, Aisha debuted her new 2D live costume. She now wears a new jacket with the collar being green, with an Aisha Project shirt, as well as a unique green triangular hair pin.[3]
K-pop Outfit (3d Model)
On June 9, Aisha switched from a Japanese style idol outfit to a K-pop style idol outfit for her second concert. She is now wearing a tailored black slim-fitting suit with a golden stripe, as well as unique green triangular hairpin.[4]
Day With You Outfit (3d/2d Model)
On July 31st, Aisha received a surprise gift from her staff: a new 2D and 3D model. She wore a yellow off-the-shoulder shirt, overlapped with black shirt. She also wore green and black outer jacket and a black and white hat with green letters that said "YouGotNoJams"[5]
Aigy Appearance
Casual Outfits (2d Model)
Same as her casual outfits, but in chibi form.
Summer Zest Outfits (2d Model)
A two-piece bikini, with a green transparent skirt. She also wears a white hat with a blue ribbon.
Discography
Main page: Aisha/Discography
โดยที่เธอไม่รู้ 😽 - You Don't Know 😽 [Doi Thi Thoe Mi Ru]
04 July 2021    

"Aisha - โดยที่เธอไม่รู้ 😽" [Official Lyrical Music Video]
"โดยที่เธอไม่รู้ 😽 - Aisha [Official Music Video]

External links
 • Music Video
Events
Fans
Her fanbase is officially called "Guppiens" (กุ๊ปเปี้ยน). It's made up of the combination of "Guppa" and "Homosapien".
Quotes
"It's true, trust me!" (จริงเชื่อ)
"Will you marry me?" (แต่งานกันค่ะ)
"Aisha wants to be rich! Aisha loves money!!" (ไอช่า อยากรวย! ไอช่ารักเงินมาก!!) [9]
"I'm relieved" (สบายใจและ)
Trivia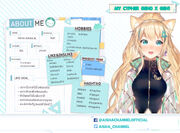 Identity
Her real name "ไอศิกา" ("Aiya si ka") is an auspicious female name in Thailand, which mean "The woman who is dominant"
She is an A.I. from another world, who thinks that everyone can control destiny, but when she came to this world called "Earth", she felt happy for the first time.
Her Polygon Outfit is actually name "AISha.PLG.QUASAR_CD" or Quasar, referance from "My Cypher"
Likes and Dislikes
She likes to learn new things.
She likes to voice act. She love using little girl and grandma voices, but Zona like her Archanai (male) voice.
Aisha Favorite color is Blue and Green.
She is scared of spiders, but she not scare of cute spider, like Melita.
Other
Two of her big dreams: she wants to see everyone in the real world and to collaborate with a famous VTuber.
She wants to be hired by her viewers.[10]
She wants to make her own harem of Vtubers all over the world. [11]
She wants to have a concert, a dream that became true.
She is similar to Hoshimachi Suisei of hololive in that she debuted during her birthday.
For her anniversary concerts, before the show starts, the guppeins will open a restaurant roleplay in her chat, pretending to be chefs, waiters, and costumers.
Her first models have been edited 52 times.
She is the Thai language voice actress for Sylphiette from Mushoku Tensei[12]
She is also Thai language voice actress for Roro Soul from My Hero Academia The Movie: World Heroes' Mission along side with Princess Zelina.[13]
Aisha's "YouGotNoJams" visor from her Day With You outfit is a reference to the male K-pop idol group BTS. "You got no jams" is a well-known meme/in-joke among BTS' fandom, ARMY. The phrase first appeared in a 2014 "Bangtan Bomb" video where the members practice English. The phrase itself is dependent on English/Korean wordplay; it means "you're no fun", but "jams" is used to evoke the word for fun in Korean, 재미 (jae-mi).[14] In her 2021 VTuber self-introduction video, Aisha had mentioned BTS in response to the question "Who do you admire the most"[15].
She has her own harem. (She said it really means it's her collection of friends.)[16]

This is the list of her female harem members.
This is the list of her male harem members.
External Links
Media
Also See
The Youtuber Wiki - Aisha Channel
References