Akai Haato (赤井はあと) is a female Japanese Virtual YouTuber associated with hololive, as part of its first generation of VTubers alongside Yozora Mel, Aki Rosenthal, Natsuiro Matsuri, and Shirakami Fubuki.
Introduction Video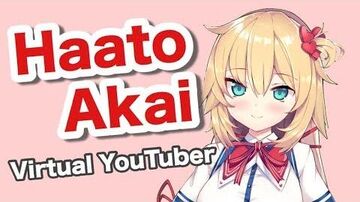 Haato's English introduction.

  Haato's Japanese introduction.

Personality
Haato appears to be a classic tsundere who teases her fans by calling them kimo ota (creepy otaku), among other things. However, she does nothing to discourage creepy behaviors, and frequently does weird, creepy things herself; for example, using cropped NSFW fanart for video thumbnails, sniffing her own feet, and decorating her home in Animal Crossing: New Horizons with lewd drawings of herself and Tsunomaki Watame. Though Haato compares her fans to pigs, she seems perfectly content to (metaphorically) splash in the mud right next to them. Her sense of humor is extremely deranged even by hololive's standards. She often publishes short, random clips that make little sense even to Japanese listeners, and has a series of cooking videos in which she commits atrocities such as boiling beef in a mixture of Mentos and cola, or melting marshmallows over sliced ham.[3]
When playing video games, Haato has considerably more confidence than actual skill, which usually ends up biting her in the back. She is infamous for her ear-splitting scream, and often releases these screams even when not playing horror games. Fans refer to these brutal screams as "Haato's blessings."
She used to greet her viewers with "Oha-rouge", but now prefers to use "Haachama-chama".
History
Background
Her Twitter account was opened on 21 May 2018 while her YouTube channel was created on 24 May although she did not start her activities on YouTube until her self-introduction stream which was live on 2 June.
2018
On 26 December, she revealed her second 2D costume, which consist of a white dress, with a red jacket, she can use this costume with or without the jacket.[4]
2019
On 24 January, it was announced that she would debut her 3D model on 25 January.[5] On the next day, she debuted her 3D model.[6]
On 12 April, she announced in a stream that she would be receiving a new 3D model.[7] It was announced that the debut date is 17 April.[8] She debuted her new 3D model on 17 April.[9]
On 9 July, Haato showcased the swimsuit for her 3D model.[10] It was first announced at the end of their karaoke session earlier on 7 July.
On 30 September, she announced on her Twitter account the demonetization of her channel because her ASMR videos were considered of sexual nature by YouTube.[11]
On 13 November, she introduced a stream with a no Japanese challenge playing the video game Ring Fit Adventure, only allowed to talk in English.[12][13] Because of this stream she has started to make videos in said language sometimes.
On 27 November hololive Official English Twitter account opened. The first tweet included a small greeting from Haato, promising more content in this language in the future.[14]
Sub Channel
As result of the demonetization of her channel, she created a "Sub" channel[15] on 9 December, with her first stream taking place on 12 December,[16] she jokingly presented herself as a rookie virtual youtuber, with plans to update both channels.
2020
On 1 January she announced her third 2D costume,[17] which was latter revealed that day during stream to be a kimono celebrating the new year.[18]
On 24 January along with the other hololive girls up to the third generation, she debuted her 3D idol outfit at hololive's 1st fest Nonstop Story.[19]
On 31 January, she announced on her Twitter account the remonetization of her main channel.[20]
On 30 July, she announced on her Twitter account that her original 2D model would be get an update. She debuted her updated model during a stream later the same day, jokingly posing Himemori Luna's and Amane Kanata's models as her updated one first. Her updated model has more facial expressions, she can turn in more directions in line with the model capabilities of hololive members from the GAMERS unit onwards.[21][22]
On 24 August, she revealed that she has to attend a 3rd grade high school exam, thereby reducing her YouTube activities.[23]
On 27 September, She and Kiryu Coco were suspended for 3 weeks, preventing them from doing streaming and twitter activities. [24]
Events
Mascot and Fans
Her fanbase is officially called "Haaton" (はあとん), which is a combination of "Haato" and "ton" 豚 (pig). They are represented by a yellow plush pig that also works as her mascot. The pigs are shown with stitches around their necks and frequently wearing signs with "打ち首" (decapitation/beheading) written on them. She is frequently depicted as playfully manhandling them, and sometimes outright even severing their heads.
Trivia
Her last name "Akai" (赤井) is a homophone with 赤い (red), while "Haato" is the Japanese pronunciation for "heart" in English.
As seen in her English introduction, she is able to speak some English due to studying abroad in Australia.
She orchestrated the spread of her "Haachama" nickname (by pretending that her older sister was using it), as she wanted to be called something less formal than "Haato-sama". However, thanks in part to Houshou Marine during a game of Keep Talking and Nobody Explodes, fans usually stylize it as "HAACHAMA!?" [26]
She enjoys playing games that are designed to frustrate players, and at one point claimed that she could no longer find joy in normal games. [27][28]
She occasionally streams herself cooking, but the resulting food is often burned, likely because she doesn't seem to understand how to use cooking oil.[29][30][31]
She is allergic to eggs and therefore cannot cook or eat anything containing them.[32]
She has Japanese-English mixed ancestry.[33]
She is very close with Nijisanji's Hoshikawa Sara with whom she shares many similar interests. Both girls revealed that they had watched each other's debut streams in real time. Sara also revealed that she had considered auditioning for the role of Akai Haato when she saw the recruitment ad and that she watched Haato's debut stream to see who ended up getting the role.[34]
External Links
References
Community content is available under
CC-BY-SA
unless otherwise noted.