Akatsuki UNI (赤月ゆに) is a female Japanese vampire Virtual YouTuber who started to make videos on April 2018.
Introduction Video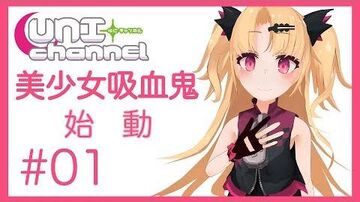 UNI's introduction.

Personality
Uni is a 1000 years old vampire who started to make videos to show the world her vast knowledge. She is, like the stereotypical portrayal of vampires, vulnerable to garlic and sunlight, that is why she prefers to record videos (and also as a way to avoid being captured by vampire hunters). In all of her antics she is aided by her friend and pet, Muni the bat (むに).
History
Background
Her Twitter account was created on February 2018, while her YouTube channel was created on 31 March, but she didn't make her debut until 29 April of the same year.[1]
Events
Since 1 April 2019, she has been supporting a blood donation campaign for the Akita Prefecture Japanese Red Cross Society, using her social media accounts.
On 30 January 2020, she made appeared in the game Dawn of the Breakers, with two different versions, one based on her regular outfit and a the other depicting her as a fallen angel.[2]
Trivia
Although "Yuni" is the direct transliteration of the Japanese transcription of her name, she made clear that it should only be written as "Uni".
She makes a series of videos on Twitter called Uni's Day (ゆにの日 yuni no hi), an "On this day" section explaining the official theme of each day.
She sells a small bit of advertisement space for 20000 yen (~$180 USD) on her weekly audio show "Akatsuki Uni's Monday's moon is red". The first buyer was Torayaro who had Uni read an ad for a Nijisanji micro-bikini doujinshi, which is quite more sexually suggestive than Uni's usual content.
Uni was a collateral victim of the 2019 controversy surrounding the Japanese Red Cross Society Blood Donation ads, which featured Uzaki Hana from Uzaki-chan Wants to Hang Out. Uni was also featured on a series of posters inviting people to donate blood for the Akita Prefecture branch of the Japanese Red Cross Society, but the posters were recalled and the collaboration cancelled.[3]
External Links
References
↑ Akatsuki, U. [UNIchannel] (2018, April 29) 【自己紹介】赤月ゆに、始動!!!![Video File] Retrieved from https://youtu.be/RkB3NVa_NII
↑ 【激怒】巨乳に仕事を潰された【宇崎ちゃん】 Retrieved from https://www.youtube.com/watch?v=s3NzN8s5nWY
Community content is available under
CC-BY-SA
unless otherwise noted.