Associated pages
Aki Rosenthal (アキ・ローゼンタール) is a female Japanese Virtual YouTuber associated with hololive, debuting as part of its first generation of VTubers alongside Yozora Mel, Natsuiro Matsuri, Shirakami Fubuki and Akai Haato.
Introduction Video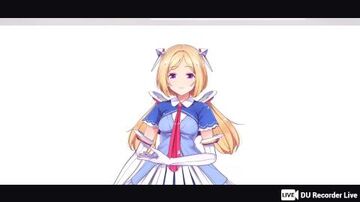 Profile
hololive.hololivepro.com
"Alona, everyone! This is Aki Rosenthal a.k.a. AkiRose!"

A girl who traveled from a different universe. She has hyper curiosity and dabbles in all sorts of things. Her trademark pigtails float due to some sort of supernatural power.[5]
hololive.tv
"Alona, everyone! This is Aki Rosenthal a.k.a. AkiRose!"

A girl who traveled from a different universe. She has hyper curiosity and manages to reach out to all sorts of things. Her trademark pigtails float due to some sort of supernatural power.[6]
Personality
Aki is a curious, fun-loving, friendly and determined high school, half elf girl[7] from another universe with a very calm voice and attitude, she enjoys singing and belly dancing; hobbies that can be seen combined in her original song "Shallys". Aki's streams are considered chill and wholesome, this can be seen in her gaming streams as it is rare for her to lose her temper, usually remaining cheerful. She also enjoys drinking as she has done streams talking to the chat while drinking and eating.
Aki also has a mischeavous and even lewd side, as she is not above playfully teasing other hololive members or her viewers, however she deeply cares for them.
She greets her viewers with "Alooona!" (アローナ) and she says good bye with "Otsuta-ru, bye bye" (おつたーる バイバイ).
History
Background
Her Twitter account was opened on 16 May 2018 while her YouTube channel was created on 25 May although she did not start her activity on YouTube until 8 June when her Mirrativ stream that was live on 1 June was re-uploaded on YouTube. Her first stream on YouTube went live on 21 June.[8]
2019
On 17 February, during her birthday stream, she revealed her second 2D costume, a loose coat, with a tank top with ribbons. Right after midnight on 17 May, she reached 30,000 subscribers, thus making it official that she would be getting a 3D model.[9]
On 25 June, she announced that she would receive her 3D model.[10] She debuted her 3D model on 29 June.[11][12]
On 30 July she announced on her Twitter account that she would get a swimsuit for her 3D model.[13] On 4 August, she debuted her 3D model swimsuit during a stream.[14]
On 9 December, she published on her Twitter account the demonetization of her channel, while she didn't state this was caused by her ASMR videos, most of these videos were made private.[15]
Sub Channel
As result of the demonetization of her channel, on 10 December she announced on Twitter the creation of a sub channel,[16] with her first stream taking place on 11 December.[17]
2020
On 1 January, she announced on Twitter her third 2D costume to celebrate the new year,[18] this costume was revealed to be a kimono on a stream later that day.[19] She also published on her Twitter, that her sub channel was rejected for monetization.[20]
On 24 January along with the other hololive girls up to the third generation, she debuted her 3D idol outfit at hololive's 1st fes. Nonstop Story.[21]
On 31 January, she announced on her Twitter account the remonetization of her main channel.[22]
On 26 March, she reached 100,000 YouTube subscribers.
On 29 June, she debuted the full version of her original song "Shallys." The song is interpreted in Aki's original language, and the song's title is the name of Aki's home world.[23][24]
On 29 July, she announced on her Twitter account that her original 2D model would get an updated to the 2.0 version. She debuted her updated model during a stream later the same day, featuring more facial expressions, her hair accesories "pat pat sensors" now can be moved up and down, and as demostrated by herself she can turn freely in more directions, her twintails also received adjustments to reflect these directions changes.[25][26][27]
On 11 August, she reached 200,000 YouTube subscribers.
On 15 October, she reached 300,000 YouTube subscribers.
On 30 November, hololive's official Twitter account announced that Aki would get her fourth 2D costume.[28]
On 4 December, Aki debuted her fouth 2D costume, a gothic maid themed dress, her "pat pat sensors"[29] are know see-thought metalic like horns but they still move like their original variant, the accesories that keep her floating twintails in place are now themed the left one decorated with a bat/demon wing changed to black color while the right one has an angel wing design keeping its original white color, her twintails are now longer and curled decorated with a black and white ribbons, Aki can use a veil to cover her face and the veil has an eye pattern on the left, she wears earrings that make her ears look pointy, with a wine colored jewel at the end. Her black dress is decorated with white, wine and golden motifs, one of them is a giant key that she wears as a belt below the chest area, her dress has an opening to the left where her dress is wine colored, Aki wears white socks and ballerina like black shoes.[30]
2021
On 9 January, Aki reached 400,000 YouTube subscribers.[31]
On 17 February, Aki debuted her second original song "Heroine Audition."[32]
On 5 May, Aki reached 500,000 subscribers on her YouTube channel, making her the 38th hololive member to reach this milestone, the last of her generation.[33]
On 28 July, Aki announced that she would be reducing the number of activities in an effort to recover her throat. She explained her previous lack of streams was the result of her persistent throat issue and other stressful life events. She ensures to bring everyone her voice little by little during this period.[34][35]
On 8 October, hololive's Twitter account announced that Aki would get her fifth 2D costume.[36]
On 11 October, Aki debuted her fifth 2D costume, during its introduction Aki called it a gamer outfit, two of the most notorious aspects of this costume is that Aki doesn't have her "pat pat sensors" or her signature floating pig tails as she uses traditional longer pigtails instead in one of the costume's hairstyles in the other hairstyle Aki uses braided hair in the front with her long pigtails replaced with small buns, Aki wears an sighly oversized light green jacket under it, she wears white overalls and a black t-shirt, the bottom of her overall is painted in green, fuchsia and yellow, with some paint even present in her legs. Aki can remove the oversized jacket, and wear additional accesories such as glases and cat ears. Aki's illustrator Azumiu Akitake provided some details regarding the costume, as this costume was designed as a gamer outfit Azumiu had to created some fictional sponsors to put on the clothes, that the belts in Aki's jacket can be lightly tightened to give a fluffy feeling and that different parts can be detached in different ways (in lore). The color scheme in general is heavely based on the colors present in the accesories that allow her pigtails to float in her original outfit.[37][38]
On 26 October, Aki reached 600,000 subscribers during a singing stream.[39]
On 23 November as part of her "AkiRose Beer Fest" an event that lasted for two weeks, Aki got a new update to her main costume, as she can now move her arms up to hold various mugs of beer (from one up to three in each hand) and Aki can even drink the beer.[40]
2022
On 6 January, Aki announced on her Twitter account that she would go on an 8 days to 2 weeks hiatus due to a surgery on her vocal chords.[41]
Discography
Main page: Aki Rosenthal/Discography
Heroine Audition
2 February 2021    

"Heroine Audition" (ヒロインオーディション)
"Heroine Audition" (instrumental)

External links
Digital Release • Music Video
Events
On 23 May 2019, she made an appearance in hololive's collaboration with Dawn of the Breakers as one of the characters alongisde Roboco, Natsuiro Matsuri, Shirakami Fubuki, Minato Aqua, Yuzuki Choco, Oozora Subaru and Ookami Mio.[42]
On 4 December 2020, as part of the celebration of her getting her fourth 2D costume Aki announced that a key bag charm replica of the key she wears on this costume would be available as merch for a limited time, available from 4 December to 4 January 2021.[43]
On 13 August 2021, hololive's Twitter account announced that 12 members including Aki (representing the Rakuten Eagles) would participate in a collaboration with the six professional Japanese baseball teams from the Pacific League, each team represented by two hololive members. The collaboration include promotional merchandise that could be brought, including hats, posters, keychains, among others, also a promotional match between ORIX Buffaloes vs SoftBank HAWKS scheduled for 3 October 2021 at the Kyocera Dome Osaka stadium called "hololive day."[44]
Fans
Her fanbase is officially called "Squad Rose" in English, while it is called "Rose-tai" 「ロゼ隊」 in Japanese.
Relationships
Units and groups she is part of:
Trivia
Aki is unique among the Japanese branch of hololive as being the only polynymous member whose full name is not formatted in the typical Japanese style (i.e. Last Name followed by First Name) but instead the typical Western style. Likewise her last name "Rosenthal" is also unique within hololive due to being the only last name of Western origin (specifically German).
As demonstrated in several episodes of holo no graffiti, Aki's floating twintails are detachable, capable of being "worn" by other hololive members, and are apparently even sentient and capable of talking, moving and flying on their own.[45]
Aki is specified to be a half elf from another world, though the details of what exactly that means are currently unclear.
In one of the most bizarre elements of hololive lore, Aki is apparently capable of spontaneously producing a wide variety of different objects and materials from between her thighs. In an episode of holo no graffiti Aki involuntarily produced a vast amount of poisonous liquid from between her thighs causing the flooding of the entire office.[46] In another episode Aki was able to will herself into "giving birth" to Oozora Subaru from between her thighs after Subaru had been magically eliminated from the universe.[47] The exact nature of this strange ability and why Aki has it are unclear. Other hololive members have alluded to the fact that it is somehow related to Aki's identity as "a half elf from another world," but they have never specified as to what this means and why Aki has this ability.
She is the fourth member of hololive after Artia, Kiryu Coco, and Amane Kanata to join the official hololive Subreddit as a moderator.
Aki can play guitar, piano, drums, and other instrument. She can do belly dancing very well and even taught other members on stream, like Coco, Marine, Fubuki and Watame.
On Coco's Reddit Meme Review, Aki said that she is not a fan of the TakaMori ship, stating that she prefers MoriTaka.

While TakaMori indicates that Kiara is the top and Calliope is the bottom, MoriTaka has it vise versa, in which Calliope is the top and Kiara is the bottom.

Aki's name personally given by Motoaki Tanigo, Cover Corp. CEO.
Since August 2020 Aki accompanied by Ashino do acoustic karaoke streams every last week of a month.
Her avatar in ARK: Survival Evolved is an extremely muscular, bearded male nicknamed "MukiRose."
Aki inherited her Siren mother's habit of stripping down naked for seemingly no reason.[48]
Her favourite fetish is tentacles.[49]
External Links
Media
Further readings
References