This is a Japanese name; the family name is Akira.
Associated pages
Akira Ray (Korean: 아키라 레이 / Japanese: 明楽レイ) is a female Korean Virtual YouTuber affiliated with NIJISANJI's Korean branch, NIJISANJI KR, debuting as part of its third wave, along with Nun Bora and Lee Roha, forming the trio known as "Purple Tone" (音色は紫, Neiro wa murasaki).
Introduction Video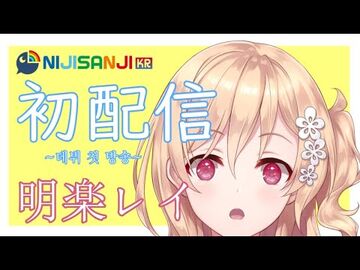 Profile
A Japanese student studying in Virtual Seoul. She likes to talk to people so she wants to make friends with more people. She dream of becoming friends with the whole planet regardless of nationality, gender, dependent animals, plants. She has the idea of not wanting to be an adult forever, and she is wearing a school uniform as a hobby.[1]
Personality
Akira's personality seems different from her appearance. She is very passionate and has considerable confidence when playing the game. Her voice is also quite mature and somewhat different from her appearance that looks calm and like a shy girl.
History
Background
Akira Ray created her YouTube Channel on 30 July 2020, and made her Debut on 7 August 2020 along with the rest of NIJISANJI KR's third wave. Her Twitter account was also created in the same month.
Fans
Trivia
External Links
Media
Further Readings
References