Akiyusa is a female Voiceroid English Virtual Streamer. She produces variety gaming and other various content.
Introduction Video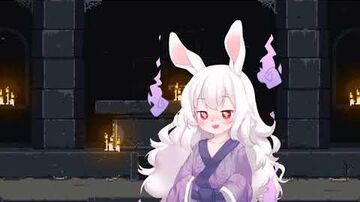 Personality
Akiyusa considers herself the cutest and the bestest Bunny lich- Smug and confident, yet often displays her lack of skill when it comes to basic gaming skills and her chat likes to bully her back for it. It's all playful, though, and she considers the community her closest friend! At other times she can be incredibly cowardly, shy and anxious- However streaming brings her joy with how much fun it is!
Lore
Simply your run of the mill bunny-girl lich who looks a bit too young for that role. How she streams is a mystery, but she somehow manages to access the internet from her ancient Tomb. Ever seeking to spread her cute name, The bunny turned to streaming to show everyone just how truly fit for ruling humanity she is! ..Making friends is also a plus, playing games is alone is.. well, lonely, after all!
Trivia
She is a bunny lich. Despite being a bunny, she has never eaten a carrot
Her favorite colors are blue, white and purple
She cannot stand spiders, or open water. Struggles immensely playing games that feature either
Favorite game genres are FPS, Roguelike and Strategy