Amane Kanata (天音かなた) is a female Japanese Virtual YouTuber associated with hololive, as part of its fourth generation of VTubers alongside Tsunomaki Watame, Tokoyami Towa, Kiryu Coco and Himemori Luna.
Introduction Video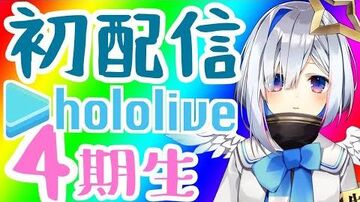 Kanata's introduction.

Personality
Kanata is an angelic denizen currently studying at the Heaven Academy to become a full-fledged angel. She is currently 18 years old. (She specifies that this is her "angel age", but has stated in past streams that this is the same as her human age.)[7]
Kanata is extremely sweet, polite, friendly and demure. She is somewhat more quiet and reserved when compared to her contemporaries in hololive's fourth generation, and her sense of humor generally tends to be less crass or vulgar.
However, she admits she has a playfully "sadistic" streak to her,[8] which usually manifests in her teasing her audience or playing pranks on her fellow hololive members. She has also admitted that she is markedly shy and that she sometimes tries to conceal this with a "cool facade" when around other people.[9] Kanata has also been noted by viewers as genuinely somewhat innocent and even a little naive, leading to viewers becoming (jokingly) concerned that she may be "corrupted" by other hololive members such as Kiryu Coco or Natsuiro Matsuri.
Appearance
She typically wears her Heaven Academy school uniform along with a small, shiny, metallic halo over her head that resembles the shape of a star. This same four-pointed star-shape is also seen on her uniform's buttons. The high collar of her school uniform frequently conceals part of her face. Her uniform's ribbon is consistently uneven/lopsided. Gaps in her bangs reveal that she has cobalt-blue highlights. Kanata also has two feathered wings which can be seen over her shoulders, as is typical of angels (in several episodes of AsaCoco Live News Kiryu Coco has found innovative uses for the feathers they produce).
History
Background
Her Twitter account was created on November 2019, while her first tweet was made on 25 December,[10] while her YouTube channel was created on 4 December and her debut stream was made on 27 December.
2020
On 9 February after being rejected for monetization from the start, her channel became monetizable.[11][12]
On 1 July, she announced during a stream that she would get her 3D model, this was later reconfirmed on her Twitter account.[13][14]
On 5 July, she debuted her 3D model during a stream being the second of her generation to do so after Kiryu Coco.[15]
Fans
Her fanbase is officially called "Heimin" (pronounced "Hey-min"), or へい民 in Japanese; a Japanese term roughly translating to "commoners", "Plebeians" or a general lower strata of social class.
Trivia
Her nickname of "PP Tenshi" ("PowerPoint Angel") originates from her use of Microsoft PowerPoint in her debut stream. Her fans have also given joking alternate meanings for the abbreviation in different situations ("Perfect Pitch Tenshi" when she's singing, "Perpetually Panicked Tenshi" when she's playing horror-games, etc.).
During her debut stream Kanata included a vocal performance of the traditional Japanese sea shanty Sōran Bushi, complete with the backing music being entirely composed of her singing A cappella. Kanata has since become intrinsically linked with Sōran Bushi, with it becoming somewhat of her de facto theme-song. A remixed version of her performance frequently serves as the stand-by music on her streams.
During Kanata's debut stream she specified that her training at Heaven Academy is in the specialization for Curative/Healing angelic abilities.[16]
She owns two pet rabbits.
Kanata has the rare distinction of earning a perfect score of 20 points on Yuzuki Choco's Trivia Quiz. This indicates that she has an excellent memory, and has earned her the alternate nickname "BB Tenshi" (Big-Brained Angel) among English-speaking fans.
At one of the streams hosted by Akai Haato, the latter (who is already very prone for English mistypings) accidentally mistyped Kanata's name in English as "Kabaya" and noticed it only after the chat started calling her out at the same time. Both the viewers and Haato herself found it funny, and from that time, Kanata is sometimes referred by this nickname, and sometimes even by a combined nickname "PP Kabaya".
Kanata is a noted fan of the anime/manga series Pop Team Epic, Hunter × Hunter and especially Detective Conan, with references to them frequently cropping up in her streams.[17] Fanart also frequently depicts Kanata as an analogue to the character Popuko from Pop Team Epic.
She and Inugami Korone are avid baseball fans and have attended games together.
Kanata has a notably wide vocal-range, even compared to other hololive members with established singing talent. Kanata has demonstrated on stream an impressive ability to simulate a wide range of voices (usually to voice an NPC in a game, for example) including convincing child-like voices, deeper-sounding male voices and exaggerated cartoon voices, all to the surprise of her audience. She has also routinely been able to successfully make prank-calls to other hololive members via Discord, impersonating another girl in a totally convincing manner and only revealing herself at the end of the call before hanging up. The idea that Kanata is secretly the only member of hololive and is simply providing voice acting for all of the group's various streamers has become a running joke among English speaking fans.
She has 50kg grip strength and is very proud of it (the average grip strength for an 18-year-old female is between 19 and 30kg).[18][19]
She is the third member of hololive after Kiryu Coco and Artia to join the official hololive Subreddit as a moderator.
She is almost deaf in one ear.
External Links
References
↑ Amane, K. [Kanata Ch. 天音かなた] (2019, December 27)【#天音かなた初配信】初めまして。【ホロライブ4期生/新人Vtuber】[Video File] Retrieved from https://youtu.be/XYLTUUrFeu0?t=542
↑ Amane, K. [Kanata Ch. 天音かなた] (2019, December 27)【#天音かなた初配信】初めまして。【ホロライブ4期生/新人Vtuber】[Video File] Retrieved from https://youtu.be/XYLTUUrFeu0?t=650
↑ yatsurugi_mmd (2020, July 5) VTuber天音かなたちゃん( @amanekanatach )の3Dモデルを担当しました! ということで、お祝い動画を作ってみました。 めっちゃ、ガチ恋距離にしときました! そして今、YouTubeでお披露目生放送中です!! https://youtu.be/ZUW6CcY-Yf0 ぜひ観に行ってください!

天音かなた3D #かなたーと #天音かなた [Tweet] Retrieved from https://twitter.com/yatsurugi_mmd/status/1279733466230210561
Community content is available under
CC-BY-SA
unless otherwise noted.