This is a Japanese name; the family name is Amano.
Associated pages
Amano Pikamee (天野ピカミィ) is a female Japanese Virtual YouTuber under VOMS Project.
Introduction Video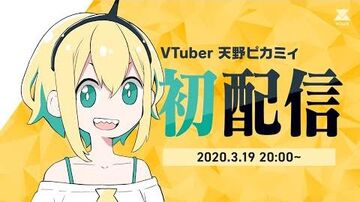 Pikamee's introduction.

Personality
Pikamee is very energetic and often laughing at the smallest things. Despite this, she is very reserved and shy in real life. She frequently jokes about having "no friends," although she also occasionally recounts stories involving her friends, she even invited Agomy (her only otaku friend) to the stream multiple times.
She is known to use Japanese phrases like "sousousou","dayo", and "dakara," even when speaking English.
Her usual greeting is "Ohao!" and her sendoff is "Otsupika!" (a combination of "otsukare," meaning "thanks for coming," and "Pikamee.")
History
Background
Her Twitter account and YouTube channel were created on 7 February 2020 although she did not start her activities on YouTube until her first stream on 19 March.
2020
On 13 April, she reached 20,000 Subscribers and making her first ever milestone stream.
On 25 April, Her channel was finally eligible to monetize.
On 27 May, She released her first ever non stream video, thanking and celebrating her 100th stream.
On 6 July , She reached 50,000 Subscribers and announcing that she'll have a membership in her channel.
On 12 July, She celebrated her first birthday stream.
On 19 August, She reached 100,000 Subscribers, first among her colleague.
On 18 September, She reached 200,000 Subscribers where she celebrate along side her 100,000 Subscribers milestone on 17 October.
On 11 November, She reached 300,000 Subscribers.
2021
On 3 March, Pikamee announced that she would have to take a break from streaming due to her pet cat contracting a mutation disease.[3] On March 13, she announced her pet cat's recovery and that she would be resuming streaming activities the following day.[4]
On 19 March, to celebrate her first anniversary stream she is having a new outfit and also a minor update on her usual clothing.
On 29 March, she had her first Twitch stream playing Red Dead Redemption 2.
Events
Mascot and Fans
She has an affinity for wooden spatulas. Her favorite is an Ikea spatula which she often keeps next to her while streaming. This spatula was dubbed "Tomoe," a combination of her VOMS co-stars' names, Hikasa Tomoshika and Jitomi Monoe. Tomoe has become a mascot of sorts, sometimes appearing next to Pikamee in streams, and often being depicted in fanart. She mention that Tomoe is swedish (since it's from ikea) and its birthday is on 21 April. Tomoe has a bit of nib in the top due to it got bitten by her cat.
Her fanbase is referred to as the "Pikarmy."
Her Members fanbase are known as the "Pikair Force".
One time a spider appeared in her room and after a failed attempt to capture it, the spider went missing in her room so she decided to keep it as a pet. She named it Emoto, as an anagram to her wooden spatula's name, Tomoe. Since that day Emoto was nowhere to be found, and after she encountered a Mantis in front of her house, Emoto is thought to be dead due to a run in with the Mantis.
She has a Scottish fold cat named "Socks" (靴下/Kutsushita). Which she got after finding out that she didn't have an allergy to cats through a blood test (She used to get bad flu's as a kid; her parents pinned it on a cat allergy). The name was in honor of her Minecraft cat that died in her Minecraft series. She mentioned her cat's birthday is on 1 November.
Trivia
Pikamee has an American father and a Japanese mother, and often talks about her life in Texas and Japan. However, trying to stay in-character, she refers to these locations as "Virtual Texas," "Virtual States," and "Virtual Japan."
She speaks English almost fluently and sometimes holds English only streams, along with mixed Japanese/English streams.
She loves donuts and is often depicted eating them in fanart. Though overall, she's fairly picky when considering on foods or drinks.
She tries to avoid swearing to keep her streams "family-friendly," although she sometimes lets swears slip and plays games that have explicit dialogue. Whenever this happens, her fans often tease her or make "family-friendly" jokes.
Her original streaming computer wasn't powerful enough to run some games. For instance, on her Apex streams, she resorted to using a still image instead of her Live2D character, as her computer couldn't run both programs at the same time. She began referring to her PC as Potato-chan.
On 29 May 2020, she tweeted "fuck this im selling meth!"[5] This was a reference to an Akai Haato and Kiryu Coco stream where Haato attempted to translate English memes into Japanese. Due to the lack of context and the rare use of explicit language from Pikamee, this tweet quickly spread, receiving thousands of likes and retweets within hours. This lead to in-jokes with her fans about Pikamee selling meth.
She easily gets dizzy or motion sick which leads to her rarely doing motion heavy games like surgeon simulator.
The chat convinced her to eat vegetables and go out, and as of 2021 eating vegetable seems pretty natural for her.
She hates bugs, especially flying ones. Their buzzing sound makes her uncomfortable, but she had a family of spiders living in her bicycle. The spider family were reported dead due to the heat of the Summer, but new spiders were showing up.
Due to bringing up spiders as a conversation topic a few times, both her and fans decided to call it "spider deck", as her trump card for when she doesn't know what to talk about.
She was in a softball club, but she didn't like it because it was too tiring. She was also in a light music club, though she didn't specify what music instrument she can play.
Fans like to compare her laughing to a tea kettle or a dolphin, due to having a high pitched squeak.
She has worked at Subway, Taco Bell, 7-Eleven, a bike rental staff, a clothing retail , a waiter in a restaurant/Izakaya (where she mistook serving sake instead of water) ,an unnamed black company ,a car rental staff (where she crashed a car), and many more. She mention that the latest job she had before starting vtuber was a professional translator, though she still struggles both in Japanese and English. In Japanese she have a hard time reading uncommon kanji and pronouncing つ (Tsu), while in English struggles reading long words and using articles and auxiliary verbs. She still had another job while streaming every day in the first half of the year since her debut, though she did not specify what job she's doing at that period of time. She is now streaming fulltime, though she did mention having other jobs from time to time.
Her favorite anime of all time is Spice & Wolf, which lead to her doing a cosplay as Holo at an anime convention once.
Her favorite color is purple.
She leaves a few Easter eggs on her channel playlists sometimes.
Her favorite alcohol beverages is a brandy-based cocktail named denki bran which is due to the influenced from the movie "The Night Is Short, Walk on Girl".[6]
The day before her debut, she just notice that she need to make a waiting screen so she play a recorder of the background theme she choose and make an animation in rushed which reference the "nice boat meme" as the waiting screen, she plays her recorder "horribly" on loop which lead one of her chat just complementing her boat animation which is also a reference the nice boat meme. A fan congratulate her 100k subscribers special by reanimating the nice boat scene which she still use till this day.
The default pose for her first model (when face tracking is interrupted) was to stare straight at the camera with a closed-mouth smile. This was famous for happening when Pikamee was frustrated at a difficult game and she stood up out of her chair.

Notably, Pikamee actually had trouble closing her model's mouth on purpose, as it required scrunching her face up to the point it became hard to breathe.

When she first started playing Minecraft (18/06/20), one of the viewers suggested she make a giant statue of the VOMS girls, specifically Pikamee herself. She misinterpreted this suggestion as the viewer wanting to see Pikamee's model in "giant form" or zoomed. She screamed "giant Pikamee" as she enlarged her model, though she quickly realized that she had misinterpreted the viewer suggestion afterward. This leads to chat sometimes asking to see giant Pikamee from time to time and she creatively plays with her model as she enlarges or shrinks it.
She is known to self dub all her stream both Japanese and English.
External Links
Media
Further readings
References
Community content is available under
CC-BY-SA
unless otherwise noted.