This is a Japanese name; the family name is Amatsuka.
Associated pages
Amatsuka Uto (天使うと) is an independently produced Japanese VTuber who debuted on 14 December 2020. She streams on YouTube.
Introduction Video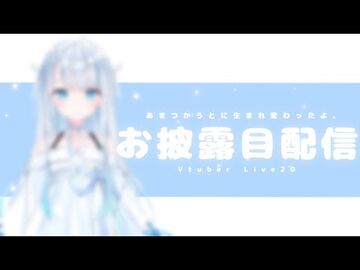 Uto's introduction.

Personality
Uto is noted for her gentle attitude and cute voice. She tries her best when speaking English.
Appearance
Uto has long, silver-white hair with a halo-shaped ahoge, decorated with silver hair clips and a pair of tiny angel wings. She has bright sky-blue eyes. Her clothing is white, with a flowing dress decorated with blue ribbons, and a white ribbon around her neck.
History
Background
Uto's YouTube channel was created on 19 April 2020. Her Twitter account was created in September 2020. Her oldest YouTube video is a song cover of Kinmokusei by Oranges Piny Crab dated 7 October 2020.
Prior to her VTuber model debut, she made a number of streams using a static image. She had around 36,000 subscribers in the weeks running up to her debut.[2]
2020
Uto made her VTuber debut on 15 December.[1] Her channel subsequently grew rapidly, drawing substantial interest from an English-speaking audience.
On 21 December, she reached the 100k subscriber milestone on YouTube.[2] On Christmas day, by Japan time, she reached 200,000 subscribers.
During her New Year's stream on 31 December, Uto broke her previous viewer record, reaching over 12,000 viewers.
2021
Uto's YouTube channel continued to grow in 2021, reaching 300,000 subscribers on 5 January.
After 9 January, Uto ceased streaming for several weeks. On 17 Feburary, she revealed the reason as trouble with an agency, including meta-tagging streams with the names of unrelated VTubers and pursuing contracts without her consent. Uto announced her intent to return as an independent VTuber.[3] The same day, she uploaded a song cover of KING by Kanaria to YouTube. She returned to streaming on 20 February.
On 3 March, she reached 400,000 subscribers on her YouTube channel.[4]
Fans
Uto's fans are called "Tenshimps". This is a portmanteau of the words "tenshi" and "simps".
Her YouTube channel membership is called うとふぁんくらぶ which translates to "Uto fanclub".
Quotes
Trivia
The name Amatsuka is written with the kanji 「天使」, usually read as "tenshi", which means "angel".
Her name Uto is written in hiragana, 「うと」.

In a kanji drawing stream, she also wrote her first name with the kanji 「兎跳」, meaning "rabbit jump".[5] However, this is an uncommon reading, and she usually writes it in hiragana.

Uto's illustrator, Nabi, is also the illustrator of hololive EN's Watson Amelia. Uto has described herself as Amelia's sister, as they share the same "mama."[6] However, Uto has a different modeler, Takeshita Fungi, whereas Amelia's "papa" is Naname. Fans have drawn art depicting them as siblings. Amelia however does not reciprocate this, considering Uto a cousin at best.[7]
She enjoys video games and singing. She likes melon soda, mochi, and Hi-Chew.
One of her goals is to learn English.[8]
She likes to watch hololive. Her favorite hololive members include Usada Pekora, Watson Amelia, Gawr Gura, and Uruha Rushia.[6]
She tends to say "GG Men" whenever she finishes a game.
On her second Getting Over It stream, Uto started calling herself Blue Pumpkin and Aoi Kabocha after suffering sanity damage.
She loves shotgun.
External links
Media
Further Reading
天使兔跳 - Moegirl encyclopedia
References
Community content is available under
CC-BY-SA
unless otherwise noted.