This is a Japanese name; the family name is Amau.
Associated pages
Amau Meiko (天羽めいこ) is an independent female Japanese Virtual YouTuber, who debuted on the 9th of January 2021.
Meiko's first language is Japanese, but she also can speak some English.
The main focus on her YouTube channel is survival video games like Minecraft, Ark: Survival Evolved and Valheim, but she will also occasionally do karaoke streams and play other video games.
She is an older sister of Uten Hiyori, another independent Japanese Virtual YouTuber.
Introduction Video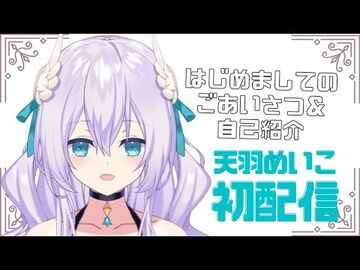 Meiko's debut stream.

Personality
Meiko is very nice and kind to her viewers and other VTubers. She is also pretty chill and keen on learning new things.
Appearance
Meiko has the appearance of a goddess lady. She wears a white gown with black, turquoise and golden elements and brown sandals.
She has turquoise eyes and very long grey hair, that go further beyond the hip area. She has a pair of small white angel wings on the top of her with little turquoise bows.
History
Background
Meiko uploaded her first video on her YouTube channel on the 1st of December 2020, where she teased her silhouette[1]. She posted her first tweet on the 11th of December[2]. She unveiled her upper part of her model on the 18th of December[3]. She fully revealed her model on the 23rd of December[4]. On the following day, she was invited to the Nyori Family Christmas collab in Minecraft together with Moona Hoshinova, Tsukinami Nato and Uten Hiyori[5][6][7][8]. She debuted on the 9th of January 2021 on YouTube[9].
2021
On the same day as her debut (9th of January), she also streamed her first video game on her channel, Minecraft[10].
On the 20th of January, she played Getting Over It on stream. She managed to get pretty far on her first stream of the game, much further than her sister Hiyori[11].
On the 22nd of January, she did her first individual collab with her sister Hiyori[12].
On the 31st of January, she began her adventures in Ark: Survival Evolved[13].
On the 28th of February, she did her first karaoke stream[14].
On the 8th of March, she began her adventures in Valheim[15].
On the 9th of April, she did her first English learning stream[16].
Fans
Meiko calls her fans Meitos. It is a combination of a word mates with her name.
Trivia
Meiko unofficially belongs to what the VTuber fans have dubbed The Nyori Family. It is a group of VTubers that contains characters designed by Nyori. The members of the group are all friends to each other, they frequently collab with other members and they can be seen interacting with each other on Twitter. The other Nyori Family members include: Moona Hoshinova, Tsukinami Nato, Uten Hiyori, Yukine Miiya, Chlori Sano, Agata Yo and Hoshifuri Iku.

Her relations with Hiyori extend even further, as they don't share the same character designer, but they are actual sisters in real life as well. Meiko is an older sister, while Hiyori is the younger one.

For Uten Hiyori's birthday in 2021, she built a cake and did a 256 x 256 pixel art of Hiyori in Minecraft[17].
External Links
Media
References