Associated pages
Anisa Indrianti Utami (アニサ。インドリアンチ。ウタミ ) or known as AIU is a female virtual YouTuber from Indonesia who debuted on 1 January 2020.
Introduction Video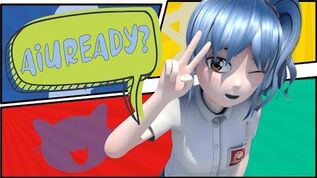 AIU's First Diary.

Appearance
AIU has a long blue hair that she keeps in left-side tail with a smoke pink ribbon. She also has bangs and two long strands of hair next to her face.
She wears a black tank top, green-white stripe shirt that resembles of Miki Hoshi's costume, blue jeans short-pants and a white slippers as her daily outfit. She also wears a typical 90's Indonesian high school uniform in her formal dress, which is white collared shirt and long grey skirt, white socks and black shoes.
Personality
AIU is portrayed as the archetype of a lively rebellious girl. Her tomboyish and ignorant attitude make her known as one of mischievous person in virtual world especially after her 'brave' act that sticking a promotional sticker on a passing Tank on Bandung.
Sometimes she can be so impulsive and speak without thinking, but Aiu is truly cares about her friends and fans even when she has obvious anger issues.
Trivia
Her slogan of Aiuready was founded by mistake when her manager miss-spelled Are you ready in WhatsApp chat.
She's typical of tsundere girl who didn't recognized her own dere,
Rejected by her first love in valentine day
Her Javanesse accents is her voice characteristic in virtual world.
She's can imitate several voices including Maya Putri, Alia Adelia, Unyil, Upin, and Ipin.
Tessa's and Ratih's best friend.
Her promotional sticker was deployed around Bandung and Cimahi.
Natural Born Genius girl who only use 'slightly' of her brain ability due to her laziness
External Link
Community content is available under
CC-BY-SA
unless otherwise noted.