Associated pages
Anya Melfissa is a female Indonesian Virtual YouTuber associated with hololive, debuting as part of its Indonesian (ID) branch second generation of VTubers alongside Kureiji Ollie and Pavolia Reine.
Introduction Video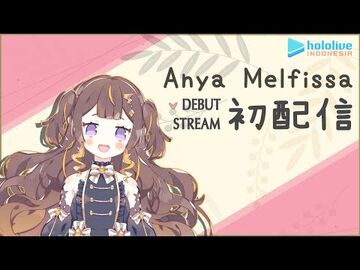 Profile
An ancient weapon known as "Kris", she was granted human form through a mystical ritual performed by her master. She's just about always sleeping or playing games. Living mostly alone for so long has made her tend to be apathetic towards things and people she's uninterested in, but when talking about things she likes, she can be quite childlike and passionate.[4]
Personality
Anya is a very calm person. She is a bit different from Ollie, she seems to talk a little bit and mumbles more often because she gets nervous during live streams. Rather than her peers like Ollie and Reine, Anya is less sociable with her senpais but has recently started a relationship with one of her senpais, namely Ina.[5] But when provoked or angered, Anya will pull no punches to get her point across, harshly so.
Anya is also often categorized as a Yandere girl by some of her fans because of her sadistic comments and thoughts on events in the Mad Father game stream. It was made by her fans that when Anya played horror games, they were not afraid of ghosts, but afraid of Anya herself.[6][7] In fact, when playing horror games, Anya typically scoffs off the scares as if they're sunshine and rainbows.
Even so, Anya is also the type of person who is easy to joke around at certain times. Sometimes, her sense of humor is a bit demeaning to others such as when she called Ollie a cutting board[8] and made her height a comparison between her senpais as in Gura, Shion, and Rushia[9].
History
Background
Anya was announced as part of hololive's ID branch second generation on hololive's Indonesia Twitter account with the other second generation members on 1 December 2020 JST.[10] Her Twitter account was created on November 2020 and she made her first tweet on 1 December.[11] Her YouTube channel was created on 1 September but Anya debuted on 5 December 2020, reaching 100,000 subscribers on the same day.
2021
On 12 January, Anya reached 200,000 YouTube subscribers.[12]
On 4 May, Anya reached 300,000 YouTube subscribers and has opened her channel's membership feature.
Discography
Main page: Anya Melfissa/Discography
id:entity voices
as hololive Indonesia    
Release Date
6 April 2021

Track List

"id:entity voices"
"id:entity voices" (Japanese ver.)
"id:entity voices" (Instrumental)

External links
Digital Release • Music Video
Events
On 8 July 2021, Comifuro Twitter account announced that every hololive Indonesia member would appear in "Comifuro Virtual," Anya alongside with Reine would appear as guests.[13]
Fans
Her fanbase is officially called "Melfriends", while members are called "Melhomies".
Trivia
Anya is a personification of a Keris knife, also known as a Kris.
Anya likes: sleeping, comfy bed, gacha games, relaxing places, visual novels, idols and seiyus and Shirakami Fubuki.
Her favorite games include: Fate/Grand Order, rhythm-based games (Arcaea), DOD3 and RPG-maker horror games.
Her favorite anime are: Psycho Pass, Fate/Zero, Monogatari series, Rozen Maiden and Land of the Lustrous.
While she dislikes: irrensponsibillity, troublesome things, people's glances, crowds, noises and raisins.[14]
Anya's goals are: interacting with senpais and doing collabs, having a 3D model, reach Fubuki's sub count, getting a new PC suitable for streaming, she originally also included, doing covers of her favorite songs and releasing an original song however she later claimed to not being confident in her singing abilities and changed these goals to improve her singing first.[15]
She doesn't wear shoes.[9]
Some of her streams have some lag. Fans often call this case "RIP PC-kun".
External Links
Media
Further Readings
References