This is a Japanese name; the family name is Aragami.
Associated pages
Aragami Oga (荒咬オウガ) is a male Japanese Virtual YouTuber endorsed by hololive's branch Holostars. He is a member of its third generation alongside Kageyama Shien, which was previously known as "TriNero" (トライネロ) prior to Tsukishita Kaoru's retirement. Oga and Shien then became known as "MaFia" (魔フィア).[2]
Introduction Video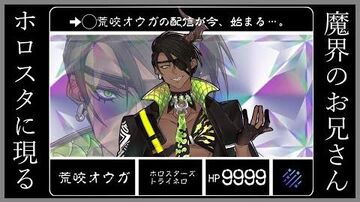 Oga's introduction.

Profile
Ex-military who had been fighting for around 5,000 years in a parallel world.
Had recently retired from service and was sightseeing in Japan when he was scouted by Shinove.
Was introduced to retro gaming and has been hooked ever since.[3]
History
Background
His Twitter account was created in 10 April 2020; he made his first tweet on 27 April,[4] his YouTube channel was created on 8 April, and his debut stream was performed on 1 May 2020.
2020
On 27 September, he opened up his membership feature.[5]
On 25 December, it was announced that all the Holostars members would receive new costumes on 3 January, 2021, commemorating New Year's.[6]
2021
On January 3, he revealed his new year's costume.[7] On the same day, Holostars released their cover of Paintër by halyosy, making it Oga's first cover song.[8]
Events
On 10 October, 2020, Oga was a part of Waku Waku! VTuber Hiroba Online Vol. 2 (わくわく!VTuberひろば おんらいん Vol.2) along with Kageyama Shien, Syukusei Batumaru and Boyacky from Yatterman Channel.[9] Fellow Holostars member Rikka and, as well as Nanase Taku, Akiyama Rentarou from Himashokudo and Hanagasa Ilya were also part of the event.
On 26 October, 2020, it was announced that Holostars goods would be sold at Animate Girls Festival Aozora Marche, held on November 7-8, 2020,[10] and on 29 October, 2020, it was announced that Holostars would be participating in the event as guests.[11] Oga is part of the "Virtual Clerk" (バーチャル店員) exhibition and "Chatting Fes" (おしゃべりフェス) exhibition in the event.[12]
On 28 January, 2021, it was announced that "Net Talking Festival", an Holostars exclusive event, will be held on 14 February where fans can have a one-on-one chat with any of the Holostars members for 3 minutes, talking about their daily feelings of gratitude to an important person.[13]
Mascot and Fans
Oga's mascot is named "Chungami" (ちゅんがみ). It was spawned from a conversation with Shirakami Fubuki.[14]
His fanbase is officially called "OMAEsan" (オマエさん).
Relationships
Units and groups aside from TriNero and MaFia he is part of are:
Trivia
In the first TriNero collab, Oga said that since he was new to streaming, he wasn't sure if it was okay to use assets he didn't own. So he drew his streaming background, the pixel art in the intro of his debut stream, and even the drinks shown in the collab stream.
He shares his birthday with hololive ID member Ayunda Risu.

In 2021, they both released a duet of "DADDY! DADDY! DO!" on their channels, each featuring themselves as the main vocals for the song and the other as backing vocalist.
External Links
Media
Further readings
Solo Debutants
(hololive 0th Gen)
First Generation
Second Generation
hololive GAMERS
Third Generation
(hololive Fantasy)
Fourth Generation
Fifth Generation
(NePoLaBo)
INoNaKa MUSIC
Retired
References
Community content is available under
CC-BY-SA
unless otherwise noted.