The Sandman Will Keep You Awake - The Loop
Play Sound
This is a Japanese name; the family name is Aragami.
Associated pages
Aragami Oga (荒咬オウガ) is a male Japanese Virtual YouTuber endorsed by hololive's branch HOLOSTARS. He is a member of its third generation alongside Kageyama Shien, which was previously known as "TriNero" (トライネロ) prior to Tsukishita Kaoru's retirement. Oga and Shien then became known as "MaFia" (魔フィア).[2]
Introduction Video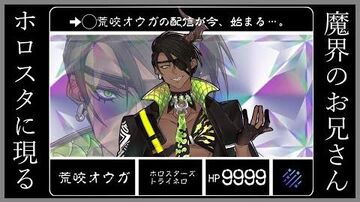 Profile
holostars.hololivepro.com
Ex-military who had been fighting for 5,000 years in a parallel world.

After retiring from the military, he went sightseeing in Japan when he was scouted by Shinove.
He was introduced to retro games and has been hooked ever since.[3]
hololive.tv
Ex-military who had been fighting for around 5,000 years in a parallel world.


Had recently retired from service and was sightseeing in Japan when he was scouted by Shinove.

Was introduced to retro gaming and has been hooked ever since.[4]
Personality
He was initially described by other members of TriNero as "very weird person". Despite his appearance, Oga is man of calm and gentle demeanor, speaking with a deep, soothing voice while treating fans very kindly which builds up a warm and calming atmosphere on his streams. He is trying to forge friendly relationships with his fans, being sad to notice that after his debut stream, many fans switched from -kun (くん) to -san (さん) honorifics while addressing him, making the comments feel a bit more distant.[5]
History
Background
His Twitter account was created in 10 April 2020; he made his first tweet on 27 April,[6] his YouTube channel was created on 8 April, and his debut stream was performed on 1 May 2020.
2020
On 22 July, he reached 20,000 subscribers.[7]
On 9 September, he reached 30,000 subscribers.[8]
On 27 September, he opened up his membership feature.[9]
On 6 November, he reached 40,000 subscribers.[10]
On 6 December, he reached 50,000 subscribers.[11]
On 25 December, it was announced that all the HOLOSTARS members would receive new costumes on 3 January, 2021, commemorating New Year's.[12]
2021
On January 3, he revealed his new year's costume.[13] On the same day, HOLOSTARS released their cover of Paintër by halyosy, making it Oga's first cover song.[14]
On 5 January, he reached 60,000 subscribers.[15]
On 17 January, he reached 70,000 subscribers.[16]
On 15 February, he reached 80,000 subscribers.[17]
On 13 March, he reached 90,000 subscribers.[18]
On 21 April, he reached 100,000 subscribers, being the sixth HOLOSTARS to reach this milestone.[19]
On 13 July, hololive's Japanese Twitter account announced that every HOLOSTARS member would get 2.0 version of their 2D model.[20]
On 20 July, Oga announced during a stream that he would receive his 3D model.[21]
On 24 July, Oga debuted his 3D model.[22]
On 6 August, hololive's Japanese Twitter announced that Oga and Shien would receive "Summer" costumes.[23]
On 10 August, Oga debuted his third costume.[24]
On 29 November, Oga announced on his Twitter account that he would receive his fourth 2D costume.[25]
On 14 December, Oga's Twitter profile obtained the verified badge, being the first Holostar in doing so.[26]
2022
On 15 January, Oga announced at his 3D birthday stream that his original song Silent Night Requiem would be released by midnight. The song also received a MV on 5 February.
On 16 January, it was announced by Oga and Ayunda Risu that they are working on an original song collab.[27]
Discography
Main page: Aragami Oga/Discography
Events
2020
On 10 October, Oga was a part of Waku Waku! VTuber Hiroba Online Vol. 2 (わくわく!VTuberひろば おんらいん Vol.2) along with Kageyama Shien, Syukusei Batumaru and Boyacky from Yatterman Channel.[28] Fellow HOLOSTARS member Rikka and, as well as Nanase Taku, Akiyama Rentarou from Himashokudo and Hanagasa Ilya were also part of the event.
On 26 October, it was announced that HOLOSTARS goods would be sold at Animate Girls Festival Aozora Marche, held on November 7-8, 2020,[29] and on 28 October, 2020, it was announced that HOLOSTARS would be participating in the event as guests.[30] Oga is part of the "Virtual Clerk" (バーチャル店員) exhibition and "Chatting Fes" (おしゃべりフェス) exhibition in the event.[31]
2021
2022
Mascot and Fans
Oga's mascot is named "Chungami" (ちゅんがみ). It was spawned from a conversation with Shirakami Fubuki.[50]
His fanbase is officially called "OMAEsan" (オマエさん) and are depicted as a rainbow colored character.[51]
Oga also has a secondary mascot called "Naisucchi" (ないすっちぃ). It was born on a channel emote drawing stream, where he meant to draw a thumbs up emote but later turned into a bird-like creature instead.[52]
Relationships
Units and groups aside from TriNero and MaFia he is part of are:

"Kira Kira Collab" (キラキラコラボ), along with Arurandeisu, Airani Iofifteen and Ayunda Risu, also known as "Kira Kira Family" or "Kira Kira Club".
"FOXDEMON", along with Shirakami Fubuki.
"Oumagadoki" (オウ魔ガ刻), along with Yukoku Roberu.
"Babumagadokide" (ばぶ魔ヶ刻で), along with Kageyama Shien and Yukoku Roberu.
"HOLOFOI", along with Airani Iofifteen and Shirakami Fubuki.
"UniDemons", along with Airani Iofifteen and Deep Blizzard Miyuki.
"Ararandeisu" (アラランディス), along with Arurandeisu.
"TemMa" (天魔), along with Kishido Temma.
"Koukakidou Lobstars" (甲殻奇動ロブスターズ), along with Hanasaki Miyabi, Arurandeisu and Kageyama Shien.
"Organic Flower" (オウガニックフラワー), along with Hanasaki Miyabi.
"World Domination Duo", along with Ayunda Risu.
"Ogabisa", along with Airani Iofifteen
Trivia
Oga shares his character designer with Shu Yamino and Mysta Rias of NIJISANJI EN.
In the first TriNero collab, Oga said that since he was new to streaming, he wasn't sure if it was okay to use assets he didn't own. So he drew his streaming background, the pixel art in the intro of his debut stream, and even the drinks shown in the collab stream.

Unknowingly to Oga, the majority of his streams were held in 720p with 30FPS instead of 1080p with 60FPS which is the standard for streamers. During a gameplay stream on 27 February 2022 of Vampire Survivors which messes with the resolution of a stream usually, he remarked to change the resolution from 1080p if necessary. He was then promptly told by several viewers that it's not an option he provides for his streams, which is when he finally realized that he had been streaming in lower quality all the time.
As he was voicing his shock over this on Twitter, it became clear that his fanbase as well as his colleagues were aware of this[53] but had assumed on their own that it was due to Oga's setup not being capable of streaming at 1080p/60FPS.[54] (This impression was furthermore cemented by any 3D streams he held in Cover's studios being unaffected.)
After Miyabi taught him how to use the right settings[55], Oga held a membership stream on 1 March 2022 to test them. It was followed up by a public stream on 2 March 2022.

He drew Ayunda Risu[56][57] and Kageyama Shien's[58] mascots, as well as his own. His YouTube membership's loyalty badges and emotes are also drawn by himself.

Oga's gift to Shien's 25nd birthday was an animated Nekoyama, which Shien presented on his stream.[59]

He shares his birthday with hololive ID member Ayunda Risu.

In 2021, they both released two duets of "DADDY! DADDY! DO!" on their channels, each featuring themselves as the main vocals for the song and the other as backing vocalist.

He suffers from motion sickness, triggered by rapid camera movements such as the ones in first person shooters and similar games, thus he avoids playing them.
His alcohol tolerance is very low. This was more noticeable on his first anniversary stream where he got tipsy after a single can of Horoyoi, a drink with only 3% alcohol.
At 192 cm (6'4") in height, Oga is the tallest hololive Production member.
He and Rikka are the only two left-handed members of HOLOSTARS.
He's very knowledgeable about gunpla and is an avid collector as well. Some of his talk streams involve building gunpla kits either normally or in an ASMR fashion. For his 100,000 subscribers watchover stream, he assembled an MG Deep Striker kit he received for his birthday, which took him about six and a half hours to complete.[60]
External Links
Media
Further readings
References