Associated pages
Artia (阿媂娅) was a female Chinese VTuber associated with hololive, debuting as part of its Chinese (CN) branch second generation of VUP (Virtual UP, since content creators in bilibili are normally nicknamed "UP" or "UP Master") alongside Doris and Rosalyn.
Introduction video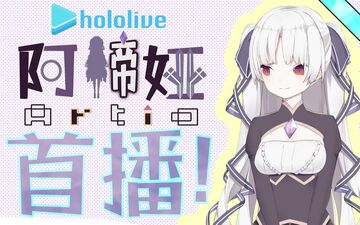 Personality
Appearance
Artia is fair-skinned, with red eyes and long hair with bangs, styled into twintails with gray and white ribbons that lace around each twintail. She wears a gray and white dress with gold accents, a purple gem between her bone collar, white gloves and leggings, as well as gray shoes.
 History
Background
She was announced as part of hololive CN on hololive's official Twitter account on 6 March 2020.[1]
2020
On 25 October, she changed her Twitter account from "artia_hololive" to "Artia_OW" and removed any mention of the company from her profile.
Retirement
On 12 November, hololive's official English Twitter account announced the graduation date of 5 out of the 6 members of hololive China, Artia's retirement is scheduled for 19 December.[2]
Also on this date Artia made her last tweet as the Twitter account belongs to hololive.[3]
On 16 November, hololive's official English Twitter account announced Artia's graduation date was rescheduled for 19 November. [4]
On 19 November, she had her graduation stream on her Twitch channel, with the archive no longer available just sometime after it ended.
 Trivia
She shares the same character designer with Ars Almal of Nijisanji as well as Kagura Mea.
She is quite proficient in English. This led her to be the first hololive CN and hololive member overall to join the official Hololive Subreddit as a moderator. When her manager told her to "make a post when she had time", she responded by making "a post". After her graduation, she was removed from the list of mods.
She was the first, and for a time only, hololive member to use Twitch, and hoped that the other members would start streaming on the platform as well.
External Links
References