Arurandeisu (アルランディス) is a male Japanese Virtual YouTuber endorsed by hololive's branch Holostars. He is a member of its first generation, alongside Hanasaki Miyabi, Kagami Kira, Kanade Izuru and Rikka.
Introduction Video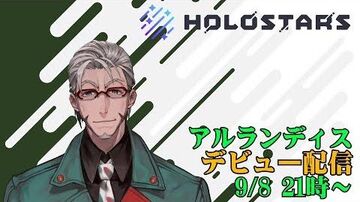 Arurandeisu's introduction.

Personality
An Italiano who always tricks people with his dandy looks and the actual personality he has. A Mr. Nice who is calm and collected (at least, that is what he wishes to be), he has a bad sense of direction. He is also the kind of person who tries before thinking when it is up to new challenges. When he plays games, he sort of empathizes and gets into the character's role a bit too much.[1]
History
Background
His Twitter account was created in 1 August 2019; his YouTube channel was created on 2 August, and his debut stream was performed on 8 September 2019.
Fans
His fanbase is officially called "Familiaran" (ファミリアラン).
Trivia
External Links
References
Community content is available under
CC-BY-SA
unless otherwise noted.