This is a Japanese name; the family name is Asahina.
Associated pages
Asahina Akane (朝日南アカネ) is a female Japanese Virtual YouTuber and a member of Nijisanji who debuted in 2020 as part of "Selene Girls' Academy" (世怜音演劇同好会), alongside Suo Sango, Todo Kohaku, Kitakoji Hisui, and Nishizono Chigusa.
Introduction Video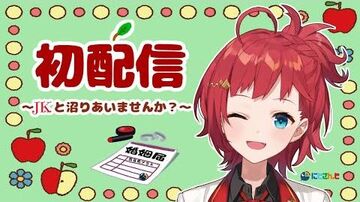 Profile
Starting this spring, she's a first-year high student at the prestigeous Selene Girls' Academy and a member of the Drama Club. She advanced from the academy's junior high section to the senior high section in April. She is energetic and friendly.[1]
Personality
She is very energetic, friendly and has a positive attitude, but she sometimes turn into a yandere abruptly.
She likes to sing and dreams of performing on a big stage one day.
History
Background
Her channel was created on 29 July 2020, and her Twitter account was created in August 2020. She debuted on YouTube on 10 August.
2021
On 17 May, her Youtube channel reached 100,000 subscribers.
Fans
Her fanbase is called "Asahinaa" (あさひなー).
Trivia
'Akane' means red in Japanese.
Color:

#B7282E

[2]
She shares her designer with Kuroki Natsume.
She loves to sing, and often performs song covers and karaoke streams.
She often travels abroad since her father frequently goes on business trips.
She loves actresses and has bought clothes worn by Ishihara Satomi and Arimura Kasumi.
Akane regularly posts links to her streams and videos on the official Nijisanji subreddit, making her one of the most active JP Livers there. Her posts are usually in English.
Notable Units
External Links
Media
Further readings