This is a Japanese name; the family name is Asamiya.
Associated pages
Asamiya Athena (麻宮アテナ) is a Japanese female Virtual Youtuber and a character created by SNK Corporation who appeared first in the 1986 video game Psycho Soldier, but she's better known as part of the roster of the fighting game franchise The King of Fighters.
She became a vtuber as a marketing effort of SNK and Netmarble to promote their RPG mobile game The King of Fighters: All Star.
Introduction Video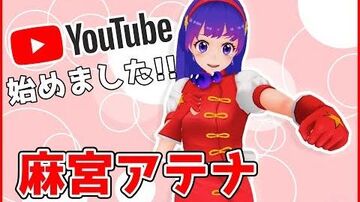 Profile
According to SNK, Athena is a Japanese high-school girl and a famous idol who has psychic powers and is versed on Chinese Martial-arts. She is also the descendant of Princess Athena from the game Athena.
Personality
Athena displays the traits of a Japanese Idol, such as being outgoing, polite, and friendly.
Athena is a happy girl with a sense of righteousness and high morals, she values her fans and those who are in the need of help and fights to do her best to help them.
Athena sometimes can be a crybaby.
Trivia
Athena's debut as a vtuber was confirmed in June 2018, during Netmarble's The King of Fighters All Star announcement event. It was confirmed that she is voiced by Haruna Ikezawa, the official voice of Athena since the game The King of Fighters '98.
External Links