Associated pages
Astel Leda (アステル・レダ) is a male Japanese Virtual YouTuber hololive's branch Holostars. He is a member of its second generation, also known as "SunTempo" alongside Kishido Temma and Yukoku Roberu.
Introduction Video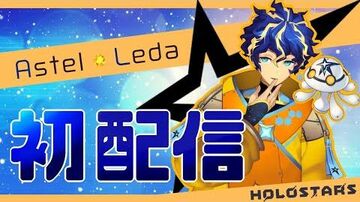 Astel's introduction.

Profile
Although he is kind of self-indulgent and childish, this Mr. Handsome cares a lot about his friends. He does not remember much from his past, however he sometimes stares into the sky and smirks.[2]
History
Background
His Twitter account and YouTube channel were both created on 9 October 2019, and his debut stream was performed on 7 December 2019.
2020
On 4 April, Astel released his first cover song, Kami no Manimani (At God's Mercy) by rerulili, in which he sang with Kanade Izuru.[3]
On 30 June, he reached 10,000 subscribers[4]
On 5 August, he revealed his summer costume.[5]
On 14 September, he reached 20,000 subscribers[6]
On 9 November, he reached 30,000 subscribers[7]
On his first debut anniversary, Astel released his first solo cover song, One more time,One more chance by Yamazoki Masayoshi.[8]
On 10 December, he reached 40,000 subscribers[9]
On 25 December, it was announced that all the Holostars members would receive new costumes on 3 January, 2021, commemorating New Year's.[10]
2021
On January 3, he revealed his new year's costume,[11] which was modelled by 瀬白しぐれ.[12]
On 15 January, he reached 50,000 subscribers.[13]

On 9 February, he reached 60,000 subscribers.[14]
On 21 February, in his stream celebrating 50,000 subscribers, he revealed a new variant of his new year's costume, which had a new hairstyle.[15] On the same day, he reached 70,000 subscribers.[16]
On 8 March, he reached 80,000 subscribers.[17]
On 27 March, he reached 90,000 subscribers.[18]
On 14 April, he reached 100,000 subscribers, being the fifth Holostars to reach this milestone.[19]
Events
On 1 May, 2020, Astel, as well as Yukoku Roberu and Kishido Temma appeared on on Holocomi (ホロコミ), an online convention/event hosted by Shirakami Fubuki.[20]
On 26 October, 2020, it was announced that Holostars goods would be sold at Animate Girls Festival Aozora Marche, held on November 7-8, 2020,[21] and on 29 October, 2020, it was announced that Holostars would be participating in the event as guests.[22] Astel is part of the "Virtual Clerk" (バーチャル店員) exhibition and "Chatting Fes" (おしゃべりフェス) exhibition in the event.[23]
On 28 January, 2021, it was announced that "Net Talking Festival", an Holostars exclusive event, will be held on 14 February where fans can have a one-on-one chat with any of the Holostars members for 3 minutes, talking about their daily feelings of gratitude to an important person.[24]
Mascot and Fans
His mascot is named Poruneu (ポルネウ) (translated as Pocket Wifi). It is a jellyfish-like creature that acts as a Wi-Fi router. Additionally, Poruneu can be used to make thumbnails and tweets.[citation needed]
His fanbase is officially called "Astellas" (アステラー).
When Astel ends the stream, fans say farewell by saying "otsukaleda" (おつかレダ).
Relationships
Units and groups other than SunTempo he is a part of are:
Trivia
He shares the same birthday as hololive member Tsunomaki Watame.
Astel is a big fan of Disney and would sometimes have singing streams in where he would sing Disney songs. However, when he does, the stream archive is deleted due to copyright issues.
He is able to stream for extended hours of time, such as up to 3-9 hours.

He once did a singing stream that lasted 24 hours. However, the stream was unarchived due to copyrighted content in the stream, as well as the fact that only streams under 12 hours can be archived.[26]

Astel entered Shibuya Hal's VTuber Apex Legends Tournament alongside Kanade Izuru and Kagami Kira, under their group name, Chibistars, in which they ended up ranking 5th out of 20. In addition, Astel ranked 4th out of all players in his kill counts, tied with Sato Asahi and Kanae. He also ranked 4th in the overall damage dealt.[27]
Astel reached Master rank in Apex on the 15th of March 2021, while accompanied by Kanade Izuru and Utai Meika. This rank was only achieved by 0,12% of players in season 8.
External Links
Media
Further readings
Solo Debutants
(hololive 0th Gen)
First Generation
Second Generation
hololive GAMERS
Third Generation
(hololive Fantasy)
Fourth Generation
Fifth Generation
(NePoLaBo)
INoNaKa MUSIC
Retired
References
Community content is available under
CC-BY-SA
unless otherwise noted.