Associated pages
Ayamy (あやみ) is a female Korean Virtual YouTuber, character designer and illustrator.
Introduction Video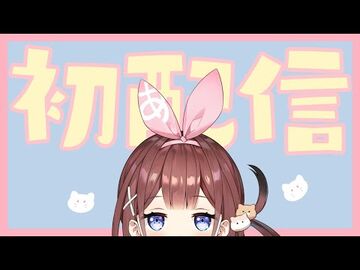 Profile
Personality
Appearance
Ayamy has brown hair decorated with a pink lace with a white hiragana of the letter "A" 「あ」 and two cat shaped hairpins, her eyes are blue. She wears a white sweatshirt, with a white t-shirt underneat that reads "Ayamy desu"「あやみデス」. In her standard outfit Ayamy doesn't wear any shoes.
History
Background
Her Twitter account was created in November 2010, where she first teased her intentions in becoming a VTuber on 27 August 2020 teasing her debut date as 10 October.[3] Her YouTube channel was created on 24 August 2020, but Ayamy didn't debut until 17 October 2020.[4]
2020
On 1 November, she reached 6,000 subscribers on her YouTube channel.[5]
On 10 November, she reached 7,000 subscribers on her YouTube channel.[6]
On 23 November, she reached 8,000 subscribers on her YouTube channel.[7]
On 11 December, she reached 9,000 subscribers on her YouTube channel.[8]
2021
On 1 January, Ayamy celebrated reaching 10,000 subscribers on her YouTube channel.[9]
On 16 January, Ayamy designated the third 2D costume for Hanamori Healthy during a stream.[10]
On 13 March, Ayamy announced on her Twitter account that she would get two new 2D costumes.[11] She debuted both of them next day on 14 March, the first one is named by herself "Neko Maid" where she wears kimono-inspired clothes with a white apron and brown cat ears and tail. The second costume is gothic inspired using a black dress with purple decorations.[12][13]
On 13 May, she celebrated reaching 30,000 subscribers on her YouTube channel with a singing stream.[14]
On 1 June, Ayamy announced during a stream that she would get her fourth 2D costume.[15]
On 10 June during her birthday stream she debuted her fouth 2D costume. In this costume Ayamy got a new hair style, small twintails, decoraded with the two cat head shaped hairpins that are present in all of her outfits, she also wears a dark purple beret with decorated with cat ears and ribbons, her dress is white and the skirt of the dress is purple, Ayami complements her dress with a purple corset, her white socks go above her knees and her shoes are black. She can also wear glasses and a dark purple sweather that matches her beret, decorated with ribbons, a cat pawn and the hiragana of the letter "A" 「あ」 present in her original outfit.[16]
On 22 June, she reached 40,000 subscribers on her YouTube channel.[17]
On 2 July, Ayamy announced on her Twitter account that her YouTube channel was terminated without warming.[18] About 13 hours later, she confirmed that her channel was restored thanking everyone for their support.[19][20]
Fans
Her fanbase doesn't have an official name, althought she usually calls her fans as her "boyfriends".
When Ayamy starts the stream, fans say greeting by saying "konyami" (こんやみ).
When Ayamy ends the stream, fans say farewell by saying "otsuyami" (おつやみ).
Quotes
"Thank you my boyfriend, chu~"
Trivia
Ayamy is the character designer of Yozora Mel, Hanamori Healthy, Kogure Piyoko and Taya Rex. Both Mel and Healthy made appearances on Ayamy's debut stream. Ayamy also collaborated with Healthy the following day after her debut.[21][22]
She has two cats, Ayamy represents them on her model as two hairpins that are present in every costume.
Ayamy sometimes jokes that she is 100 years old.[23]
She is good at cooking, although sometimes she makes weird food combinations.
She is a big fan of Re:Zero − Starting Life in Another World and her favorite characters are Rem and Petelgeuse Romanee-Conti.

She often draw fanarts of Rem.

She is pretty fluent in English, she even can make a conversation with her overseas fans.
She loves pineapples.
External Links
Media
References