Associated pages
Belmond Banderas (ベルモンド・バンデラス) is a Japanese Virtual YouTuber and a member of NIJISANJI (formerly of NIJISANJI SEEDs).
Although he has a frank personality, he can sometimes become ill-tempered. According to him, he's existed since living things started to see dreams. He is the barkeeper of a store that anyone can come to as long as they are dreaming, and invites guests of various races on a whim. Because he has no family register, he worries about not being able to be identified in the world of reality.
The owner of a bar named "Bar Deras".
Introduction Video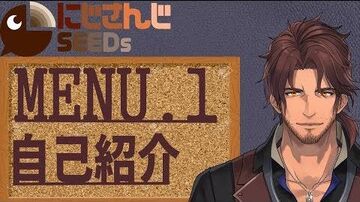 Personality
Belmond Banderas is a mature and charming individual who is one of the most popular male Livers of NIJISANJI. He is popular among his seniors and juniors as a "kind uncle" image.
He has a calm personality and good manners. He rose to popularity because of his welcome greetings towards Sasaki Saku, which she included in her parody song. He is also famous for an incident in which he paid the bill for yakiniku when Yuzuki Roa, Ushimi Ichigo and Onomachi Haruka were eating with, went to the toilet. However, after Roa mentioned it in her stream, Belmond responded by saying that he didn't use any of his money and said it was the hard-working girls' money from viewers. Another case was when Belmond ordered six portions of the expensive beef tongue for Sasaki Saku, Ange Katrina, Inui Toko and Lize Helesta when they gave up on eating it and chose the cheaper option. He did so in an attempt to cheer them up because of their canceled collab concert.
He has a good voice and always streams midnight until morning since he is a barmaster who appears in dreams. Because of his voice and the jazz background music he plays during streams, fans often use his streams to lull them to sleep. He said he is glad to be able to help them in any way he can.
But he had another persona when he becomes a barbarian or mafia-like guy. During this time, overseas fans called him Anideras because when Roa visited his Belmond Industry in Minecraft, she can't believe what he saw and ask him if he is actually Belmond. Belmond replied that he is Belmond's older brother. NIJISANJI VTubers who come across Belmond Industry always pretend they didn't see anything.
There's also a running joke between NIJISANJI about Belmond is a "brain dead uncle" or a "yes-man" because he usually says yes to everything people said. He also sometimes acts like a JK (high school girl) when his voice becomes higher pitch and speak like a high school girl when he's excited.
Appearance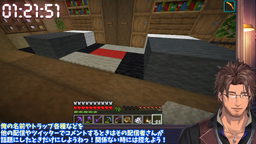 Belmond has dark brown side ponytails. He has droopy yellow eyes and a brown goatee. He also wears a brown bartender outfit with black striped pants, a black waist apron, and light brown leather shoes. For his accessories, he wears a silver tag necklace with a star design, a brown bracelet with a star pendant, and a brown leather belt chain with a star pendant.
Recently, Belmond has his hair styled in short hair (released with his mafia suit outfit) and glasses.
History
In the early days, his streams were in the form of a conversation between the bartender and the customer, such as consultation on concerns and reading aloud. The streaming time usually lasts about 1-6 hours, but it may pass more than 10 hours in a rare case.
Background
Belmond's YouTube channel was created on 19 September 2018, and his first video was uploaded on 25 September 2018.
2019
2020
2021
On 15 January, he won as champion for Minecraft Udedameshi NIJISANJI Cup and breaking the record for the fastest player to finish the cart race, flying final race, and overall total score.
On 5 February, he unveiled his fifth alternate outfit: a casual outfit consist of white knit sweater, a tight black t-shirt, jeans, new hair, and non-beard version of him. He also released his LINE stickers illustrated by Amatukiatu.
On 27 February, he held a Tokyo Revenge Tour during NIJISANJI 3rd Anniversary Festival 2021 along with Sasaki Saku, Lize Helesta, Inui Toko and Ange Katrina. It's supposed to be held in 2020 but only their tour got canceled because of COVID-19.

He performed Hyadain no Kakakata☆Kataomoi from Nichijou with Sasaki Saku.
He performed Hologram.
He performed Great Days from JoJo's Bizzare Adventure with Inui Toko.
He performed Suki Kirai with Ange Katrina.
He performed SHAKER.
He performed Virtual to Live with others.

On 14 March, he released his cover of KING as his first solo cover song.

This cover actually won't exist if it's not for the illustrator for this video, Choco-san. They're a huge fan of Belmond and decided to draw Belmond in KING version (the actual illustration used in the cover) for what if one day Belmond decided to sing a cover song. After that, Belmond asked in twitter "should i sing this?" while retweeting her illustration and after that tweet "then please look forward to it". Choco-san straight away drew all the expressions in a few hours. Genzuki Tojiro who heard Belmond going to cover KING, asked to allow him made arrangements for the song.

On 20 June, he released his cover of Autophagy.
On 1 July, he changed his membership plan.
On 1 July, he released a cover of Otoko no Uta from Grand Blue Fantasy, with Hanabatake Chaika and Maimoto Keisuke.
On 14 December, he unveiled his sixth alternate outfit: a demon butler.
Fans
His fans are called "Suimin" (睡民) or "Sleeper".
He often does voice acting per request from viewers. Viewers can send him a request through superchat or chat, but it is most likely to be seen from a superchat due to chat traffic.
His greeting when starting the stream is "Obandesu" and when ending the stream is "Obandeshita".
Belmondism
Warning
Please don't force Belmondism (Belmond ritual) to other VTubers in diamond mining or gacha activities unless the VTubers themselves talk about it. This is the message from Belmond Banderas himself.
Minecraft
He is fascinated by Redstone (the theory that there is a diamond near Redstone). When he finds Redstone, he greets them and introduces himself. His motto is, "Redstone will guide me." After that, he will discover a ridiculous amount of diamonds. Because of that, he is also known as Diamond R Banderas (Diamond Redstone Banderas). Due to such luck, the viewers said that when Belmond digs up ore (diamond and emerald), it is time to roll the gacha to get rare items, and the new religions "Emerald Banderas" and "Diamond Banderas" were born.
He was also enthusiastic about it, and he called himself Diamond Paradise as a guru. Prayer time (gacha time) is considered to be diamond paradise time.
More than 200 diamonds were mined in 2 hours until Buddy's (Belmond's main enchanted diamond pickaxe) durability was gone in the "Banderas Religion Delivery" that spread gacha luck to believers on August 6th, 2019, to dig up ten emeralds.
FGO
In FGO terms, the viewers said that he has a noble phantasm called EX Rank Luck.
His most popular FGO stream was when the primary goal of the stream was to get Merlin. The stream only lasted 12 minutes and 32 seconds. Merlin came to him with a free ticket after 2 minutes and 30 seconds passed from starting the stream. Because he felt bad about ending the stream too soon, he said he would end the stream when he got Carmilla. After that, he got Summer Musashi and Osakabehime in one roll and Carmilla in another.
Many popular voice actors and VTubers are part of this cult because they often get SSRs or limited items during his streams. One of the VTubers that is part of this cult is Lize Helesta. She got a diamond in Minecraft after doing the Belmond ritual (introducing yourself to Redstone). After listening to a recording of his voice recorded for her during her collab with Otogibara Era, she obtained an SSR. She played it during her collab with Tsukino Mito, and Mito got an SSR card. Gundou Mirei managed to get Merlin after mentioning his name in her stream. Saegusa Akina was also mining for diamonds in the middle of a card gacha stream. When he finally got diamonds, he went back to rolling and finally got an SSR character.
Unit
"Kusozako Gaming" (くそざこGaming), along with Uzuki Kou and Takamiya Rion.
"Strawbel" (ストロベル), along with Ushimi Ichigo.
"Dare Panda" (ダレパンダ), along with Sasaki Saku.
"Yumemizuki" (夢見月), along with Yuzuki Roa.
"Sanshamendan" (三者面団), along with Gundo Mirei and Yuzuki Roa.
"NIJISANJI Movie Club" (にじさんじ映画部), along with Shibuya Hajime, Dola, Debidebi Debiru, Nui Sociere and Hayase Sou.
"D no Ishi" (Dの石), along with Sakura Ritsuki.
"Shekinabeibu Club" (シェキナベイ部), along with Shellin Burgundy, Ibrahim and Saegusa Akina.
"Snow Bel" (スノーベル), along with Shirayuki Tomoe.
"NIJISANJI Dandies" (にじさんじレインボーダンディーズ), along with Maimoto Keisuke, Yashiro Kizuku, and Yumeoi Kakeru.
"Niji Iron" (にじ鉄), along with Saegusa Akina, Hakase Fuyuki, and Yorumi Rena.
"Haritobe Kingdom" (ハリボテ王国), along with Genzuki Tojiro, Nishizono Chigusa, and Levi Elipha.
"Beru ̄zu" (べるーず), along with Mayuzumi Kai, Ars Almal, and Aiba Uiha.
"NIJISANJI Gangster" (にじさんじギャングスター), along with Hanabatake Chaika, Yashiro Kizuki, Maimoto Keisuke, and Joe Rikiichi.
"NIJISANJI Expedition" (にじさんじ探検隊), along with Yuki Chihiro, Ushimi Ichigo, Sister Claire, and Suzuki Masaru.
"Revengers" (リベンジャーズ), along with Sasaki Saku, Ange Katrina, Lize Helesta, and Inui Toko.
"Radio Babel" (ラジオバベル), along with Oliver Evans.
"Ikebo Host" (イケボホストクラブ), along with Inuyama Tamaki, Yumeoi Kakeru, Kanda Shoichi, and Oliver Evans.
He is popular among NIJISANJI as a kind uncle or gentleman.
Trivia
Color:

#683D46

[3]
Belmond's real voice actually much deeper, which can be seen from his early streaming days and during Inuyama Tamaki's interview. He raised his voice because some girls were scared of his deep voice.

In the same stream, he mentioned that the Liver he respects the most in NIJISANJI is Elu and that the reason why he joined NIJISANJI was because of her. He likes her sense of humour and how free-spirited she is.

He loves alcohol. Viewers can ask him for recommendation what kind alcohol to suit their taste.
He can cook and bake cake.
His favourite food are natto, morioka cold noodles, offals (not the fat ones), ginger ale, and squid. He doesn't like korean cold noodles, spicy food, and dried fruits like raisins. He used to love mentaiko but these days greasy food is becoming harder for him.
He loves sweets. His favourite donut is Pon Pon Chocolate series from Mister Donut.
He loves western film, especially from Marvel. He also loves tokusatsu genre film, A Silent Voice, The Simpsons, How Do You Like Wednesday?, and slice of lime anime.
His favourite sport are basketball and professional wrestling.
He loves cats. His intro, outro, logo, and YouTube membership badge are all cat-related. He personally drew all his Youtube membership badge and stamps.
He has a cat named Owner. Often Owner will appear in the stream, meowing or coming close to Belmond, who will ask "What's the matter?" in a gentle tone.
Belmond has rhinitis. He had to take a break from Oct 14th-18th at 2020 because of nose surgery for his rhinitis because he's breathing painfully. He also has cat allergy.
It seems he is actually quite athletic in real life. During his 3D debut, he almost able to performed handstand (but failed because of the equipment) and managed to performed two cartwheels. He easily did RingFit Adventure and afraid going to break the controller. In one of his Mario Kart streaming (the video now got privated) the reason he never bang the desk when lost because he know people will get suprised and straight after that he showed the example of him "lightly" banging the table and the glass can be heard clattered loudly. After that he apologized to viewers and Owner for suprising them. Belmond also easily crushed an apple and a melon in his ASMR stream with one hand.
He is unexpectedly bad at horror games and needs a drink when he plays it alone.
Belmond doesn't mind BL and yuri, he had bought and read them.
Considered one of the best Minecraft players along with Sakura Ritsuki in NIJISANJI. He currently has at least 2000 diamonds. He got nicknamed as caveman because he lost easily in surface but can found his way easily in underground.
He has the same illustrator as Gilzaren III.
Character and Lore
Belmond's name comes from the fact that the first cocktail he drank was vermouth. Banderas is the name he had from the time he realized his existence.
Belmond's bar, Bar Deras, seems to have an owner (cat) even before opening the shop. Owner never met any living beings beside Belmond. Belmond doesn't know who Owner is or what are they.
Even though Belmond's appearance is a man, Belmond official gender is unknown.
Owner gender also unknown. Owner's appearance is a dark grey (almost black) russian blue cat. Belmond said it looks like a cat but it's not a cat.
Relationship
He was married to Sasaki Saku on April 1st, 2019 and divorced at the same time. Despite rarely collab and having a cat and dog relationship, they both are good friends of each other. Sasaki said to Shiina that one of the important people is Belmond even though she always teased him in the stream. She also said the moment she received a "welcome back message" from Belmond, even though that time she didn't know who is him, she vowed that if anything happens to Belmond, she will protect him and stay by his side.
Stuck in love triangle between Ange Katrina and Sasaki Saku.
Has father-daughter relationship with Yuzuki Roa and Ushimi Ichigo.
Yuzuki Roa nickname for him is Bangiras, which is the Japanese name for the Pokemon Tyranitar.
Has mother-son relationship with Kuroi Shiba because she tidied and organized his chest in Minecraft.
Has uncle-niece relationship with Takamiya Rion.
He is a close friend of Sakura Ritsuki, often collabing together for Minecraft. They have a good chemistry during collab and one of the people Belmond can talk easily. Their first encounter was in Minecraft, when Belmond almost dying in hunger because he got lost and didn't bring any food, Ritsuki appeared and gave him a lot of bread.
During Saegusa Akina debut livestream, he confessed the male vtubers he respect the most is Belmond. He like his voice and personality and before debut he often watch Belmond's stream but more importantly when his debut date decided, the first person to congratulate him was Belmond. After that sometimes during Belmond's stream, Akina will appear on comment section when he isn't streaming. He is now one of Belmond's close friends. There's also a saying the only person who can make Belmond do a weird thing is Akina.
When Mayuzumi Kai got asked who is the most reliable person among 104 livers of NIJISANJI JP, he answered number one is Belmond.
He called Debidebi Debiru a koala.
Sukoya Kana is a fan of his voice. She bought Belmond Banderas voice pack as her first NIJISANJI merch. After hearing that, he offered to give it for free but she refused.
He has a limited time vomit voice pack which Natsuiro Matsuri bought.
Inuyama Tamaki claimed that Belmond is his mother, calling Sasaki and Ange as Papa, despite Belmond repeatedly denying it.
Ironmouse, an english vtuber is a fan of Belmond. Belmond found her video reacting to his english wiki page and shrieking when she heard his voice and after that replied to her on twitter. They followed each other after that on twitter. When Ironmouse said she want to collab with Belmond on twitter, Belmond replied "I am looking forward to it". Ironmouse also a member of Belmond's channel, she joined during Mario Kart Tournament stream.
He is good friend of Yuuki Ono, a popular seiyuu (Kagami Taiga (Kuroko no Basketball); Isami Aldini (Shokugeki no Soma); Josuke Higashikata (JoJo's Bizarre Adventure: Diamond is Unbreakable); Louis (Beastars)).
Tatsuhisa Suzuki (Tachibana Makoto (Free!); Ban (Seven Deadly Sins)) is also a friend and fan of Belmond. Sometimes when Belmond start streaming, Tatsuhisa will send a superchat saying he will sleep now while listening to Belmond's voice.
Tomokazu Sugita (Gintoki Sakata (Gintama); Joseph Joestar (JoJo's Bizarre Adventure)) also know Belmond. When he got Belmond card from NIJISANJI pack, he said sometimes he watch Belmond's stream.
He become close with KIKKUN-MK-II from M. S S Project after meeting him in official Momotarou Dentetsu tournament as opponent.
Skincare, Body Care, and Fashion
External Links
Media
Further readings
References