Associated pages
catboymech

(You are here)
catboymech is a Non-Binary Canadian English VTuber who debuted on an the 20th of October in 2019. They are a variety streamer mostly known for their art, gaming, and just chatting streams on Twitch. They are independently produced and not currently associated with any Twitch Teams.
Cat has released free assets that can be found on their website for other VTubers to use and has had their assets featured in VTube Studio
Introduction video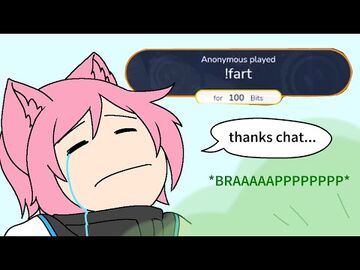 Personality
"Welcome to my stream! Please call me Cat 😼 they/them preferred! I'm a digital artist from Canada who likes to stream anime art and various games. I fawn excessively over Cat Noir and other animated catboys. That's basically all you need to know about me!" -Twitch Bio
Cat has a very relaxed attitude whether they are working on art or gaming and known for laughing at their own jokes. They lose this relaxed composure, however, when playing horror games like Phasmophobia and are quite easily scared.
Appearance
Cat inhabits the body of a catboy android named Pixel. Pixel has chin length pink hair and cobalt blue eyes. He notably has a matching blue tongue and mouth which has been attributed to a near constant use of Listerine. Pixel can most often be seen wearing a white and black hooded jacket with blue trim, black slacks, white gloves, and a pair of black boots.
Pixel MKI differs from the other two models as it sported a white suit along with a bell around his neck.
Pixel MKII introduced the iconic hooded jacket and Pixel MKIII was the first model to include a tail.
Pixel MKIII-D introduced glossy, see-through hair and a working tail.
Pixel MKIV introduced a new design featuring a white and black colour scheme, mechanical ears, and fluffy tail.
History
2019
20th of October: Cat debuted with their first avatar the Pixel MKI, an avatar designed and rigged by Cat themself.
2020
20th of June: Cat debuted their Pixel MKII, a model designed and rigged by Cat themself.
20th of November: they debuted their current avatar, Pixel MKIII, that they designed and egg ! rigged with a 24 hour stream celebration of meme reviews, games, art, and more
18th of November: Cat was interviewed by JohnLovesAnime. They decided that John would make a lovely catboy maid
21st of November: Cat qualified to become a Twitch Partner
28th of November: Cat had their first VR Stream
2021
15th of January: Cat became a Partner on Twitch!
11th of February: Cat debuted their new 3D avatar the Pixel MKIII-D that they modeled and animated themself
19th of May: Cat previewed a sneak peek of the new MK-IV-D model designed by themselves and modeled by KamikazE_Chan
Relationships
Cat is living with fellow VTuber ToastTornado
Has an adorable friendship with Kadukununu
Cat has created several VTuber avatars in collaboration with their VTubers. Cat refers to these VTubers as their Model Children.
Model children in order of creation
Fans
Cat's fans can be found on their Discord server the cat-house
Fans wanting to learn art from Cat can be found on Cat's Art School Discord
Cat's fans are known to be quite NSFW and colorful
They are known for teasing Cat with memes about melons, birthdays, drinking Listerine, and Cat's poor math skills
Trivia
Lore
Cat is the user who controls the android catboy Pixel
Cat is Non-Binary, but Pixel is a male android
The various iterations of Pixel are canon. They are referred to as MK I, II, III, IV (Pronounced "Mark One", etc)

Likes & Dislikes
Likes
Dislikes
Spicy food
Isekai and Time Travel anime tropes
Purple
Other
Became a VTuber without knowing what VTubing was
Casual video game fan and known to spray and pray
Cat is a less-than-stellar cook as can be seen by their attempt at chicken nuggets
Dabbles in many artistic mediums including animations, visual novels, and dress up games
Favorite season is winter
Has two cats, Chi and Zelda
Has been drawing catboys since 2008
Is a fan of fellow Twitch Streamer Jerma
Once gave control of their Twitter to her Discord. Chaos Ensued
Lactose Intolerant, but only with foods they don't like
Often forgets to hydrate while working on art
Jokingly re-debuted as a blade of grass