This is a Korean name; the family name is Chae.
Associated pages
Chae Ara (채아라) is a female Korean Virtual Youtuber who is a member of Nijisanji's Korean Branch, Nijisanji KR.
An angel who always watched humans from the heavens and is now streaming because she likes human people so much. Though she isn't as skilled yet, she tries her best to fix all her mistakes.[1]
Introduction Video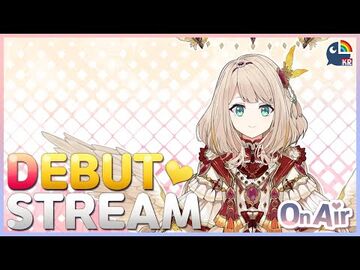 Ara's introduction.

Personality
History
Background
Chae Ara made her Youtube account on 14 May 2020 and made her debut on 22 May 2020 as a part of Nijisanji KR's second wave of Vtubers alongside Lee Siu, and So Nagi. The three are Nijisanji KR's second wave livers and are called "嵐ウナギ" (Arashi Unagi).
2020
On 7 June, Ara released her first cover song, Seikan Hikou from Macross Frontier.[2]
Events
On 3 February 2021, Ara participated in the Nijisanji-wide "NIJIYANJI" event.[3]
Fans
Chae Ara's fans are called "아라랑" (Ararang) which is a spin-off from the Korean word "사랑"(sarang) meaning love.
Trivia
Notable units within Nijisanji:
Color:

#FF6266

[1]
Ara shares the same character designer as Aiba Uiha from Nijisanji JP, and the Indonesian vtuber, Tamachi Kanna.
Though Chae Ara's native language is Korean and mostly speaks Korean in her streams, she also does streams in which she speaks Japanese. Most of these streams are usually when another VTuber collaborates with her.
Chae Ara draws alot and even has dedicated streams in which she draws and interacts with her fans.
External Links
Media
Further readings
References
↑ Chae, A. [채아라 / Ara Chae 【NIJISANJI KR】] (2020, June 7) 【歌ってみた】 Macross Frontier OST 星間飛行 (성간비행) Cover [Video File] Retrieved from: https://youtu.be/m7BsDIyxK10
↑ 채아라 / Ara Chae 【NIJISANJI KR】. (2 February 2021) 【#NIJINYANJI​】Nyanyanyanyanyanyanya!【 @채아라 / Ara Chae 【NIJISANJI KR】​ 】[Video File]. Retrieved from: https://youtu.be/gsYWsNbidIk