Charan-poran Tai (ちゃらんぽらん隊)[note 1] was a group of Japanese Virtual YouTubers that produced skits with 3D models. The members, as their group name would suggest, did not take themselves too seriously. Their content is characterized by the exclusive use of budget motion capture.
Introduction video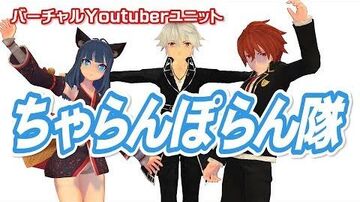 Charan-poran Tai's introduction video

Members
Atori (あとり)
Ikkaku (一角)
Uma
Enoki (えのき)
Olive (founder)
Atori, Ikkaku and Uma often appear in livestreams and videos. Enoki and Olive mostly stay behind the scenes.
History
Introduction
The group posted 3 teasers on 17 April 2018. The introduction video was released a day later.
VR breakout
On 12 May 2018, a video was made to demonstrate a special breakout game made by Olive, the group's founder.[1] Ikkaku controlled the paddle, which was synchronized to his right arm. The game proceeded with unexpected challenges. He could not run fast enough to catch the ball and, in the middle of a good-looking game, the ball even disappeared due to a bug. Later, the ball got stuck at the ceiling, bouncing back and forth in an infinite loop. Despite many attempts, Ikkaku was unable to clear the level. In the end, Olive changed the map to only include one breakable block, and the game was finally cleared.
First 3D livestream
On 17 May 2018, the Charan-poran Tai celebrated 500 subscribers with the group's first 3D livestream, which lasted 4 hours.[2] Olive, Uma, Atori and Ikkaku were present. The latter three were shown in their 3D models, but only two of them could move at the same time.
Atori and Uma played the aforementioned VR breakout in collaboration and they beat the game.
Quoits with MonsterZ MATE
On 14 April 2019, a collaboration video was released on MonsterZ MATE's channel.[3] Kosaka from MonsterZ MATE was joined by the members of Charan-poran Tai for a "life-sized quoit game." The two-person game has the following rule: a player acting as the "spike" stands with their back facing the other player, while the other player standing faraway attempts to land a hula hoop over the "spike."
To the other person's surprise, Kosaka tried to simultaneously land two hula hoops over Atori. Kosaka's unsuccessful attempt turned out painful and it triggered a series of amusing events. Under the encouragement from Uma and Ikkaku, Atori slammed the hula hoop on Kosaka's head. In the next turn, Uma and Ikkaku suggested Kosaka should follow their example. The hola hoop was handed over to Uma, who, seeking revenge, knocked Atori on her head and unfortunately "decapitated" her.
The happenings on that day were turned into a drawing by manga artist Yuzuki Ryouta.[4]
One-year celebration
On 17 April 2019, the Charan-poran Tai celebrated their one-year YouTube anniversary with the group's 5th livestream.[5] Yuzuki Ryouta's fanart was featured in the stream.
Graduation announcement
On 23 April 2019, an announcement video was released to let followers know about the group's future plans.[6] It was stated that the Charan-poran Tai would be separated in March 2020 and group activities would subsequently cease.
Offline event at Ueno Untitled
The group held their first and only offline event on 21 February 2020 at Ueno Untitled, a live house in Tokyo.[7] Olive and the voices behind the virtual trio physically showed up to the event.
From the set list published by Panora, the show included two variety segments, both MC-ed by Kosaka, a member of MonsterZ MATE. After the variety segments, each Charan-poran Tai member performed solo and revealed individual plans for the future. Panora reporters write that Ikkaku, who talked about his dream of becoming a film director, was expected to land a job in film making that year; Atori hinted that she would form a music group with Uma after graduation; Uma presented himself as an aspiring songwriter and demonstrated two original songs: Flower's Name (花の名) and Blue Painting (青い絵).
With the entire audience singing in unison, the group's signature original It's not magic (魔法なんかじゃない) was performed by Atori, Ikkaku and Uma, concluding the night's event. Commenting on the atmosphere, Panora reporters say, "The whole venue was filled with joy from start to finish."
Last collaboration with MonsterZ MATE
On 10 March 2020, MonsterZ MATE released another collaboration video featuring the Charan-poran Tai, who joined Kosaka and Anjo in a blind wasabi tasting game of luck.[8] Although this is MZM's last collaboration with the group, individuals from the Charan-poran Tai have been invited as guests to MZM's later programs.
Virtual graduation ceremony
On 12 March 2020, the graduation ceremony of Charan-poran Tai was released as a pre-recorded video on MZM's channel.[9]
After disbandment
Although separated, individual group members were not going anywhere. They continued to produce live content after rebranding themselves as mixed "virtual and real" personalities. In particular, Atori changed her name to Atori Io (あとり 依和)[10] and Uma changed his name to Esora Uma (えそら うま).[11] The duo started a weekly podcast, Fuyuu Shingou (浮遊信号).
The individuals have retained presence in the Virtual YouTuber community. Notably, Atori Io appeared as a guest in the 30th episode of Kosaka's podcast on 7 June;[12] an original song composed by Esora Uma was used in Korone Pochi's 3D model reveal stream on 27 June.[13]
External Links
Notes
References
Community content is available under
CC-BY-SA
unless otherwise noted.