Jurassic World: Dominion Dominates Fandom Wikis - The Loop
Play Sound
Associated pages
Crunchyroll-Hime is a female corporate bilingual (English and Japanese) Virtual YouTuber. She is the official mascot for anime streaming service Crunchyroll.
Introduction Video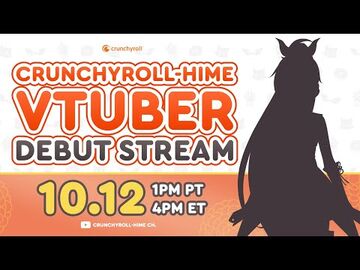 Personality
Hime is a kitsune in human form, who discovered and fell in love with anime after stumbling across a couple watching Astro Boy on television. While she's over a hundred years old, she has a youthful personality and keeps up with modern trends in anime, video games, music, and pop culture.
Her younger sister, Sudachi, plays a prominent role on her channel as her moderator. She often shows up in written text on her channel and in her chat, usually sounding more monotone and less excited than Hime. Hime also owns a black cat named Yuzu, who she calls her "best friend" and loves dearly.
She's multilingual but primarily streams in English and Japanese. While not fluent, she knows some Korean, German, Russian, Chinese, and Spanish.
Her channel focuses on video games and anime. She also holds monthly "Animarathons", where she host curated blocks of anime episodes.[3] Hime currently only streams on Tuesdays and Thursdays.
She's considered the "voice" of Crunchyroll on the site's social media channels and the manager of the Crunchyroll website itself. Her VTuber activities are an extension of her role on the website and social media. She's also featured, along with Sudachi and Yuzu, in her webcomic, The Daily Life of Crunchyroll-Hime in the manga section of Crunchyroll.[4][5]
History
Background
Crunchyroll-Hime has been Crunchyroll's official mascot since 2013. Her original design was made by illustrator Euinice Dahae Baik for the "Anime Industry-tans Contest", an online fanart competition held by Crunchyroll, Funimation, Aniplex of America, and NIS America in 2013. The contest involved fans making anthropomorphic "gijinka" mascots of each company in exchange for prizes from each participating company.
Baik's design won and drew the attention of then-social media manager for Crunchyroll, Victoria Holden, who made her the official Crunchyroll mascot. Baik worked with illustrator Shiori Abe to refine the design to its current look. Holden created Crunchyroll-Hime's backstory, which is still in use today. Holden also served as Hime's original English voice actress in Wooser's Hand-to-Mouth Life: Phantasmagoric Arc and the English dub of Kemono Friends.[4][6][7][8][9][3]
Pre-debut VTuber activities (2019-2021)
Before her official debut as a VTuber, she appeared in 3D VTuber form to collaborate with Kizuna Ai on Ai's channel on 17 November 2019. The two played an anime gesture game. Victoria Holden and Crunchyroll licensing manager Tiffa Suzuki helped produce the collaboration. Holden was involved in the creation of Hime's 3D model.[10][11][12][13][14]
She introduced the 2020 Crunchyroll Anime Awards on 16 February 2020.[15] On 3 March 2020, she appeared again in her 3D VTuber form to celebrate one million subscribers on Crunchyroll's clip channel, Crunchyroll Collection.[16] In her 2019-2020 3D appearances, she was voiced by Rian Tachibana, Crunchyroll-Hime's official Japanese voice actress starting from her appearance in Grand Summoners.[17][15][13]
She hosted the 2021 Crunchyroll Anime Awards in English on 20 February 2021 alongside Crunchyroll YouTube video essay and Crunchycast podcast host Tim Lyu, who appeared in 3D VTuber form.[18] Starting from this appearance, Hime was portrayed by TikToker Kristine Fel.[3]
She hosted the opening ceremony for Virtual Crunchyroll Expo 2021, once again joined by Tim Lyu. She also introduced horror manga author Junji Ito's opening speech for the convention. Both Lui and Ito joined Hime in 3D VTuber form.[19][20]
Crunchyroll announced that Hime would become a Live2D VTuber on 8 October 2021.[21] A teaser video for her debut was posted the same day.[22] while the channel itself was created on 23 September.[23]
Debut
Hime had her debut stream on 12 October 2021.[24] Her Live2D model was technically revealed before her stream had officially started in a video promoting the stream sent at 1pm PT.[25] Crunchyroll would later confirm to Anime News Network via e-mail correspondence that Fel was helping to "power" Hime's VTuber channel.[3]
2021
On 25 November, Hime had her first Animarathon stream featuring the first episodes of Sakugan, A Place Further Than The Universe, Laid-Back Camp, and Restaurant to Another World. The episodes were shown on YouTube in full frame with no overlays or Hime on screen. Hime's avatar only appeared at the intro and outro talks, with most of her activity being in chat with Sudachi.[26]
2022
On 25 January, Hime had her first collab stream with Selen Tatsuki from NIJISANJI EN as part of a promotional campaign for Princess Connect! Re:Dive, which is published in English worldwide outside of Asia by Crunchyroll games.[27]
On 8 March, Hime celebrated hitting the 100,000 subscriber milestone.[28]

Mascots and Fans
Hime's best friend is Yuzu, a mortal stray cat she took in one day.
Her fans are called "kits".
Trivia
Her favorite food is old-fashioned style glazed donuts, Puchi-Purin, melon pan, and many more. Her favorite drinks are iced coffee, boba, strawberry milk, cola, and green tea.[24]
Her age is the age of Crunchyroll + 100.[24]
Her favorite color is teal, specifically #2ABDBB, as it's a complementary color to orange.[24]
She used to play a lot of League of Legends.[24]
Her favorite anime is in the shonen and seinen genre, she prefers manga in the "cheap shojo romance" genre.[24]
Her favorite animal is cats.[24]
Her favorite types of music are anime, VOCALOID, electronic, K-pop, and K-hiphop.[24]
Her favorite sports are kyudo and track.[24]
Her biggest fear is being late due to fear of missing out. She's also scared of cockroachs due to an incident where one ended up on her leg.[24]
The holster on her leg is actually a phone holder.[24]
Going from kitsune to human form means Hime had to consolidate her nine tails into one.[24]
Crunchyroll-Hime is a huge fan of Hatsune Miku and has a crush on her. She's made multiple attempts to impress and date her in The Daily Life of Crunchyroll-Hime webcomic and owns a Miku bodypillow, shown on the floor of her room during her streams.
Despite saying she was 6 foot 1 inch (185.42 cm) with heels on in her debut stream and not wanting to admit to her heel size, Hime said during her collaboration with Kizuna Ai that her "charm point" was being 175cm (5 foot 7 inches).[24][10]
While superchats are enabled on her channel, 100% of the funds received are donated at the end of each month to a pre-established charity of Hime's choice.
External Links
References