DUSTCELL is the Japanese Virtual musical duo consisting of female vocalist EMA and male music producer Misumi. This unit is signed to KAMITSUBAKI STUDIO.
Members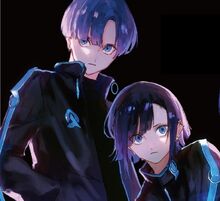 EMA - A female vocalist who is capable of both singing and rapping.
Misumi- A male music producer who often creates songs featuring VOCALOID singers. He also helped produce labelmate RIM's original song "Flowering."
History
DUSTCELL made their YouTube debut on 11 October 2019.
In response to some online criticism and concern, EMA tweeted a sincere statement on 21 October 2019 expressing that she joined KAMITSUBAKI STUDIO of her own accord in order to fully pursue her passion for singing. She is now where she wants to be: starting anew as DUSTCELL's EMA with Misumi and creating the music she loves.[1]
DUSTCELL will be releasing their first full album 「SUMMIT」on 20 May 2020. They will hold their 1st ONE-MAN LIVE「SUMMIT」on 31 July 2020 at WWW, a venue in Shibuya, Tokyo.[2]
Trivia
External Links
DUSTCELL
EMA
Misumi
References
Community content is available under
CC-BY-SA
unless otherwise noted.