Dennou Shojo Siro (電脳少女シロ, lit. Computer Girl Siro but meaning Cyber-girl Siro) is a Female Japanese Virtual Youtuber who debuted on June 28, 2017.
Introduction Video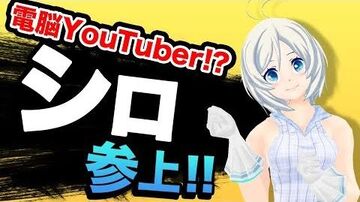 Siro's self introduction.

Personality and History
Starting the activity at the dawn of virtual youtuber, Siro became one of the "big four" of Virtual YouTubers (VTuber). She calls herself "neat and clean" but it is different from the original meaning, for Siro is good at playing PUBG and while playing, she sometimes says terrible comments as if she were a soldier or a combat mania. In addition, Siro is very good at speaking English, as she studied it. She is also funny in her videos. She loves to dance and talk tenderly in her videos. Beluga is her famous symbol. Her laughing voice is similar to the sound of dolphins (イルカ iruka). She is called "White dolphin" (シロイルカ Shiro Iruka) namely Beluga. Virtual YouTubers tend to have their own greeting phrases; in her case, she says "Konnichiwa. Siro desu." (Hello. I'm Siro.)
Appearance 
Siro has several appearances. Her current one is the one which she wears a blue snow jacket with a matching blue hat. Her other appearances are similar to a goddess, while another is with a blue skirt.
Profile
Birthday: 12 August 2017
Height: Unknown
Weight: Unknown
Work: YouTuber
Age: 1.5 years
Appearance Age: 16
Loves: Sweet Things, Hunt, Dance, Be honest
Charm Point: Ahoge
Past Life: Cat, Innocent Military
Dream: Become an idol and perform a concert at the Nippon Budokan
Fans
Trivia
External Links
References