This is a Japanese name; the family name is Domyoji.
Associated pages
Domyoji Cocoa (道明寺ここあ) is a female Japanese Virtual YouTuber. She is the younger sister of Domyoji Haruto from the Game Club Project.
Introduction Video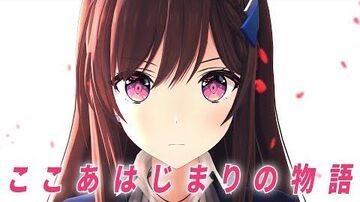 Cocoa's introduction.

Personality
History
Background
Her channel was created on 9 July 2018, but she didn't uploaded a video until 24 July, with a cover of the song Rising Hope, however this video was deleted, due to the use of some scenery not intended for that purpose.
Because of this the first video on her channel is from 30 July,[2] with an altered version of her first cover uploaded later on 1 August.[3]
Departure of the original voice actress
On 9 December 2019, the original voice actress of Cocoa, concluded her activities with a stream on YouTube. [4]
2020
Reboot
On 9 March, Cocoa's agency Unlimited published a statement in their website and Suzuki Midori's Twitter account[5] announcing the restart of Cocoa's activities. Unlimited explained that Cocoa's original voice actress left to pursue other goals and, after some consideration regarding Cocoa's voice, they decided to hire a new voice actress for her with a different personality.[6]
This time however, and unlike with Game Club Project's voice actors replacement controversy, the new Cocoa will return in a new channel, in what appears to be an attempt to respect the original performer's legacy and memory with the fans. Cocoa redebuted on 13 March with a cover of the song ETERNAL BLAZE.[7]
On 19 September, Cocoa released her very 1st single called "Fall in Sunset". Written by Mikito-P.
Currently under the agency, Riot Music, along with 4 other girls.
Trivia
External Links
References
Community content is available under
CC-BY-SA
unless otherwise noted.