Associated pages
Doris (朵莉丝) was a female Chinese VTuber associated with hololive, debuting as part of its Chinese (CN) branch second generation of VUP (Virtual UP, since content creators in bilibili are normally nicknamed "UP" or "UP Master") alongside Artia and Rosalyn.
Introduction video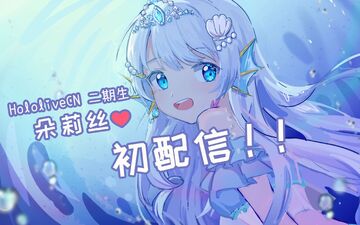 Profile
A cheerful mermaid from the ocean depths. Transformed into a bipedal creature and came to see everyone because she wanted to "learn more about the world of athletics." She dislikes cuisines with seafood.
 Personality
Appearance
 History
Background
She was announced as part of hololive CN on hololive's official Twitter account on 6 March 2020.[1]
2020
On 12 November, hololive's official English Twitter account announcement the graduation date of 5 out of the 6 members of hololive China, Doris' retirement is scheduled for 26 December.[2]
Retirement
On 2 December, hololive's official Twitter account announced, that by request from Doris, her graduation would change dates to 5 December.[3] As of January 2021 all videos from Bilibili have been taken down besides collabs.
 Trivia
External Links
References