Associated pages
Eine (艾因) is a female Chinese Virtual Youtuber who is a member of Nijisanji's first generation of their Chinese Branch, VirtuaReal.
Eine is a 19 year old girl born into a famous family of mages, she loves to sing and is very talkative. Being the second-born, she grew up living a carefree life. Eine really enjoys interacting with the people around her on equal and friendly terms, and will fondly invite her close friends into her magic realm.[1]
Introduction Video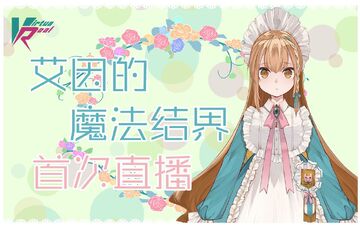 Eine's introduction.

Personality
History
Background
On 6 May 2019, Eine and other VirtuaReal Liver, Ruki, were announced to be the first generation of Livers from VirtuaReal. On the same day, VirtuaReal formally starts their activities.
2020
on 1 August 2020, Eine unveils her black dress outfit in an outfit unveiling stream.
Events
On 13 August 2019, Eine participated as a guest in the event Super V Party along with fellow Virtual Real Liver, Ruki with Tsukino Mito and Higuchi Kaede as MCs.
On 9 August 2020, Eine appeared in the Official VirtuaReal booth for the BiliBili World 2020 Shanghai in Shanghai National Exhibition and Convention Center along with other Nijisanji Livers. The event lasted for 3 days and celebrated the event's end on the 9th of August 2020.
On 19 December 2020, Eine appeared in Bilibili's Macro-Link VR release premiere.
On 2 January 2021, Eine appeared and performed in VirtulReal's first 3D mixup event called 1st VirtuaReal Music MIX UP!!, the event was held in the previous Shanghai West Culture and Art Center (now relocated to the West Bund Artistic Center).
On 28 February 2021, Eine appeared and performed in the third and last day of the Nijisanji 3rd Anniversary Festival 2021 or NijiFes2021.
Trivia
Eine's name comes from one of Wolfgang Amadeus Mozart's famous piece, "Eine kleine Nachtmusik".
Color:

#A00000

[1]
Although Eine's native language is Mandarin, she is very fluent in Japanese and can communicate to Japanese livers without any problems.
Whenever Eine gets called cute, she would get embarrassed easily and would act very shy.
Preferences:

Likes: Ditto from Pokemon
External Links
Media
Further readings
References
VirtuaReal (V T E)
1st Generation
Eine (🗝🎩)

 · 

Ruki
2nd Generation
Nanami (🦈)

 · 

Kouichi
Retired

Ichigo

(🍓)
3rd Generation

Muri

(🌙)
Retired

Hanon

(🕊️)
4th Generation

Plus

(🍭)

 · 

Nyatsuki

(💦)

 · 

Waku

(🐉)
5th Generation

Miki

(🐋)

 · 

Hoshimi

(⛱)

 · 

Mahiru

(👿)
6th Generation
Aza (🐱)

 · 

Yagi

 · 

Tabibito

 · 

Roi

(💎✨)
7th Generation

Seiya

 · 

Saya

(💫)

 · 

Yukie

8th Generation

Karu

(👒)
Retired

Shiki

 · 

Samael

 · 

Mimoi

 · 

Pax

9th Generation

Chiharu

 · 

Chaos

 · 

Kiyora

10th Generation

Reve

 · 

Sirius

 · 

Yua

 · 

Shaun

(🦷)
11th Generation
Tanoshiba

 · 

Mari

 · 

Chiyuu

 · 

Imi

12th Generation

Mayumi

 · 

Kendou

(🦴)

 · 

Tsukumo

 · 

Remi

(⚓)
13th Generation

Tocci

 · 

Kiti

 · 

Qilou

VirtuaReal Star

Ling Yuan Yousa

 · 

Sakura Haruka

 · 

Nanako

 · 

Zuya Naxi

 · 

Hanser

VirtuaReal Link

Andou Inari

(🦊)

 · 

Mitsusa

(🥕)

 · 

Lynn

 · 

Eli

 · 

Muse

 · 

Seven

 · 

Sumire Hina

(🥟)

 · 

Karon (🥐)

 · 

Isabella

 · 

Azusa

 · 

Kero

 · 

Jinxy

 · 

Ruruna

 · 

Mori

 · 

Miyazono Rin

 · 

Syo

 · 

Susam

 · 

Noi

 · 

Nox

(⭐)

 · 

Joi

(🍊)
Retired

Suzukaze Suzuka

(🍩)

 · 

Mama Mara

 · 

KINGSK

 · 

Prime Star