Associated pages
Emma★August (えま★おうがすと) is a female Japanese virtual YouTuber and a member of Nijisanji.
Introduction Video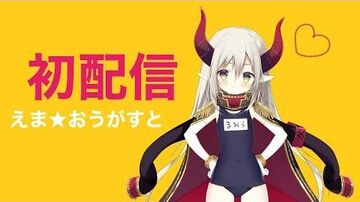 Emma's introduction.

Personality
Profile
Self-proclaimed "Legal Loli Demon King" who escaped from the demon world. [1]
History
Background
Her YouTube channel was created on 17 August 2019 but Emma made her YouTube debut on 3 November 2019.[2]
2021
On 10 February, Emma debuted her adult Live2D form in an unveiling stream.[3]
On 12 March, Emma showcased her 3D model during a stream.[4]
Trivia
Color:

#B32F51

[5]
Emma was living with her real-life childhood friend and fellow Nijisanji member Morinaka Kazaki, who had also helped her audition for the company, when she debutted.[6]
Emma debuted alongside Matsukai Mao and Luis Cammy, forming the trio known as "赤の組織" (Aka no Soshiki).
Known to like to eat paper and tissues.
The first thing she did when breast milk came out of her was to taste it.

No, she wasn't pregnant. She didn't know the cause of it, but some of her viewers suspect that she might had Galactorrhea.

Although she refers to herself as a "Gohou Loli" (legal loli), she is technically classified as a Lolibaba (Little Girl; Old Woman) under a lolicon lens due to her age spanning far beyond that of a typical legal loli.
During her 3D unveiling stream, Emma had Morinaka Kazaki, Aizono Manami, and Shirayuki Tomoe whip her while she was blindfolded so that she could guess who whipped her afterwards.
Emma shares a character designer with

Muri

of VirtuaReal.
External Links
Further readings
References