Ennori Channel is a pair of Virtual Youtubers from Malaysia main on Music.
Their channel features their multi-language speaking. They can speak Chinese, English, Japanese, Malay, Cantonese and some dialects.
Personality
En is a shy and diligent girl, she is skilled in drawing, singing, cooking, video editing and so on.
En often gets negative but she always tries her best in life and on their youtube channel.
Inori is an active and cheerful person, she likes to sing and draw. Her dream is to become an Illustrator and Utaite(Singer).
Inori likes to tweet a lot about unnecessary things and she loves the VTuber group Holostars.
Appearance
En has a long, straight black hair and red eyes. She wears a white coat.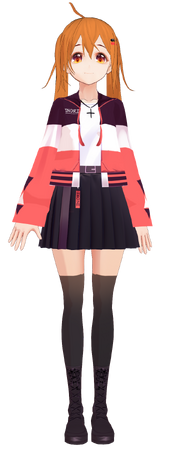 .
.
.
.
.
.
.
.
.
.
.
.
Inori has a brown hair that always tied into twin ponytails with black and red har pins. She has a pair of amber eyes. She often wears a hoedod jacket.
.
.
.
.
.
.
.
.
.
.
Ennori Channel's Cover Song
.
Community content is available under
CC-BY-SA
unless otherwise noted.