This article is about the 2D VTuber related to the SCP foundation. For the female Japanese succubus Virtual Youtuber, see EvE (イヴ)
Associated pages
Eve

(You are here)

Gallery
Eve is a Virtual Youtuber that was formerly associated with upd8.
Introduction Video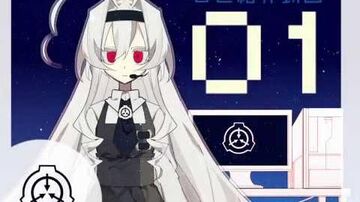 Appearance
Eve has long white hair and is sometimes depicted with a short ponytail in the back. Also, she wears a black dress bearing the SCP Foundation logo on the brooch.
Personality and Character Concept
Eve is soft-spoken, almost appearing monotone. Her role is to deliver information about SCPs and related objects to personnel. SCP-Eve is a level one personnel.
SCP-Eve is temporarily granted Level 2 security clearance for it's work. She describes herself as an Artificially Intelligent Conscript (AIC) that belongs to the SCP Foundation.
History
On July 31st 2018, Eve debuted as part of upd8.
2020
On February 28th, Eve uploaded her last video. Since then, no other videos have been uploaded.
On November 1st, upd8 announced they would be ending the project on December 31st of that year. Assuming she starts to make videos again, Eve would be making them independently.
Trivia
She is based off of the SCP Foundation web project.
She is equipped with a fail-safe which stops all function of SCP-Eve, to be used in the event of any strange behavior.
External Links