Not to be confused with Nora Cat, the independent Virtual YouTuber who experienced an infamous technical error.
This is a Japanese name; the family name is Fumino.
Associated pages
Fumino Tamaki (文野環) or Noraneko (野良猫) is a female Japanese Virtual Youtuber and a member of Nijisanji. She is a stray cat.
Introduction Video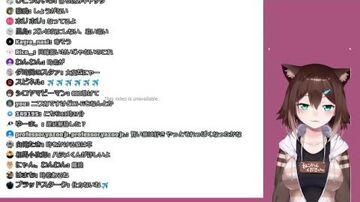 Personality
Tamaki speaks in a soft and pleasant voice that belies her strange sense of humor and whimsical nature. As befitting of a cat, her streams can be very random such as when she titled her stream as a "2D Announcement" only to begin a karaoke stream partway through before stopping and suddenly beginning a collaboration stream with other Nijisanji members to play charades.
Due to her habit of joking heavily and her strong roleplaying abilities, many of her fans are often left wondering if what just happened on stream was actually real.
History
2021
On 10 April, Tamaki reveals her 3D Model in a 3D model debut stream.
Trivia
Color:

#EBDDB4

[1]
She has the nickname "airplane cat" from to the imagery in some of her videos, because the fan of her PC is really loud. Or "unlucky cat" due to difficult circumstances including often dropping her phone, getting her bicycle seat stolen, and the below.
She suffers from many problems around her, such as bad internet connection and bad luck.
She can mess up many things without getting punished by other Nijisanji members, as long as she doesn't cause serious damage and loss.
She received the friendly nickname "clueless cat" from her fans because of her ineptness with technology. During a particular livestream on 24 April 2018, she failed five times to start the stream due to technical issues and was crying on the sixth attempt. Her YouTube channel's name had been the same text repeated twice - it can be assumed that that was accidental - for months.
In May 2018, Tamaki began experiencing problems with her throat that made speaking and therefore streaming difficult. She visited the hospital on a few occasions and on 3 June 2018, she tweeted a diagnosis of vocal cord Leukoplakia, basically a severe issue with the vocal cords that is a risk of cancer. She went for treatment and on 28 June 2018 she tweeted that it was going well and that she hoped to be active again within a week.
On November 10 2018, she wanted and won 2434 bags of potato chips from Calbee's gift campaign.
On one of her streams showcased here she was heavily sleep-deprived and managed to stay awake for a brief amount of time before she fell asleep. Whilst she was asleep it was assumed by most that her stream disconnected, but in truth she simply fell asleep due to her aforementioned sleep-deprived state, and during this time both the chat and Super Chat went into free time due to her not being awake to attend the stream, earning light-hearted hashtags/trends on Twitter such as "#Wake Up Fumino Tamaki", along with around 2000 viewers still on the stream. She woke up after four hours of sleep, shocked to see that she fell asleep whilst her stream was ongoing, and even more surprised to see both the amount of viewers that stayed during her nap and the amount of yen she recieved as she slept, which was about 250,000 yen, she greeted her fellow viewers after her nap and explained that she expected her stream to disconnect, and was surprised to see that it was still active during her rest, thanked the viewers for them being there even as she slept and for those that donated the aforementioned yen, even jokingly mentioning that she should sleep again to see if such an event happens again. [2]
Tamaki lives with 4 other cats. Originally she had a 5th cat, but it became ill and "was taken away".
Tamaki has dislocated her jaw while streaming on two separate occasions. On one of the occasions, she managed to dislocate her jaw twice during the stream and fix it both times. On the other, she had to have Kenmochi Toya and Morinaka Kazaki, who she was streaming with, end the stream for her because she couldn't fix her jaw.
On 3 February 2021, the "#NIJINYANJI" project was held, which included the Indonesian, Korean, and Indian variants of Nijisanji, which showed the liver's models dancing to the video known as "Nyanyanyanyanyanya!". However, Tamaki, the stray cat herself, was not invited to the event (because of Nijisanji's official policy was to only use 3D models). So she started to play "Nyanyanyanyanyanya!" at the same time as everyone else - for 12 hours, mind-blowing due to other member's videos being their models for around 3 minutes.
On 13 February 2021, she tweeted out that she may have broken her hand during the 7.1 earthquake that occurred late the previous day. She later confirmed that the microwave near her bed fell and landed on her hand and that it was indeed broken after going to the hospital.
External Links
References