This is a Japanese name; the family name is Fushimi.
Associated pages
Fushimi Gaku (伏見ガク) is a male Japanese Virtual YouTuber, a member of the NIJISANJI group.
Introduction Video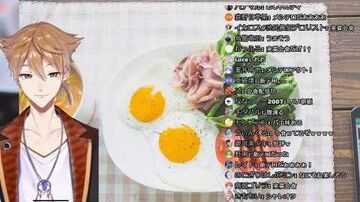 Personality
Gaku has an enthusiastic and cheerful personality. He regularly hosts free chat livestreams where he interacts with his viewers. He is known for his characteristically loud laugh which often scares other livers he is streaming with [1] and his famous catchphrase "ピース✌️ (Peace✌️)".
History
Background
Gaku is a 22 year old in his second year at university [2].
Gaku's YouTube channel was created on March 5, 2018. His Twitter account was made in March 2018 and posted his first tweet on March 5. On March 19, 2018, he made his debut stream.
Every Monday and Friday morning from 6:45am he hosts his morning livestream "Oha-gaku!" in which he chats with viewers, reads the weather report for the day, and announces new NIJISANJI related news. Oha-gaku! episodes will often have a specific theme - such as fish, or bread - and viewers can post photos of their theme-related breakfast in the shows' hashtag and have Gaku comment on it as he scrolls through it.
Aside from this, he often plays horror games.
2018
2019
2020
Relationships
Trivia
External Links
Media
Further readings
References