This is a Japanese name; the family name is Fuwa.
Associated pages
Fuwa Minato (不破湊) is a male Japanese Virtual YouTuber affiliated with NIJISANJI. He debuted alongside Shirayuki Tomoe and Gwelu Os Gar, forming a trio known as "Yaoukoku" (夜王国, lit. "Night Kingdom").
Introduction Video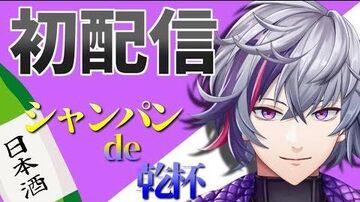 Profile
A host who can't drink alcohol, who started live-streaming to make friends with similar interests to him.[1]
Personality
Suiting for that of a host, Fuwa has a friendly and approachable personality. He enjoys singing and even kickstarted his debut livestream with a surreal cover of CLUB PRINCE's "Love Dokkyun" [2]
The amusing cover has set the tone for the rest of his livestreams, where he is often caught saying random, nonsensical things, making noises to himself, and making equally nonsensical thumbnails for his videos - because of this his fans often say he is brain dead.
He will often stream for extended periods of time, sometimes for ten hours or more.
History
Background
Fuwa made his YouTube debut on 30 November.
2020
On 29 November, Fuwa revealed his first alternate costume.[3]
2021
On 28 May, Fuwa's 3D model unveiling stream was announced.[4] The stream was held on 4 June.[5]
From 2 until 31 August, Fuwa hosted a radio exercise program on his channel as a challenge. The program was live every morning from 6.30am JST. The news got picked out by YouTube Japan. The rule was: if he overslept/late the challenge failed and the program will ended. Almost everyday different NIJISANJI livers joined him as guest(s) and on the final day of the challenge he invited all livers who had been supporting him throughout his journey of waking up and exercising every morning.
On 7 September, it was announced that Fuwa, Hoshikawa Sara, and Yashiro Kizuku were releasing time-limited perfumes on U.Health&Beauty ONLINE.[6]
On 21 October, it was announced on NIJISANJI YouTube channel that Minato, Kagami Hayato, Kenmochi Touya, and Kaida Haru were debuting as a unit under the name "ROF-MAO" (ろふまお). They have their own official YouTube channel and Twitter account.[7] They will have regular program called "ROF-MAO Juku" (ろふまお塾, ROF-MAO Cram School) on their official channel.
Events
2021
Relationships
"ROF-MAO" 「ろふまお」 - Minato, Kagami Hayato, Kenmochi Touya, and Kaida Haru.

Officially debuted as a unit on 21 October 2021. They are the third NIJISANJI unit that has its own YouTube channel after ChroNoiR and JuvveL. The name was derived from internet slang ROFL-LMAO.
The unit aim to deliver contents that can make them grow to be "Good Guys" and "Cool Adults" by overcoming trials.[14]
They have regular program called "ROF-MAO Juku" (ろふまお塾, ROF-MAO Cram School) on their YouTube channel every Thursday at 10 PM (JST).
"Mescher's"[15] 「メッシャーズ」 - Minato, Mayuzumi Kai, and Saegusa Akina.
"Aniki and Kobun" 「アニキとコブン」 (Aniki to Kobun) - Minato and Kaida Haru.
"Ansatsu Ikka 「暗殺一家」 (Assassination Family) - Minato and Shiina Yuika.
"Densetsuz 「伝説ーズ」 (The Legendz) - Minato and Ibrahim.
"NIJISANJI Extroverts 「にじさんじ陽キャズ」 (NIJISANJI You-kya-zu) - Minato, Todoroki Kyoko, Ex Albio, and Hayase Sou.
"fACe - Minato, Shiina Yuika, Ex Albio, and Ars Almal.
"Tarkov Club 「タルコフ部」 (Tarkov-bu) - Minato, Kanae, Kuzuha, Mayuzumi Kai, and Ibrahim.
"VACHSS - Minato, Kuzuha, Kanae, Kagami Hayato, Kenmochi Toya, and Yumeoi Kakeru.
The group's name stands for Vampire, Angel, CEO, Host, Student, Singer/Songwriter.
"Laugh Maker" 「ラフメイカー」 - Minato, Saegusa Akina, and Naraka. These three teamed up for VTuber Saikyō Ketteisen Season 3.
"Allexceed Familia" (AXF) - Minato, Kuzuha, Ratna Petit, Saegusa Akina, Ars Almal, Amamiya Kokoro, Sakura Ritsuki, and Luis Cammy.
Trivia
Color:

#BF69F4

[16]
He is friends with the utaite Mafumafu, having played Apex Legends with him multiple times. He helped encourage Mafumafu to start livestreaming with a virtual avatar and Mafu wanted to write a song for him in return.
He has a mascot called "Fuwacchi Cruller", a half purple half pink donut that speaks in a hoarse high pitched voice.
External Links
Media
Further readings
References