📔 This article has a visitor log. So far, at least 20 people have signed it. (Oct 2020)
a
Gawr Gura is an English Virtual YouTuber associated with hololive, as part of its English (EN) branch first generation of Vtubers alongside Ninomae Ina'nis, Takanashi Kiara, Watson Amelia and Mori Calliope.
Introduction Video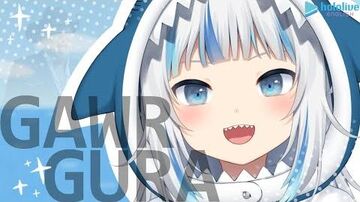 Gura's introduction.

Personality
Gura is friendly and readily likeable, and often amuses with foolish antics. She has difficulty telling left from right; once sent the entire hololive EN digging for 20 minutes the wrong direction because she misread a map; often misspells words ("twister" as "tiwster", "salmon" as "salman", "almond milk" as "Ame milk", "iron" as "arm"); once mistook bread for a potato; has trouble remembering her own age; once calculated that 9+10 equals 11; and failed to know the term "simp", which she corrected to "shrimp".
However, she is also highly clever, as evidenced by her quick wit and vast knowledge of Shark Facts. When questioned on why she was not "boing boing", she excused it by noting that she was more "hydrodynamic". Her skill with fast-paced rhythm games is exceptional, and she is highly ambitious.
History
Biography
Gura is a descendant of the Lost City of Atlantis, who swam to Earth while saying, "It's so boring down there LOLOLOL!" She bought her clothes (and her shark hat) in the human world and she really loves them. In her spare time, she enjoys talking to marine life.
Gura is over 9,000 years old. She forgot her exact age some time around 5,000s, and when asked gives a random number in the 9,000s range.
Background
She was introduced simultaneously on both hololive's and hololive's English Twitter accounts and on hololive English's YouTube channel in a small video with the rest of the first generation on 8 September 2020.[5][6][7] Her Twitter account was created on July, but she only made her first tweet on her official introduction on 8 September.[8] Her YouTube channel was created on 16 July, but she debuted on 13 September.[9]
2020
Gura quickly rose in popularity, becoming the fastest-growing VTuber ever. On 20 October, just 37 days after her debut, Gura overtook both Shirakami Fubuki and Inugami Korone to become the #1 most subscribed hololive VTuber on YouTube. On 22 October, Gura became the first hololive member to reach 1 million subscribers and the third VTuber to do so after Kizuna Ai and Kaguya Luna[10].
Fans
Her fanbase is officially called "Chumbuds".[11]
Her channel members are referred to as MemberShrimp. This is a reference to Gura hearing a fan use the word "simp", to which she replied "I just saw the word 'simp' go by. What is simp? Do you mean shrimp?"
Trivia
In Japanese, her name is written 「がうる・ぐら」, "gauru gura".[12] Gura's name is written entirely in hiragana, rather than kanji or katakana.
Gura comes from Atlantis. On her first solo stream on 13 September 2020, in which she played the shark simulator game Maneater, she said that Atlantis didn't have french fries, so she's not interested in returning.
She likes food. She also enjoys a hobby known in Atlantis as "PWWIE" (people watching without intent to eat), but she claims humans don't taste good so that viewers don't have to worry.[13]

Her favorite food is salmon, which she has misspelled as "salman". She enjoys drinking a carton of "salmon milk".

Gura's favorite games are Muse Dash, Taiko no Tatsujin, Rhythm Heaven series, Borderlands, and Resident Evil.
She also likes the anime Konosuba.
Her favorite color is blue.
Gura dislikes hot sand, and her biggest fear is loud stomach.
Her birthday 20 June is in fact the same date of when the 1975 film Jaws was released.[14] Gura says that this is not her actual birthday, which she cannot remember, but rather the anniversary of her arrival on land after she left Atlantis.
Her goals are playing Twister with the other hololive EN 1st gen. members in a 3D collaboration, playing the scariest horror games with a heart rate monitor, and learning to play the banjo and then playing it on the stream.
At first, Gura claimed to be 9361 years old, then forgot that number, and went with 9927. She explained that, after 5000 years old, the exact age had started to blur. She seems to produce a random number in the 9000's each time the subject arises.
During her debut, Gura misspelled multiple words: salmon as salman, stomach as stomak, Twitter as Tiwtter and Twister as tiwster. This is probably Gura learning how to write English.
Gura amazed viewers in her debut by singing "Ride on Time" by Tatsuro Yamashita, impressing them both with her singing skill and choice of song. Some viewers subsequently nicknamed her City Pop Shark.
Her first tweet was a simple "a" as Gura tested Twitter.[8] During her debut stream, the first thing she said was "a" with reverb. This has since become quite popular with her fanbase.[15]
Gura claims that she is not "boing boing" (Being not "Boing boing" means that she doesn't have big breasts), because of having to be hydrodynamic as a mainly aquatic being. She shares this fact as a "Shark fact".[16]
Gura starts off some streams with a "Shark fact". The validity of these facts vary based on how hard Gura thinks about said facts.
Gura's favorite type of shark, other than herself, is the salmon shark. [17]
On one of her Fall Guys streams, she made up that "Gura" stands for "Giant Underwater Rubber Animal."[18]
Calling monetary supporters of VTubers "shrimps" has spread beyond Gura, becoming a normal part of the community lexicon.
External Links
References
Community content is available under
CC-BY-SA
unless otherwise noted.