This is a Japanese name; the family name is Genzuki.

Associated pages
Tojiro

(You are here)

Discography
Genzuki Tojiro (弦月藤士郎) is a Japanese Virtual YouTuber affiliated with NIJISANJI. He debuted as part of the 2020 unit "VΔLZ" alongside Nagao Kei and Kaida Haru.
Introduction Video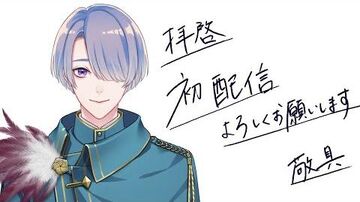 Profile
A government official who serves the Ouma Empire. His duty is managing and communicating with "God." He loves music, helping people, and learning about Japanese culture.[1]

Personality
Tojiro is a talented musician, as described by his debut-mates and other coworkers, being able to compose original music and improvise on the spot. He is also proficient in copying music in a short time just from hearing it. Other than for himself, he often helps compose and mix songs for other NIJISANJI livers. His main instrument of choice is the piano, but he can play a multitude of other instruments.
He is loud and hyper a lot of the time, often screaming and making loud and funny noises as well as nonsensical, brain dead remarks. He likes to chat a lot, sometimes derailing and going on long tangents on a topic even during a non-chatting stream. He loves to mimic character impressions from anime and children's morning shows to his own debut-mates.
His family name is normally written as "Gendzuki" or "Genduki" on hiragana keyboard, but to make it easier for overseas viewers, he decided to use "Genzuki" instead.
History
Background
Tojiro's channel was created on 13 December, 2019, and made his official debut on 2 April, 2020, starting his liver activities on Twitter.[2] His YouTube debut was on 4 April, 2020.
2020
On 15 May, a collab cover of Hail Holy Queen from Sister Act was released, in which he sung with Levi Elipha, Debidebi Debiru, Melissa Kinrenka, Todoroki Kyoko, Sister Claire, Sukoya Kana, Hayase Sou and Nagao Kei, making it Tojiro's first cover song.[3]
On 24 May, he released his first solo cover song, Setsuna Plus by Mikito-P.[4]
On 2 November, he released his first original song, Mayo Naka yo Naka (マヨナカヨナカ, lit. "Into the Midnight").
On 21 November, he released the full MV version of VΔLZ's original song, "浮世の演武" (Ukiyo no Enbu)". Tojiro composed and mixed the song, while all three wrote the lyrics.
On 1 December, he announced through a stream that his Live2D model got a small update. His face and eyes became slightly bigger, and his lips became lightly tinted.[5]
On 12 December, he revealed the outfit he received for reaching 50k subscribers.[6] He also hit 100k subscribers during this stream.[7]
2021
On 30 April, Tojiro revealed the 2.0 brush-up update to his Live2D model.[8]
On 30 September, Tojiro reached 200,000 subscribers on his YouTube channel.[9]
On 8 October, he announced that his default outfit would be changed from his initial government official outfit to the outfit he received for achieving 50k subscribers.
On 14 November, Tojiro revealed his 3rd outfit, a matching school uniform outfit with VΔLZ.[10]
2022
On 8 March, Tojiro revealed his official key visual.[11]
On 31 March, Tojiro revealed his 4th outfit which featured a new short hairstyle and techwear themed clothing.[12]
On 22 April, it was VΔLZ's 3D model unveiling relay was announced,[13] with Tojiro's stream being held second on 13 May.[14]
On 13 May, Tojiro held his 3D debut stream.[15]
Events
Mascot, Fans, and Greetings
The demon (魔) that Tojiro keeps as a pet also serves as his mascot. It is often referred to as Ma or Ma-chan by fans. Ma resembles a large dog with black fur and a turquoise mane that can also change to the color red. Ma's ears, eyes, nose, mouth, claws, and teeth are also turquoise. Ususally it can be seen in the illustration of Tojiro's room that he uses as a background for streams.
Tojiro's fans are called "Genjuumin" (弦住民).

His chat's waiting room greeting is "machizuki✋" (待ち月✋).
He greets his viewers with "gokigenzuki~" (ごきげんづき~✋) and ends his streams with "otsugenzuki~" (おつげんづき~✋).
Relationships
Trivia
Color:

#487591

[17]
Tojiro shares his character designer with Nanase Taku from MIKUCAN.
Tojiro is a talented pianist and sometimes has live streams dedicated to playing the piano.

During off-collab singing streams with VΔLZ, he performs with his piano and sometimes the cajon.

Tojiro is proficient at playing the recorder and has dedicated a live stream to playing the recorder.
Besides the piano and recorder, Tojiro can play the following instruments: horn, clarinet, trumpet, drums, percussion, guitar, kalimba, cello.

He likes try out new instruments such as the violin (borrowed from Haru) and has even bought instruments, such as a tenor saxophone and flute.

Tojiro is a Vocaloid fanatic and frequently dedicates streams to singing just Vocaloid songs. He is not as familiar with current trending vocaloid songs as he is with older vocaloid songs, but has been discovering newer ones, as proven by his covers of Villain and King.
Tojiro created his own BGM (background music).[18]<
Tojiro has mixed all of his covers and has mixed for other NIJISANJI livers as well.
In addition to creating BGM's, he has also composed original songs. Some notable songs Tojiro has composed are:
Tojiro knows how to beatbox. He displayed his ability to do so out of fear when he played the horror game, "The Convenience Store."
Tojiro has a very wide vocal range and is easily able to switch from a high-pitch to a low-pitch voice. He has used this to his advantage to make impressions of other livers such as Emma August[22]. In contrast, he is also able to lower his voice into impressive impressions of Hanabatake Chaika and Belmond Banderas[23]. He has also put up short covers on Twitter of him singing in very convincing female voices, such as "Fansa" and "Wah Wah World", and has even done entire streams in falsetto/high-pitched voices.
When asked about his gender, Tojiro has answered that "Genzuki is Genzuki". He has explained that he is not a man or a woman, and then at later dates he has called himself a man[24]. On the Japanese wiki, his gender is listed as "Genzuki". He seems to be okay with masculine-gendered language in reference to himself, for example the kanji in his name "郎" meaning "son", referring to himself with "boku", (masculine first person pronoun), and being referred to with "-kun" (masculine honorific) by colleagues. Therefore "he/him" and "they/them" are most likely both fine ways to address him.
Tojiro has said that he doesn't care about the gender of people he likes, and just falls in love people he becomes close to, and people who show interest in him first. Similarly, he's completely okay with gachikoi from fans of any gender.
Tojiro was one of the winners of the NIJISANJI Siren Grand Prix, along with Eli Conifer and Belmond Banderas. Their siren impressions were featured in the NIJISANJI Power Baseball tournament.
Tojiro has asthma.
Tojiro has mentioned that he enjoys reading BL, specifically the ones written by men and prefer BL mangas that end happily.
In 2020 alone, Tojiro assisted in the production of over 40 original/cover/bgm songs (composing, instrumentals, mixing, etc). He was recognized for his contributions to NIJISANJI in terms of music on the special Christmas episode of Tsukiichi! NIJISANJI, which looked back on the events of 2020.
While many VTubers alert their fans of upcoming streams a day or so in advance, Tojiro often informs his fans less than an hour away from when the stream starts, usually giving only a few minutes notice. A way to tell if he will be streaming soon is if he retweets fan art. This usually means that he will be using the art in a thumbnail and will be streaming soon.
Tojiro is very knowledgeable on and enjoys using makeup/cosmetics. He has talked about makeup/cosmetics on his channel before and was even invited to a collab stream where the participants talked about the makeup/cosmetic products they used in 2020.
Tojiro is also skilled in video editing, he has created videos for other Liver's song covers, namely Nagao Kei and Furen E Lustario.
Tojiro likes to start TwitCasts without warning. However, he doesn't leave the archives, so once the stream is over it becomes inaccessible.
External Links
Media
Further readings
References