This is a Japanese name; the family name is Hakase.
Associated pages
Hakase Fuyuki (葉加瀬冬雪) is a female Japanese Virtual YouTuber affiliated with NIJISANJI. She debuted along with Kagami Hayato and Yorumi Rena, forming a trio known as "SMC-gumi" (SMC組).
Introduction Video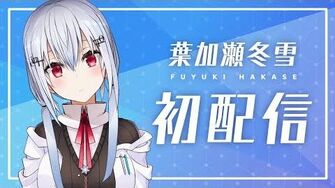 Fuyuki's introduction.

Profile
A high school girl who loves experiments. She always carries suspicious chemicals with her.[1]
Personality
History
Background
Fuyuki's channel was created on 15 June, 2019, and made her YouTube debut on 6 July, 2019.
2020
On 23 March, Fuyuki debuted the 2.0 brushup of her Live2D model.[2]
On 1 September, it was announced that Fuyuki would be featured on NIJISANJI's cover album, Prismatic Colors, which released on 28 October. The songs Fuyuki were featured in were Shiryoku Kensa by 40mP and Bon Appétit♡S from the anime Blend S, in which she sang with Hoshikawa Sara and Lize Helesta.[3]
On 19 September, Fuyuki debuted her 3D model at the NIJISANJI live event Kyo to Aki no NIJISANJI.
On 16 October, it was announced that Fuyuki would receive her official 3D model.
On 23 October, Fuyuki held her official 3D debut stream.[4]
2022
On 1 January, Fuyuki announced she would be revealing a new outfit the following day on 2 Janurary on a outfit reveal stream scheduled for 24:00 JST[5][6]
Events
2020
On 19 September, Fuyuki performed on the second day of the Kyo to Aki no NIJISANJI live event at the annual Kyoto International Manga Anime Fair, alongside Yorumi Rena and Kagami Hayato.
2021
Fans
Her fans are called "Labmen" (ラボメン).
Relationships
Trivia
Color:

#EEFFFF

[8]
She shares the same character designer as Yamagami Karuta.
Her last name Hakase (葉加瀬) can also be written as "博士", which means "professor".
External Links
Media
Further readings
References