This name is officially written using the Japanese name format; the family name is Hakos.
Associated pages
Hakos Baelz is an English-language Virtual YouTuber associated with hololive. She debuted in 2021 as part of hololive -Council-, the second generation of members of hololive English, alongside Tsukumo Sana, Ceres Fauna, Ouro Kronii and Nanashi Mumei.
Introduction Video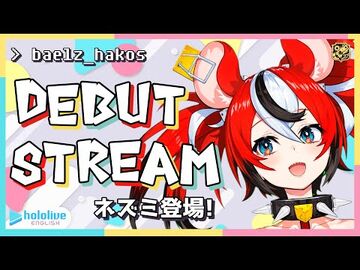 Profile
A member of the Council and the very concept of Chaos, birthed by the world, itself.
The Gods appointed her Chairperson of the Council, but she mostly takes a hands-off approach as she has yet to accept the decision, much like her fellow members. That said, all of them have no intention of contending; instead to obey.
Her mouse-like appearance has deceived many a fool who fails to realize that mice are the harbingers of chaos.
Also of note is her wild smile, which she often flashes in her frequent romps.
Chaos is confusion and disarray, it is fortune and tragedy, and it is freedom from all the logic and inherent nature of life.
She believes that rules are not the be-all and end-all, which is why she has come to break them all.
Watching the aftermath is her greatest joy, and so she remains a bystander to the destruction caused by mayhem.
Personality
Hakos Baelz is loud, unpredictable, and chaotic. Despite this, she seems to have a talent for leading off in discussions and keeping things as orderly as possible, as seen in the first hololive -Council- meeting. Ceres Fauna even described her as a natural born leader, and Baelz eventually embraced the role of "Leader of -Council-." In contrast to her chaotic nature, she speaks rather fondly of the other -Council- members, and is regarded by them as adorable in turn. Baelz can also be easily flustered if things do not go her way.
History
Background
Following the success of hololive English in 2020 and 2021, COVER Corporation announced auditions for a second batch of English members from 12 February to 26 March 2021.[3] Twitter accounts for the five new members were created in June 2021 and YouTube accounts created on 26 July 2021.
Teaser videos for the new generation began on the official hololive English YouTube Channel in August 2021. On 1 August, "Prelude" revealed a story of gods creating the four concepts of space, nature, time, and civilization.[4] On 14 August, "Omen" described the creation of avatars of those four concepts plus that of the primordial force of Chaos, revealing five silhouettes.[5] On 17 August, "Council" revealed the five new hololive English members and announced a grand debut scheduled for the coming weekend.[6] Although the traditional term "generation" was not officially used to refer to the new members, who had been referred to as "hololive English Generation 2" by fans, the new members nonetheless formed a group known as "-Council-".
Upon conclusion of the Council debut PV, all five new members' Twitter and YouTube accounts were revealed, and each made their first tweet.[7][8][9][10][11]
On 17 August 2021, around 24 hours after the initial announcement, Hakos Baelz reached 100,000 YouTube subscribers before her debut. However, YouTube soon removed around half of this number, possibly due to the sudden subscriber growth on a channel with no videos yet, which may have triggered a YouTube anti-bot algorithm.
Debut
Hakos Baelz's debut was originally scheduled for 22 August, by Japan time. A -Council- group collaboration on her channel was tentatively scheduled two hours later. However, the -Council- debuts were postponed for 24 hours due to unspecified technical issues,[12] which members jokingly blamed on the "EN curse," a perceived tendency for hololive English members to suffer from unexpected technical problems.[13] The debuts were rescheduled at the same time on Sunday 22 August (US/Europe time) or Monday 23 August (Japan time).[14]
Baelz's debut stream took place on Sunday, 23 August 2021 at 8 AM (Japan time; 21 August 2021 at 4 PM PDT or midnight BST). She is the fifth and final member of hololive -Council- to debut. Her debut stream reached a peak of over 90,000 viewers, and she had already reached 135,000 YouTube subscribers when the stream started. She finished out the stream by singing Fuwa Fuwa Time, a popular insert song from the anime K-On!, in which she impersonated both characters Mio and Yui from that series. A hololive -Council- collab stream was scheduled on her channel one hour later.[15]
2021
On 29 August, Baelz reached 200,000 YouTube subscribers. She had previously reached this milestone on 23 August, but a number of subscribers had been removed by a YouTube algorithm.
On 4 September, her channel got approved for monetization.
On 23 September, Baelz opened her channel's membership feature.[16]
On 24 September, Baelz's 1 month celebration in the morning (11:30 AM JST). In the same day at night (22PM JST), Baelz held her first official collaboration with another hololive member outside her generation, playing Keep Talking and Nobody Explodes with Takanashi Kiara.[17]
On 12 October, Baelz reached 300,000 subscribers.
Events
On 26 October, Anime NYC's announced that every holoCouncil member would appear in "Anime NYC."[18]
Mascots and Fans
Her mascot is a red and teal mouse named Mr. Squeaks. It rests on her head.
Her fans are known as "Baerats," pronounced "brats."

The fan group name was decided by poll during her first post-debut stream. Rejected names for her fan group were "entropeeps" (from "entropy,") "ratpack," and "gate crashers."

Her members are called "Rat Pack."
Quotes
"The world is not composed with order alone. Can't you apprehend? Not being bound by anything is the greatest limitation."
"Time is precious, and time has great booba."
Trivia
Name
The name "Hakos" is an anagram of "Khaos," matching her theme as a being of chaos.
The name "Baelz" may be a reference to the demon Bael, a being described in medieval grimoires including the Lesser Key of Solomon and Pseudomonarchia Daemonium, or Baalzebul, an ancient Biblical deity or prince of demons sometimes equated with Satan.

In Dungeons & Dragons lore, demons are aligned with chaos.
The name "Baelz" is also an anagram of "Blaze" as fire is often depicted as the de facto element of chaos.

Her name is pronounced "bells hake-oss."
Baelz reads her name in Western order, like Watson Amelia, Mori Calliope, Tsukumo Sana, and Ouro Kronii. However, she rarely uses her full name, considering it too formal. Because of her official name format, some Japanese members and fans call her by her surname, much like Watson Amelia in her early days.
Prior to her debut, Sana addressed Baelz by a shortened form of her name "Bae," a popular American slang meaning "darling."[19] She revealed this at the beginning of her debut as her common nickname.
Lore
Her species is technically not mouse or rat, but "chaos." However, her physical form is that of a rat. She retains both rat and human ears to hear better.
She doesn't know her own age, and encourages viewers to "roll a dice" [sic] to determine her age in rat years.

Technically, Baelz is in error: "dice" is the plural; "die" is the singular.
If a six-sided die is used, this could make her anywhere between 30-180 years old in human years.
The first time Baelz rolled a die for her age, it was a 9,999,999-sided die and the result was 2,347,180.[20]

Her birthday is 29 February. Leap years were created by Ouro Kronii to hold Baelz. In the Chinese zodiac, one of the possible animals which leap years fall in is the rat, with the other two being dragon and monkey.
Her height of 149 cm is equivalent to 7.45 cheesewheels. She sacrificed 8 cheese wheels to stack them up in the yard to check this.
Her choker was given to her by the gods. She doesn't know what it's for, but she also has the key to remove it.
Likes and dislikes
Her favorite beverage is coffee. She plans to do coffee review streams.
Her favorite food is fried cheese.
She fears the dark and jump scares.
Her favorite weekend activity is to sing and dance.
Her top three anime duos are Izaya and Shizuo from Durarara; Edward Elric and Alphonse Elric from Fullmetal Alchemist: Brotherhood (her overall favorite anime); and Tanya and X from Youjo Senki.
Her favorite game genres are RPGs, simulation games, and Nintendo games. She prefers console games to PC, as there are fewer buttons to press on a controller.
Her favorite music is anime theme songs, JPop KPop, hardstyle, and EDM.
Apart from hololive English, the hololive members she watches the most are Oozora Subaru, Yukoku Roberu and Houshou Marine. However, she watches everyone.
Her goals are to dance in 3D, attend a live voice actor event, make many collabs, be a voice actor in an anime, and create her own coffee drink.
Miscellaneous
Bae's emoji is a six-sided die, used both in gaming and as a metaphor for the concept of randomness. The physicist Albert Einstein famously used the term in the latter sense regarding quantum mechanics, stating "God does not play dice." The notion that events may appear random while actually being deterministic is a foundation of a field of mathematics known as chaos theory.
She shares her character designer with Kaguya Luna and Pinky Pop Hepburn.
Baelz speaks English, Japanese and some Korean.
Her Live2D rigging artist is Jujube. She shares this with Mori Calliope, allowing her to call the grim reaper "sister."
She uses the pronoun "boku" in Japanese when referring to herself. "Boku" is used mainly by boys, but is also used by tomboyish girls. This trait is shared with fellow hololive members Roboco-san, Nekomata Okayu and Amane Kanata, as well as Ars Almal of Nijisanji.
Her loading screen pixel art is by Taho.
During early October 2021 when Japanese and English branches' members visited each other's Minecraft servers, there sparked some confusion among JP livers due to her unusual username ("whatabae"), often mistaken for Tsunomaki Watame; the "victims" of said confusion includes Oozora Subaru, Amane Kanata, Minato Aqua, Tokino Sora, Sakura Miko, as well as Watame herself.[21]
External links
Media
Statistics
Further reading
References