Associated pages
Han Chiho (한치호) is a male Korean Virtual Youtuber who is a member of Nijisanji's Korean Branch, Nijisanji KR.
Chiho was an old Taoist and a legendary storyteller who was sealed in the past and has later been revived. As a Taoist, Chiho used to exterminate youkai but now that he finds adapting to the modern era better than his old job, he would only exterminate youkai that are actively attacking humans. Because of this, Chiho was able to adapt to his new environment quickly and found out that you can communicate with other people from far away through streaming.[1]
Introduction Video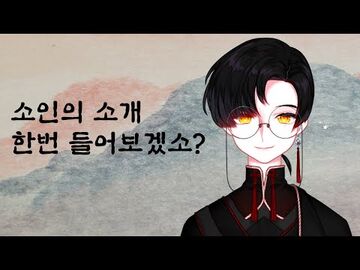 Chiho's introduction.

Personality
History
Background
Han Chiho created his Youtube Channel on 31 October 2019, and made his debut on 15 November 2019 as a talent of separate but now disbanded talent agency, "541 E&C".[2] On 25 January, 2020, 541 E&C ended their activities as an agency[3] and he, along with the remaining members of the agency, were then transferred to Nijisanji KR.
2021
On 10 February 2021, Chiho recieved his new Live2D model since his integration with Nijisanji in an outfit reveal stream. The outfit was teased 3 days prior with Chiho having a countdown on his twitter.
Events
On 3 February 2021, Chiho participated in the Nijisanji-wide "NIJIYANJI" event. [4]
Mascot and Fans
Chiho has a mascot called "Imja," a black tiger with white markings that's standing upright. Imja also wears black Taoist robes with red and gold lining.
Chiho's fans are called "Servant" or "꿀떡" (Transliteration: Ggul Tteok. Translation: Honey Rice Cake).

Chiho frequently interacts with alot of his fans, not just limited to his Japanese and Korean fandom, often replying to their replies and tweeting about them.
Quotes
I'm not a girl, I'm a guy! Nice to meet you
Would you please talk to me?
Trivia
Color:

#645E5D

[1]
Chiho's native language is Korean but he is also proficient in Japanese and knows a good amount of English.
Preferences:

Likes: Sweet foods
Dislikes: Eggplants and broccoli.
Favorite game: Dead by Daylight, Assassin's Creed, Apex Legends, Valorant, and League of Legends.
Livers he looks up to: Debidebi Debiru, Kanae, Kuzuha, and Sister Cleaire.
External Links
Media
Further readings
References
Community content is available under
CC-BY-SA
unless otherwise noted.