This is a Japanese name; the family name is Hanamori.
Associated pages
Hanamori Healthy (花守へるし) is a female bilingual Japanese-Chinese Virtual YouTuber. She's active on YouTube and bilibili. She also has a NicoNicoDouga channel which is only used for ASMR.
She used to be a member of the Virtual YouTuber group Melty+ until they disbanded. She's now an independent Virtual YouTuber.
Introduction Video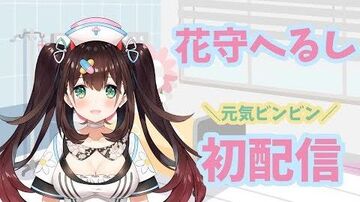 Personality
She's a cheerful nurse from another world. She wants to heal and cheer up other people.
History
Background
Her channel was created on 7 October 2019. Her Twitter account was created in the same month. She debuted on YouTube and bilibili on 9 November.[1]
The group she belonged to, melty+, disbanded on 18 July 2020 and she became an independent Virtual YouTuber.
Her NicoNicoDouga channel first showed activity on 24 August 2020. This channel is only used for ASMR.[2] On the same day, she announced she'd be getting a new costume and showed a 3D model of her on her Twitter.[3] Her 2nd costume was revealed in a stream on 30 August.[4]
Fans
Her fanbase is officially called "Kusamori" (草守).
Trivia
Her favorite muscle is the pectoralis major muscle.
Hourei Tenten and Kamishiro Natsume are her "otherworldly friends".
She speaks Japanese, Chinese, English and Korean. She sometimes does English streams.
External Links
References