Hanasaki Miyabi (花咲みやび) is a male Japanese Virtual YouTuber endorsed by hololive's branch Holostars. He is a member of its first generation, alongside Arurandeisu, Kagami Kira, Kanade Izuru and Rikka.
Introduction Video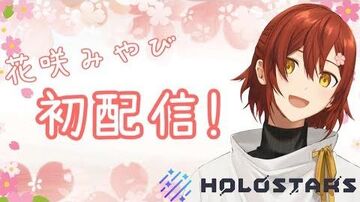 Miyabi's introduction.

Personality
The peach blossom is his trademark. He is a cute kind of boy. Usually calm, his attitude may shift during gaming.[1]
Miyabi is also a sickly and weak person who is sensitive to the outdoors and often stays at home. If he goes outside and energetically moves around for 5-10 minutes, a thing called "frail skill" (虚弱スキル) will activate. "Frail skill" will make him experience dizziness, shortness of breath, palpitation, nausea, headache, etc.[2]
History
Background
His Twitter account was created in 27 May 2019; his YouTube channel was created on 3 June 2019, and his debut stream was performed on 8 June 2019.
Fans
His fanbase is officially called "Hanami-gumi" (花見組).
Trivia
Units and groups he is a part of are:

"Star☆Sweeper" (スター☆スウィーパー), along with Rikka and Kageyama Shien.
"Sharuwer" (シャルワー) (as the floWER), along with Arurandeisu (ARUran) and Kageyama Shien (SHAdow).
"Yurustars" (ゆるスタ), along with Arurandeisu, and Kishido Temma.
"Hanakishi" (花岸), along with Kishido Temma.
External Links
References
↑ Hanasaki, M. [Miyabi Ch. 花咲みやび] (2019, June 8) 【初配信】花咲みやびです、よろしくおねがいします!【ホロスターズ】 [Video File] Retrieved from: https://youtu.be/Ddf7dvXqhbw?t=349
Community content is available under
CC-BY-SA
unless otherwise noted.