This is a Japanese name; the family name is Hanasaki.
Associated pages
Hanasaki Miyabi (花咲みやび) is a male Japanese Virtual YouTuber endorsed by hololive's branch holostars as part of its first generation, alongside Kagami Kira, Kanade Izuru, Yakushiji Suzaku, Arurandeisu and Rikka.
Introduction Video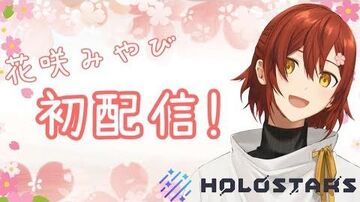 Profile
The peach blossom is his trademark. He is a cute kind of boy. Usually calm, his attitude may shift during gaming.[1]
Personality
Miyabi is always cheerful and calm, exuding a soothing presence whenever he streams. He rarely shows any negative emotions, even when he is genuinely surprised or when playing high tension games like Apex Legends. He does, however, gets scared easily and when he screams, it can sound either helpless or desperate. Due to this, he is often perceived as precious and endearing by his viewers. He doesn't act any different during collaborations either, although he is occasionally mischievous and playful with the other members.
He is also a very soft-hearted and emotional person. During a Christmas collaboration video, the holostars members had the opportunity to meet each other offline on that day. Miyabi tried to give a closing speech but quickly bursted into tears while talking about meeting the other members.[2] He even held a Free Talk stream titled "Let's talk about emotional stuff" (エモい話しようや) where he had a heart-to-heart conversation with his chat. In the stream, he confessed how he felt during his early days of being a VTuber and expressed sincere gratitude for his viewer's constant support and his fanbase's slow but steady growth.[3]
Miyabi is known to be a sickly and weak person who is sensitive to the outdoors and often stays at home. If he goes outside and energetically moves around for 5-10 minutes, a thing called "frail skill" (虚弱スキル) will activate. "Frail skill" will make him experience dizziness, shortness of breath, palpitation, nausea, headache, etc.[4] Despite his condition, he seems adamant on playing Ring Fit Adventure when he makes his 3D debut.
History
Background
His Twitter account was created in 27 May 2019; his YouTube channel was created on 3 June 2019, and his debut stream was performed on 8 June 2019.
2020
On 3 March, he uploaded his first cover song, Do Re Mi Fa Rondo by 40mP.[5]
On 15 March, he revealed his White Day costume,[6] which was designed by ne-on[7] and modelled by vivi.[8]
On 4 August, he revealed his summer costume,[9] which was also designed by ne-on.[10]
On 24 August, he reached 20,000 subscribers.[11]
On 2 November, he reached 30,000 subscribers.[12]
On 3 December, he opened up his membership feature.[13]
On 22 December, he reached 40,000 subscribers.[14]
On 25 December, it was announced that all the holostars members would receive new costumes on 3 January, 2021, commemorating New Year's.[15]
2021
On 3 January, he revealed his new year's costume,[16] which was designed by ne-on and modelled by FELUCCA.[17]
On 26 January, he reached 50,000 subscribers.[18]
On 7 March, he reached 60,000 subscribers.[19]
On 25 April, he reached 70,000 subscribers.[20]
On 7 June, he reached 80,000 subscribers.[21]
On 9 July, he reached 90,000 subscribers.[22]
On 13 July, hololive's Japanese Twitter account announced that every holostars member would get 2.0 version of their 2D model.[23]
On 22 August, he reached 100,000 subsribers during a Minecraft stream, being the ninth Holostars to reach this milestone.[24]
On 2 October, Miyabi announced during a stream that he would receive his 3D model.[25]
On 9 October, Miyabi debuted his 3D model.[26]
Discography
Main page: Hanasaki Miyabi/Discography
Just Follow Stars
as HOLOSTARS commemorating the group's 2nd anniversary
28 June 2021    

"Just Follow Stars"
"Just Follow Stars" (instrumental)

External links
Digital Release • Music Video
Events
2020
On 2 August, Miyabi entered Shibuya Hal's VTuber Apex Legends Tournament alongside Rikka and Kageyama Shien under their group name "Star☆Sweeper". In the final rankings, they ranked 20th place.
On 26 October, it was announced that Holostars goods would be sold at Animate Girls Festival Aozora Marche, held on 7-8 November 2020,[27] and on 28 October, 2020, it was announced that holostars would be participating in the event as guests.[28] Miyabi is part of the "Virtual Clerk" (バーチャル店員) exhibition in the event.[29]
2021
On 28 January, it was announced that "Net Talking Festival", an holostars exclusive event, will be held on 14 February where fans can have a one-on-one chat with any of the holostars members for 3 minutes, talking about their daily feelings of gratitude to an important person.[30]
From 25 until 27 June, all holostars members participated in their 2nd anniversary event "Our Rally 2021", the event featured 3 holostars in each day of the event, Miyabi participated on the 2nd day.[31] On the final day of the event, an original song Just Follow Stars was released on the official Holostars channel featuring all members singing.
On 22 July, Miyabi participated on the Fall Guys tournament VTuber Fall Guys Sports Day with fellow holostars members; Arurandeisu, Kageyama Shien and Aragami Oga as "Crustacean LobStars". In the final rankings, they ranked 1st place.[32]
On 15 October, holostars' Twitter account announced that holostars would participate in "Animate Girls Festival 2021."[33]
Fans
His fanbase is officially called "Hanami-gumi" (花見組).

In a stream, Miyabi was trying to think of an English name of "Hanami-gumi" and among one of the comments in chat that he liked and resonated with was "Flower Garden". In other words, Miyabi's fanbase is his Flower Garden.

When Miyabi ends the stream, fans say farewell by saying "otsumiyabi" (おつみやび).
Forest of Hanasaki
Miyabi has created a fictional park named Hanasaki no Mori or "Forest of Hanasaki" (花咲の森) with several animals[34] he has drawn with creepy characteristics. These include:

A sparrow named Kyomu Suzume (虚無すずめ, lit. "void sparrow"),
Another sparrow named Kyogi Suzume (虚偽スズメ, lit. "false sparrow"); Kyomu Suzume's younger sibling,[35]
A sheep named Mee-chan (め゛ぇ゛ちゃん),
A cow named Sensty-Gyuu (センシティ・ギュウ),
A chicken named Black Hole Chicken (ブラックホールチキン),
An elephant named Zoutsuji (ぞうつじ),
A mouse named Mimimimi (みみみみ),
A dolphin named Dolphin Itou (ドルフィンいとう),
A penguin named Holepen (ホールペン),
A tiger named Toranken (トランケン♂♀),[36]
Relationships
Units and groups he is a part of are:

"Star☆Sweeper" (スター☆スウィーパー), along with Rikka and Kageyama Shien.
"Sharuwer" (シャルワー) (as the floWER), along with Arurandeisu (ARUran) and Kageyama Shien (SHAdow).
"YuruStar" (ゆるスタ), along with Arurandeisu and Kishido Temma.
"HanaKishi" (花岸), along with Kishido Temma.
"ARoHaRi" (アロハリ), along with Arurandeisu, Yukoku Roberu and Rikka.
"Arubaana" (アルバーナ), along with Arurandeisu.
"Hanajuu Gumi" (花獣グミ), along with Kageyama Shien.
"Ashita Hana" (明日花), along with Astel Leda.
"MiyaIzu" (MYIZ), along with Kanade Izuru.[39]
"Senkou Gumi" (先行組) along with Kagami Kira and Kanade Izuru.[40]
"Koukakidou Lobstars" (甲殻奇動ロブスターズ), along with Arurandeisu, Kageyama Shien and Aragami Oga.
"Organic Flower" (オウガニックフラワー), along with Aragami Oga.
Trivia
Miyabi is the first debuted member of holostars and is part of it's early debut generation whom includes Kagami Kira and Kanade Izuru.
Miyabi's illustrator has done artwork notably for Fire Emblem and Fate/Grand Order franchise.
Miyabi openly shared that when holostars first started out, introduced as a male branch of hololive, they weren't well received. The painful experience of the negative responses caused stress to where it affected Miyabi's health emotionally, physically and mentally. Despite holostars having a rough start, Miyabi adds that it's thanks to manager Shinove and company president Yagoo for looking after holostars in it's initial stage; making time to talk, coming up with ideas and looking around for collabs. [41]

During a minecraft stream, Miyabi revealed that it was actually company president Yagoo who managed Senkou Gumi (先行組) before Shinove came along. When Shinove joined and became the manager of holostars it was before the rest of the 1st generation members joined.[42]

Miyabi said that he's trying to find his niche of what it means to be an idol since the image of it is different for everyone. The phrase that's usually said to him, "Miyabi just has to be our center." actually hurts him because it makes him feel like 'you don't have to do anything' but the thing is, Miyabi wants to be earn his position as in it's something that no one can do that only he can.[43]

Miyabi tweeted that he felt better after the chatting stream.[44]

Miyabi was the last member of his generation and also the last person among the 9 active members at the time to reach 100k subscribers.[45]
Miyabi revealed that he is actually a really shy person. So when it came to collabs, he usually isn't one to reach out. However, his fellow holostars members have stated that despite Miyabi's shy and humble nature, if he plans or wants to do something, he only needs to ask and the members will join in.

The holostars Among Us 3rd Season collab was organized by Miyabi.[46]

While Miyabi doesn't really get called senpai by the rest of his fellow Holostars members as they've explained that Miyabi doesn't really give off the vibe as one but they do occasionally address Miyabi as a daisenpai (大先輩). However, in a couple of streams, Miyabi has said that he hopes to come across future generation members who will lovingly address him one day as Miyabi-senpai.
Miyabi has stated through multiple streams that he is a forever 18 year old who doesn't age.
When the 2021 holostars New Year Costume Acrylic Stand became available to be ordered, Miyabi's was the second to be sold out domestically and internationally.[47]
He gained the nickname "Flower Fairy" after calling himself that on twitter in English.[48]
Fans coined the nickname MMT or Miyabi Maji Tenshi and Miyabi was made aware of it during a morning stream when he was going through some of the nicknames for his fellow holostars.[49]
During a slang stream with Arurandeisu they came up with new nicknames for themselves. Miyabi's was BFB (Beautiful Flower Boy).[50]
He had his animals compete to be "King of the Forest" in a tournament game of Animal Tower Battle. During the stream, he roleplayed as his animals while providing live commentary.[51]

The champion of the 1st tournament was Holepen.[52]

In the Do Re Mi Fa Rondo cover video, his younger brother was credited for illustrations as 花咲 弟.[53] On his birthday stream, Miyabi revealed that his brother drew the mini holostars characters.[54]
Miyabi has revealed through multiple streams that he's not good with kanji. As well as with English, even though it's difficult for him, Miyabi makes attempts to get his feelings across to his overseas fans.
During the aftermath of the VTuber Fall Guys Party tournament, Team Lobstars had considered doing a 3D Fall Guys of some sort after they all get their 3D.
Miyabi shared with his viewers that before holostars, he had auditioned to be a seiyuu (voice actor). Despite passing the first round, he backed out before continuing onto the next phases. In wanting to change, Miyabi told himself that the next time he tries out for something, he'll see it through to the end. So when an opportunity came, he decided to audition for holostars.
In a stream, Miyabi said that one of the things he wanted to do, if possible, when he and everyone in holostars get 3D is doing blind fold food tasting.[55]
Miyabi, having experienced the early days of Fall Guys when cheaters were prominent, he defeated the cheaters in the round he had with them and won which resulted in fans also calling him a protagonist.[56]
It was revealed in a stream that Miyabi knows how to play Shogi and learned it from his grandfather who was very good at the game. [57]

Temma also confirmed that Miyabi went easy on him when they had played together considering that Temma didn't really know how to play.

In Miyabi's 3d debut stream, the ending card was made by Otosaki (well known younger brother of Miyabi who makes official art for him) with a message from Miyabi saying, "Thank you for all of your constant support! I wouldn't be able to made it this far without your help! This is just the beginning of Hanasaki Miyabi! I will do my best and hope that from here onwards, may the flowers continue to bloom beautifully."[58]

It's known among the Holostars members that Miyabi's physical condition has limitations and that's why they're always asking if he's okay. This was confirmed even more to be true considering that staff not only provided an oxygen inhaler for Miyabi ahead of time but they also made it visible via tracking in his 3D stream along with the water bottle.

In a self-introduction video, Miyabi stated that his favorite game is FFXIV. Although, he did not specify when he actually started playing FFXIV but he did mention having cleared Unending Coil of Bahamut (Ultimate) and The Minstrel's Ballad: The Weapon's Refrain (Ultimate) which were the hardest two content in the game during the time of his video upload. So based on that info, he's been playing since before October 2017. Also, the achievements screenshots Miyabi shared showed he cleared the two content fights within a 1-2 month period and players who clear within that time frame are considered top level players.[59]
Miyabi made an appearance in Famitsu's article about FFXIV to comment about the next upcoming Endwalker expansion.[60]
External Links
Media
Further readings
References