This is a Japanese name; the family name is Hanasaki.
Associated pages
Hanasaki Miyabi (花咲みやび) is a male Japanese Virtual YouTuber endorsed by hololive's branch Holostars. He is a member of its first generation, alongside (formerly) Kagami Kira, Kanade Izuru, (formerly) Yakushiji Suzaku, Arurandeisu and Rikka.
Introduction Video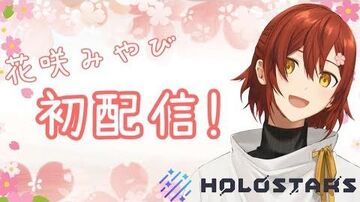 Miyabi's introduction.

Personality
Miyabi is always cheerful and calm, exuding a soothing presence whenever he streams. He rarely shows any negative emotions, even when he is genuinely surprised or when playing high tension games like Apex Legends. He does, however, gets scared easily and when he screams, it can sound either helpless or desperate. Due to this, he is often perceived as precious and endearing by his viewers. He doesn't act any different during collaborations either, although he is occasionally mischievous and playful with the other members.
He is also a very soft-hearted and emotional person. During a Christmas collaboration video, the Holostars members had the opportunity to meet each other offline on that day. Miyabi tried to give a closing speech but quickly bursted into tears while talking about meeting the other members.[1] He even held a Free Talk stream titled "Let's talk about emotional stuff" (エモい話しようや) where he had a heart-to-heart conversation with his chat. In the stream, he confessed how he felt during his early days of being a VTuber and expressed sincere gratitude for his viewer's constant support and his fanbase's slow but steady growth.[2]
Miyabi is known to be a sickly and weak person who is sensitive to the outdoors and often stays at home. If he goes outside and energetically moves around for 5-10 minutes, a thing called "frail skill" (虚弱スキル) will activate. "Frail skill" will make him experience dizziness, shortness of breath, palpitation, nausea, headache, etc.[3] Despite his condition, he seems adamant on playing Ring Fit Adventure when he makes his 3D debut.
Profile
The peach blossom is his trademark. He is a cute kind of boy. Usually calm, his attitude may shift during gaming.[4]
History
Background
His Twitter account was created in 27 May 2019; his YouTube channel was created on 3 June 2019, and his debut stream was performed on 8 June 2019.
2020
On 3 March, he uploaded his first cover song, Do Re Mi Fa Rondo by 40mP.[5]
On 15 March, he revealed his White Day costume,[6] which was designed by ne-on[7] and modelled by vivi.[8]
On 4 August, he revealed his summer costume,[9] which was also designed by ne-on.[10]
On 24 August, he reached 20,000 subscribers.[11]
On 2 November, he reached 30,000 subscribers.[12]
On 3 December, he opened up his membership feature.[13]
On 22 December, he reached 40,000 subscribers.[14]
On 25 December, it was announced that all the Holostars members would receive new costumes on 3 January, 2021, commemorating New Year's.[15]
2021
On 3 January, he revealed his new year's costume,[16] which was designed by ne-on and modelled by FELUCCA.[17]
On 26 January, he reached 50,000 subscribers.[18]
On 7 March, he reached 60,000 subscribers.[19]
Events
On 26 October, 2020, it was announced that Holostars goods would be sold at Animate Girls Festival Aozora Marche, held on 7-8 November 2020,[20] and on 29 October, 2020, it was announced that Holostars would be participating in the event as guests.[21] Miyabi is part of the "Virtual Clerk" (バーチャル店員) exhibition in the event.[22]
On 28 January, 2021, it was announced that "Net Talking Festival", an Holostars exclusive event, will be held on 14 February where fans can have a one-on-one chat with any of the Holostars members for 3 minutes, talking about their daily feelings of gratitude to an important person.[23]
Fans
His fanbase is officially called "Hanami-gumi" (花見組).
In a stream, Miyabi was trying to think of an English name of "Hanami-gumi" and among one of the comments in chat that he liked and resonated with was "Flower Garden". In other words, Miyabi's fanbase is his Flower Garden.
When Miyabi ends the stream, fans say farewell by saying "otsumiyabi" (おつみやび)
Forest of Hanasaki
Miyabi has created a fictional park named Hanasaki no Mori or "Forest of Hanasaki" (花咲の森) with several animals[24] he has drawn with creepy characteristics. These include:

A sparrow named Kyomu Suzume,
Another sparrow named Kyogi Suzume; Kyomu Suzume's younger sibling,
A sheep named Mee,
A cow named Sensty-Gyuu,
A chicken named Black Hole Chicken,
An elephant named Zoutsujisan,
A mouse named Mimimimi,
A dolphin named Dolphin Itou,
A penguin named Holepen,
A tiger named Toranken,[25]
A Horse named Momoko Blossom.
Relationships
Units and groups he is a part of are:
Trivia
Miyabi is the first debuted member of Holostars and is part of it's early debut generation whom includes (formerly) Kagami Kira and Kanade Izuru.
Miyabi has stated through multiple streams that he is a forever 18 year old who doesn't age.
When the 2021 Holostars New Year Costume Acrylic Stand became available to be ordered, Miyabi's was the second to be sold out domestically and internationally. [27]
He gained the nickname "Flower Fairy" after calling himself that on twitter in English.[28]
Fans coined the nicknamed MMT or Miyabi Maji Tenshi and Miyabi was made aware of it during a morning stream when he was going through some of the nicknames for his fellow Holostars. [29]
He had his animals compete to be "King of the Forest" in a tournament game of Animal Tower Battle. During the stream, he roleplayed as his animals while providing live commentary.[30]
The champion of the 1st tournament was Holepen.[31]
External Links
Media
Further readings
Solo Debutants
(hololive 0th Gen)
First Generation
Second Generation
hololive GAMERS
Third Generation
(hololive Fantasy)
Fourth Generation
Fifth Generation
(NePoLaBo)
INoNaKa MUSIC
Retired
References
Community content is available under
CC-BY-SA
unless otherwise noted.