Hassaku Yuzu (八朔ゆず) is a female Japanese Virtual YouTuber, a member of Nijisanji SEEDs.
Introduction Video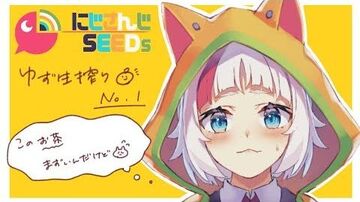 Yuzu's introduction.

Personality
She is described on her official profile as a "very energetic" 15-year-old middle school student on her third year. She likes splatter movie that features lots of grotesques scenes but is very weak when it comes to horror stuffs. She is also very conscious of her small chest size.
History
Background
Her Twitter account was opened on 31 May 2018 while her YouTube channel was created on 24 May, although she did not start her activity on YouTube until a live-stream which was re-uploaded from Mirrativ (streamed on 6 June) on 7 June.
2018
This section is empty (Please improve it if you can)
2019
Retirement
After almost a month of inactivity on Twitter and two months of inactivity on YouTube, she announced on 5 May 2019 that she would be retiring from Nijisanji[1] and streamed her last live-stream on 7 May[2] just a month short of a year since her YouTube debut.
Trivia
External Links
Reference
↑ 839yuzu. (2019, 5 May). 🍊大事なおしらせ🍊
この度、八朔ゆずはにじさんじを引退することになりました。
さいごの配信は〖5月7日20時〗からです。
みんなとおはなしできるさいごの機会、ほんの少しだけでも会いにきてほしい!最高にたのしい時間にしよう
₍˄ ^ o ^ ˄₎
まってるね🐱💭 [Tweet]. Retrieved from https://twitter.com/statuses/1124961989543915520
↑ Hassaku, Y. [八朔ゆず【にじさんじ】]. (2019, May 7) ゆず生搾り [Video File]. Retrieved from https://youtu.be/yFVKO2y_9n8/