This is a Japanese name; the family name is Higuchi.
Associated pages
Higuchi Kaede (樋口楓) is a female Japanese Virtual YouTuber who is part of the Nijisanji group. She is also part of the "JK gumi" group along with fellow VTubers Tsukino Mito and Shizuka Rin.
Introduction Video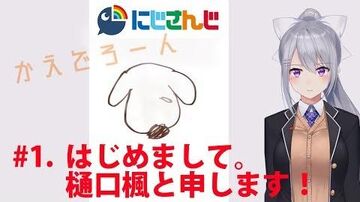 Personality
Kaede is a sophomore high school student living in Virtual Kansai. She's tall and has a great figure. She's loved playing the trumpet since she was a child, and is currently a member of a brass and marching band. She likes to be stylish and live with her cat. She wants people to know more about the things she likes, so she became a VTuber.
Her best features are her silver ponytail, white ribbon, and mole under her right eye. She's known for her "nah-ha-ha" laugh and has a habit of saying "Naande!" (なぁーんで! Whaat!). She tries to speak in standard Japanese, but as she's from the "Kansai region of the virtual world", her Kansai dialect often slips through, which often leads to her own unique vocabulary, such as "Manji no jijou" (卍の二乗 Manji squared), "Warota piipou" (わろたピーポー LOL people), and "Marumaru piiman" (○○ピーマン XYZ bell pepper). Being a member of the High School Girl Gang, she uses the most schoolgirl-like language of the three and is the most youthful, to the point where she's sometimes referred to as "the Nijisanji Highschool Girl" (にじさんじのJK担当, Nijisanji no JK tantou).
Events
Trivia
She is sometimes referred to using the words "Hey!" (ちょっと!, chotto!) or "hetero" (ヘテロ). Those stem from a (not publicly recorded) livestream where a fan sent her lesbian fanart (a parody of the Yuri series Citrus) involving her and Tsukino Mito, and Kaede responded indignantly with those words.
When she was in the second grade, the boy she liked was going to change schools on Valentine's Day, so she learned how to make cookies from her mother and gave them to him (uncooked).
Her favourite anime is "Love Live!" and she's also a fan of voice actors, her favourite being Miyuki Sawashiro.
On 12 January 2019, she had her first live event Kana-Dero at Zepp Osaka Bayside, also featuring the other members of the JK Gumi Tsukino Mito and Shizuka Rin, also Elu. A sample clip is available here and video of the event can be purchased on NicoNico.
She shares the same illustrator as Tsukino Mito, Suzuya Aki, Moira and Yuuhi Riri.
Other than the JK Gumi, she is also part of the following groups:
She, alongside Shizuka Rin, made a cameo appearance in the first episode of the second season of the anime I'm Standing on a Million Lives.
External Links
Media
Further readings