This is a Japanese name; the family name is Himemori.
Associated pages
Himemori Luna (姫森ルーナ) is a female Japanese Virtual YouTuber associated with hololive, as part of its fourth generation of VTubers alongside Tsunomaki Watame, Tokoyami Towa, Kiryu Coco and Amane Kanata.
Introduction Video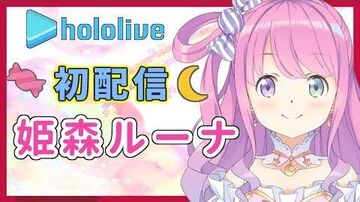 Luna's introduction.

Personality
Luna has a sweet and innocent personality, although due of her status as the Princess of Candy Kingdom and as the youngest hololive member, she is a bit pampered and always asks for the older hololive members' attention, especially Natsuiro Matsuri's. In recent streams, Luna also showed hints of sadism and yandere personalities traits although it's not that prominent.
Being a 0 year old, Luna speaks in a childlike manner that almost resembles a toddler who just learned how to speak. She also often adds verbal tics like Nnnaaaaa~ (んなあああああ~) and Nanora (んなのら) in her words. She also refers to herself in third person.
Profile
The princess of sweets. She sticks around people, and is easily impressed. However, when her childishness overloads, she will get scolded by her butler. It was also told that those moonshapes are the symbols of her country.[8]
History
Background
Her Twitter account was created on November 2019, she made her first tweet on 31 December,[9] her YouTube channel was created on 4 December and her debut stream was on 4 January 2020.
2020
On 15 July, she announced on her Twitter account that she would get her 3D model (this was already teased during Tsunomaki Watame's 3D debut).[10]
On 19 July, she debuted her 3D model during a stream being the fourth of her generation to do so.[11]
On 16 November, she shared that due to the worsening of her right wrist's tendonitis (later diagnosed as De Quervain's tenosynovitis), she has to postpone planned streams in order to treat it.[12]
On 18 December, she reached 400,000 YouTube subscribers during a singing stream, where she also showcased her updated 2D model to the 2.0 version.[13] The new features include being able to remove her crown, more facial expressions, better mouth tracking and the ability to move just her neck without the rest of the body more freely.
On 29 December, hololive's Twitter accounts announced that eight of their members would get "New year" costumes, Luna being one of them.[14]
2021
On 1 January, she debuted her second 2D costume, a new year kimono, during a stream. Like with most costumes, Luna got a new hairstyle, but can also choose to use her regular hairstyle.[15]
On 1 February, she underwent another surgery for tendonitis, putting her streaming activities on hiatus once again.
On 14 February, Luna announced on her Twitter account that the members of the 4th generation would get their 3D idol costumes.[16]
On 15 February, she debuted her 3D idol costume.[17]
On 18 March, Luna reached 500,000 subscribers on her YouTube channel, making her the 36th hololive member to reach this milestone and the last of her generation.[18]
Fans
Her fanbase is officially called "Lu-knight" 「ルーナイト」 (ruunaito).
Trivia
She has an Elderly Butler (執事ちゃん, Shitsuji-chan, lit : Little Butler) who is with her in the streams.
Her favorite games are Dark Souls & Retro Games.
She is considered as one of the best Dark Souls player in hololive, proved in her series of Dark Souls: Remastered streams, where she finished the game with no armor sets and minimum enchantments.[19][20][21] This caused some fans to call her "War Princess" or "Battle Princess".
She doesn't like horror games.
Luna is known to be a very patient gamer, able to maintain her composure when things don't go her way. She is able to repeat a failed part for hours without showing extreme frustration.

However, when she does get frustrated, she often sucks her lips and teeth, producing a squeaky sound.

Luna used to have a regular segment in Kiryu Coco's AsaCoco Live News called Princess Luna's Sickly Sweet English Class (げぼかわ!!!ルーナ姫の英語教室 Gebokawa! Rūna Hime no Eigo Kyōshitsu) where she teaches viewers English phrases, almost all of which are extremely crude insults or swear words.
Although her main biography says that she is 0 years old, she has said that she is 3 years old, since a baby of 0 cannot speak.
Luna does piano streams where she often plays songs such as "Dies Irae" "A Town with an Ocean's View", "Country Road" or Godzilla's theme.
She has heterochromatic eyes, evident from her right pink eye and left green eye.
At 140 cm (4'7") in height, Luna is the shortest among the hololive members.
External Links
References
Community content is available under
CC-BY-SA
unless otherwise noted.