hololive, VTuber Office (ホロライブ- VTuber事務所 Hororaibu - VTuber Jimusho) or simply as hololive (ホロライブ), is an agency of Virtual YouTubers created by Cover Corp.
As of April 2019, the total amount of subscribers for the VTubers on YouTube and bilibili are 1 million and 1.5 million respectively with four of the VTubers coming in on the top 10 spot for VTubers on bilili. They are Shirakami Fubuki (2nd), Minato Aqua (5th), Natsuiro Matsuri (7th), and Akai Haato (9th).[1]
History
On 13 June 2019, they announced the start of the audition for the third batch of hololive VTubers called Hololive Fantasy (ホロライブファンタジー). Application started from 13 June until 23 June with the screening starting and ending a day later and the interviews from 14 June until 28 June.[2] During hololive karaoke party on 7 July, two of the members, Usada Pekora and Uruha Rushia, were announced.[3]
Inonaka Music
Inonaka Music (イノナカミュージック; also shortened as INNK MUSIC) is a music label under hololive launched on 19 May 2019. Currently, there are two VTubers affiliated with the label; AZKi and Hoshimachi Suisei.[4]
Members
The actual roster of VTubers endorsed by Hololive is the following:
3D members
1st Batch
2nd Batch
hololive GAMERS (ホロライブゲーマーズ)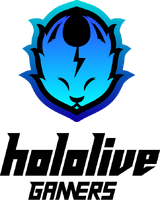 Inonaka Music
3rd Batch - Hololive Fantasy (ホロライブファンタジー)
Former members
Events
Trivia
Hitomi Chris was sacked from Hololive and removed from its website after an incident where an individual complained of the disappearance of 200000 yen (around $1800 USD) of equipment that individual had bought with Chris' voice actress in order to start her career.
External Links
Reference
Community content is available under
CC-BY-SA
unless otherwise noted.